I received Purex Crystals in order to facilitate this review. All opinions are my own.
Purex Crystals and I go way back together. I love them over fabric softener sheets. Now, Purex offers Purex Crystals Aromatherapy. A new experience in the laundry with in-wash scent boosters that stimulate life with peaceful bliss and boundless spirit with three soothing aromas.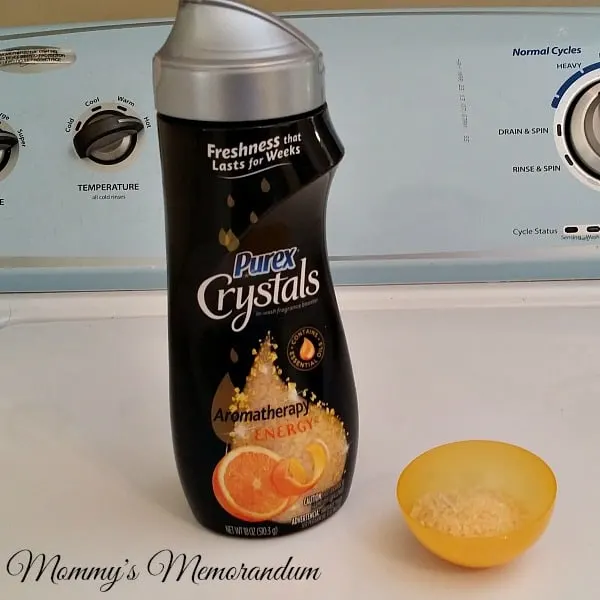 The new Purex Crystal scents are:
Well Being brightens any mood with the happy fragrance of fresh blossoms
Energy helps you tackle any day with the stimulating power of citrus
Serenity keeps you calm all day long with the gentle scent of water-lilies
There's a scent ready to express your mood. I love that Purex Crystals offers a long-lasting scent infusion.
I have a favorite laundry detergent recipe. I love making half of the batch unscented and the other half using Purex Crystals to add amazing scent to our clothing.
I tried the new Purex Crystals Aromatherapy on a load of stale, stinking towels. They had a urine smell from being wet and shoved into the hamper. Purex Crystals Aromatherapy eliminated the odors and left my towels soft, like traditional fabric softeners, without taking away from their wicking ability. The towels came out clean and fresh with an incredibly subtle citrus scent; now, the bathroom closet smells fresh!
When I use Purex Crystals Aromatherapy, I love watching my children. They will put on their sweatshirt and pause to sniff deeply. They snuggle under blankets while we watch TV, and I see them hold the blanket up near their nose to inhale the fragrance. It makes me feel like I've done a great job!
Purex Crystals Aromatherapy is created with citrus and floral scents blended with essential oils.
Purex Crystals Aromatherapy is available for purchase in national retailers nationwide.