Long ago, we had a dog named Nancy Reagan.
She was a stray who one day decided we were her family.
She was a goofball and continuously got into things.
It would be her downfall.
One year after the festivities, Nancy Reagan thought she was being clever and got into discarded turkey bones.
We were responsible, and *thought* they had been disposed of properly.
By the time we awoke, Nancy Reagan had met her fate, and we were all saddened by the realization of what had happened.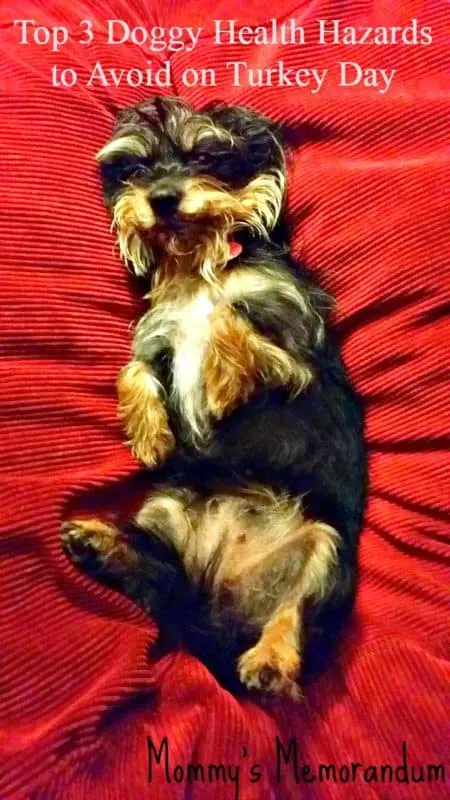 Consider this:
Every year, countless dogs head to the vet after Thanksgiving — many suffering from digestive problems and canine pancreatitis — because they've eaten things they really shouldn't.
So how can you say "Bone Appetit" to Fido on Thanksgiving while still keeping your hungry hound happy and healthy?
According to veterinarian Dr. Jan Bellows and Milk-Bone, dog parents can start by avoiding these:
Top 3 major doggy health hazards:
1. DOGGY HAZARD #1: LEFT OUT LEFTOVERS
Many dogs get sick not from being fed directly but because they climb up on the table and eat huge quantities of food when humans aren't there.
2. DOGGY HAZARD #2: FOOD NO-NOS
Don't give your dog turkey skin, turkey or poultry bones, onions, grapes, raisins, fatty foods, or other holiday items that are harmful or toxic to dogs.
Fatty foods are hard for animals to digest, and many foods that are healthy for people are poisonous to pets – including onions, raisins and grapes.
Chocolate can be harmful for pets, even though many dogs find it tempting and will sniff it out and eat it.
Be aware of the artificial sweetener xylitol –it's a common ingredient in sugar-free baked goods, and other foods-it can be deadly if consumed by dogs or cats.
3. DOGGY HAZARD #3: DENTAL DAMAGES
Avoid plastic bones, ice cubes, antlers, and bully sticks — all of which can cause painful doggy tooth fractures.
So when Fido is begging for a treat under the Thanksgiving table with big puppy dog eyes, what can you safely give your gour-mutt instead?
Dr. Bellows recommends Milk-Bone Brushing Chews for Thanksgiving — a bone that tastes like a treat and cleans like a toothbrush.
Give them a Treat
Instead of the hazards of human holiday foods, Milk-Bone Brushing Chews taste great to dogs, remove tartar build-up, improve smelly doggy breath, and keep lucky labs happily occupied during the Thanksgiving meal, or make these Peanut Butter Applesauce dog treats that are super easy.
Act Quickly
Call your veterinarian or local veterinary emergency clinic immediately if your pet has been poisoned or eaten something it shouldn't have. You may also want to call the ASPCA Poison Control Hotline (888-426-4435) or the Pet Poison Helpline (855-764-7661). Signs of pet distress include sudden changes in behavior, depression, pain, vomiting, or diarrhea. Contact your veterinarian immediately if your pet shows any of these signs.