Over a few years, the popularity of the creative marketplace and print-on-demand sector has been soaring high. It has motivated many young people out there to pursue graphic design as a career option. Many designers don't just limit themselves to a 9 to 5 job. Besides working as a freelancer or regular designer, they look for some other ways to make quick bucks and gain popularity.
According to an IBISWorld's study, by 2021, the global graphic designer market size will be over $45.8 billion. It shows the potential this industry holds.
Here, we are going to explain one such way by which you can make quick bucks. PrintShop by Designhill allows you to sell your artwork to a global customer base. As and when customers buy your design(s), you get a set percentage of commission.
Let's see how PrintShop by Designhill works —
There is a good possibility that you have been designing for a while. You might have some old Photoshop files or Illustrator collecting dust or lost in the piles of old files.
With an unprecedented demand for Print-on-Demand and creative marketplace, it's become easier to set up an online shop selling funny t-shirts, phone cases, coffee mugs, posters, and more.
I have personally used PrintShop by Designhill, and, to my surprise, I managed to make good money from here. This platform certainly has many possibilities for talented graphic designers.
The best part of PrintShop by Designhill is that it doesn't involve any upfront costs or shipping, and inventory management. It means you can open your store for FREE. All you need to do is to complete an elementary registration process.
Even if you're a newbie, there are many tools to help you with your store set-up and design upload.
Keep scrolling to know more about my review of PrintShop by Designhill.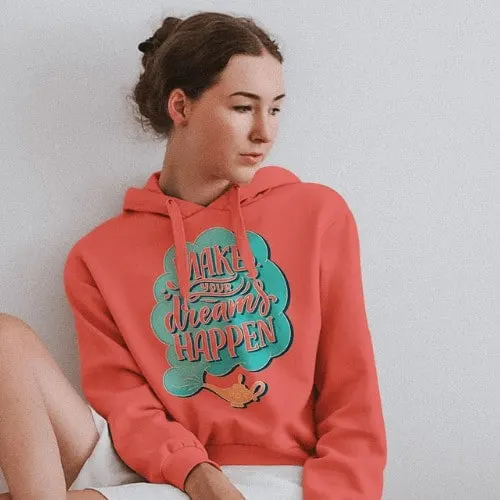 PrintShop USP
PrintShop being a creative marketplace works hard to bring global customers to you. This broad customer base is available to buy your artwork. The best thing is that you get exposure to this global customer base without doing anything else! Also, you don't have to be a marketing pro to drive customers towards your artwork.
The platform requires you to complete a necessary registration process and upload your design. When customers find your designs, they'll buy for sure and put it on their choice of products. For every single design sold, you get a fixed commission.
There have been many Print-on-Demand companies offering products to sell your artwork on. But PrintShop lets you sell your artwork directly on their website. The buyers will be the sole decision-makers for the type of products they like to put your artwork on.
Positive and negative aspects of PrintShop by Designhill
Positive aspects —
♥ PrintShop by Designhill doesn't include any upfront cost for setting up your own store. That means you don't need to invest any money to make extra bucks on this platform.
♥ You will get a wide collection of products to choose from that too of different brands.
♥ You don't have to ship, print, or look after customer support. PrintShop by Designhill takes care of all this on your behalf.
♥ Every design goes through a Quality Check process. Only the approved designs will get a nod for uploading.
♥ Each product gets top-notch printing.
♥ PrintShop gives you the flexibility to choose products that you want to upload your design(s) on
♥ You can match the brand identity of your website with your store as well.
Negative aspects —
♥ The catalog of PrintShop still has enough space for product addition.
♥ The restricted color palette still has space for more colors.
How PrintShop helps you make quick bucks?
PrintShop by Designhill is a creative marketplace set up for both customers and designers. As there is no middle man involved, you get your commission directly to your account. In short, it works as a bridge between you and customers.
Products that are sold on PrintShop
There is a wide array of products you can sell on Designhill with your artwork. From funny t-shirts to hoodies, sweatshirts, tote bags, phone cases, and posters, you can choose from various products.
♥ T-shirts
♥ Hoodies
♥ Sweatshirts
♥ Joggers
♥ Jackets and vests
♥ Tote bags
♥ Phone cases
♥ Long-sleeve tees
♥ Crop tops
♥ Posters
Payment method
When you start earning money on PrintShop, you get two payment methods to choose from — PayPal and Payoneer.
When you register as a designer/artist, your account features an option of withdrawal. You have the option to choose money withdrawal either in full or partial form.
All it requires is the selection of withdrawal method and amount. Once you requested the withdrawal, the PrintShop team works immediately to credit the amount in your account.
Keep in mind that the money is sent only on business days except for Saturdays, Sundays, and public holidays.
Be reminded that the money is reimbursed on all days except holidays, Saturdays, and Sundays.
Shipping process
PrintShop by Designhill provides three shipping methods for the customers. These include —
The Flat Rate Delivery option takes at least 3 to 4 days for shipping the product after fulfillment. It costs the customers a $3.99 charge, though.
The FedEx 2-day delivery option takes about two days after the fulfillment to deliver the product. Its shipping charge is $8.39.
The USPS Priority mail takes about 1 to 3 days for delivery after fulfillment, but it costs about $9.07 as shipping charge.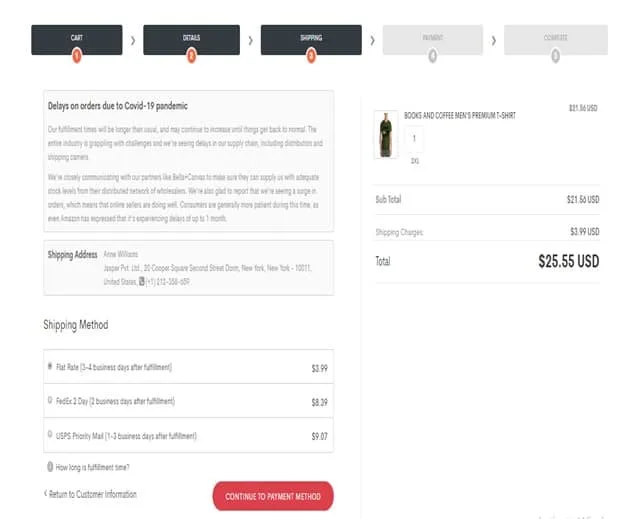 User Experience at PrintShop
When we talk about user experience at PrintShop by Designhill, it's excellent. The user-friendly interface is easy to manage and set up your virtual store. You don't have to be a pro in anything except designing to start with it.
Every step has been made self-explanatory; hence, you won't face any difficulty. Just start by signing up on Printshop.
Once your online shop has been set up, start selling on PrintShop!
For any query or concern, you can go through their FAQ section. Also, you can take the help of their customer support via phone or email.
Now, I give PrintShop by Designhill 4 out of 5 stars.
Remember, the only tip for succeeding here and starting making money is to create quality and unique designs. The more it will attract people, the better you'll be able to sell it.
Tell me about your experience in the comment section below!