I was sent the products mentioned in this post to facilitate an honest review.
We reside in the south where insects are abundant, and we review Liquid Net-DEET-free Insect Repellent.
Welcome to North Carolina.
It's my mantra when things just don't go as expected.
Like bugs.
Wow! Every size and color, shape and size–they live here.
I think mainly in our yard!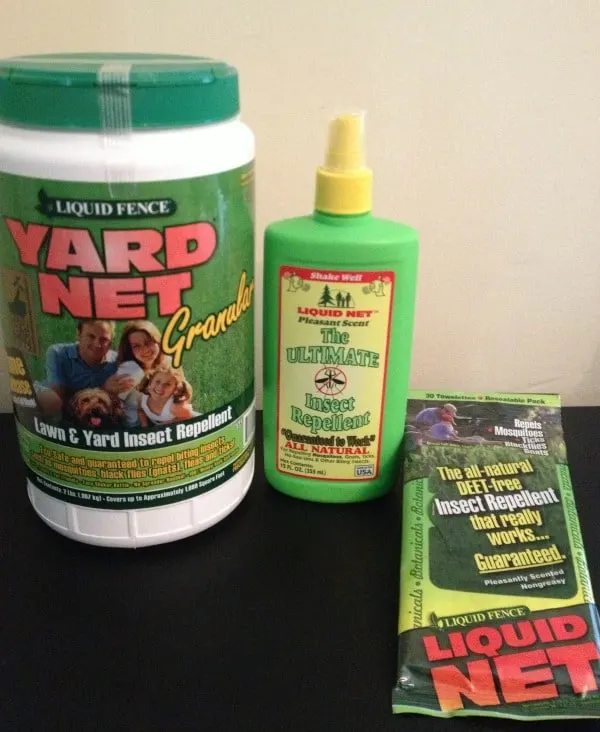 After being eaten by the ravenous critters, I realized we needed to act.
I read a lot about Liquid Fence and after I determined it was going to be 100 percent safe for us and our dog, we gave it a try.
It's effective and biodegradable, made from botanical extracts to repel most insects, including mosquitoes.
I found using Yard Net by Liquid Net very easy to use.
It can be used on the lawn, landscaped areas and shrubs.
It does have a mild smell, but it's not terrible, and far better than battling the bugs.
Its formula contains lemongrass, cedarwood, and citronella oils and the smell is a combination of these.
Yard Net contains no pyrethrins, pyrethroids, or d-limonene.
The 5-pound granular product covers approximately 2500 square feet.
A little goes a long way.
I've been using it all summer and we still have plenty.
I sprinkle it around our walkways, patio, and the driveway.
It seems to hold up after a light rain, but when it's a downpour, reapplication is necessary.
Yard Net comes with a 100 Percent money-back guarantee.
On our park outings, I've been using Liquid Net's The Ultimate Insect Repellent.
I really like that this product is DEET-free.
It's made using natural ingredients, including botanical extracts.
It has a mild scent to it and seems to repel biting insects effectively.
We were being devoured by the bugs on our trips to Tanglewood, but with the Ultimate Insect Repellent, no one complains after an adventure on a trail through the woods.
I have also used the spray on beach towels and found it works well in repelling sand fleas.
It dried quickly and isn't oily like many of the insect repellents we have used in the past.
We start with one coat but sometimes have layered the coats.
It's colorless and can be sprayed to face, clothing, hair, and other items.
Both of these products are an excellent choice for those looking to repel insects a little more naturally than with DEET.
---
Resources:
https://www.consumerreports.org/insect-repellent/how-safe-is-deet-insect-repellent-safety/