My mom is an amazing cook. Growing up our dinners were true labors of love. I remember watching my mom for hours in the kitchen creating meals fit for a king. Recently she gave me this spinach cheese dip recipe. It's versatile, make ahead and heat up a serving for a few, or bake the entire dish to serve a crowd. Either way, it will be eaten!
It's quick to make and easy to serve.
I use leftovers in omelets!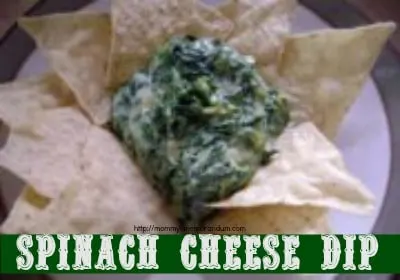 Ingredients:
3 pounds frozen, chopped spinach (thawed and drained)
1 pound cream cheese
4 cups shredded cheese* (we mix two varieties (Monterey Jack and mozzarella)
2 tsp hot cayenne powder
How to Make Spinach Cheese Dip
Place all ingredients in a bowl and use a mixer until well-blended.
Serve in portion sizes by heating in the microwave for 1.40 seconds (times may vary due to differences in the microwave).
If serving a crowd, place in a 13″x9″ dish, sprinkle with bread crumbs, and bake at 350 degrees for 25 minutes, or until bubbly.
Serve with tortilla strips, chips, toast, or crackers.
Refrigerate any unused dip.
*Today's Best Recipe has a great article on why you should grate your own cheese.