"One Special Day: A Story for Big Brothers and Sisters" explores the experiences and emotions of older siblings when a new baby arrives in the family. This board book is designed for young children and often features simple text and colorful illustrations.
A story that highlights the excitement, challenges, and joys of becoming a big brother or sister. Explore themes such as love, sharing, and the special bond between siblings. The book provides reassurance and guidance for young children as they navigate their new role in the family.
Our
One Special Day: A Story for Big Brothers and Sisters Review
While MES has certainly been excited about her new baby sister popping out on her birthday, she is now feeling a little conflicted about not being the littlest anymore. She has told me a few times that she doesn't want to stay little. As Mommy, I remind her she will still be little, but at the same time, our family will have a new baby that will be even littler than her. We have talked about how she will still be the same big girl who gets to go to ballet class and learn her ABCs and how she will still be my little girl for as long as she is mine.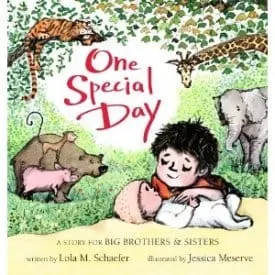 Does having a new brother or sister make you more than you already are? Spencer is about to find out in the new picture book One Special Day by Lola M. Schaefer. He's as strong as a bear, as funny as a monkey, and as wild as a tiger. But on one special day, everything changes. Now Spencer is strong, funny, wild, brave, free… and gentle too.
One Special Day is a heartwarming picture book about an adventurous and imaginative boy becoming a big brother for the first time. This playful take on a familiar matter is sure to capture the hearts of parents and children alike.
From the publishers at Disney-Hyperion, One Special Day has been a charming way for me to help explain to MES that she can still be as fast as a horse or as strong as a bear, but when our Lil Bit arrives, she will also be something MORE: she will be gentle and kind and a BIG sister for the first time. The story begins with a double layout of Spencer standing with his grandmother as a car goes down the road. The charming illustrations by Jessica Meserve captured MES's attention and entranced her. There are so many details on each page, and I love the way I can incorporate animal identification into reading the book. We also played a guessing game about each page… "What do you think he is as funny as?" Some of MES's answers were right on target, and what a good way to practice the wonderful reading skill of prediction. The large pictures are filled with happiness as Spencer enjoys the day at his grandmother's house. As the story nears the end, Spencer is shown quiet and waiting on a chair (with his new animal friends patiently watching) with a pillow in his lap, ready to hold the new baby gently.
After reading the story, MES enjoyed paging through again and again and studying all of the details – even the small pictures on the inside flap! She loved helping Mommy read the story; it's easy to do when each simile is completed with a picture of the animal instead of the words (and as a homeschooling mom, I appreciate the use of really good figurative language!). This beautiful keepsake book will help children understand that with a new baby entering the family, they aren't diminished, they become something MORE than what they currently are.
In addition to this great book, we had the opportunity to ask Ms. Schaefer one question. We remembered our Saturday with the Buehner's and so we asked:
Question: From start to publication, how long did it take you to complete this wonderful book?
The Answer:
That's always a tricky question to answer because I, and most picture book authors, don't work on a picture book every day until it's completed. I write a draft and then go back and revise for different elements. Although, this script came pretty much full-blown, my editor at Hyperion helped with selecting just the right animal images for fast, messy, loud, etc. All in all, I'd say that it took four months, off and on, after the initial idea, until the words finally came together. Then, of course, the illustrator needs 18-24 months, in most cases, to bring the text to life. Jessica's art is packed with vitality and tenderness, a perfect blend for Spencer. What a talent! The final step of production is printing and then the books are shipped to booksellers and find their way into homes and libraries. For this book that journey took almost three years.
About the author:
Lola M. Schaefer is the author of more than 200 books for children. Her book Frankie Stein was awarded the Children's Choice Book Award and the Mockingbird Award. Lola lives with her husband, Ted, in the mountains of north Georgia. Visit www.lolaschaefer.com to learn more.
About the illustrator:
Jessica Meserve is the author-illustrator of Small Sister and Can Anybody Hear Me? She was born in Maine, studied illustration in Scotland, and worked in publishing as a children's book designer before pursuing a career as an illustrator. Her two young children helped inspire her artwork for this book. Visit www.jessicameserve.com.
###
Lauralee Saad loves homeschooling her three kiddos: Ballerina, age 8, Big Boy, age 6, and MESS, age 3. She enjoys sewing when she can find a spare corner to set up her machine and dig out fabrics, cooking and baking – especially if the kiddos are helping, and enjoying a good book after the kiddos have gone to bed. She is thrilled to be welcoming a baby girl into the family in March of 2012.
*I received Pop the Bubbles 123 in exchange for an honest review. The opinions, where expressed, are my own and were in no way influenced by the sponsor. Others experiences may vary.