Introducing Earth Footwear: Connecting You to the Natural World!
Step into a world where comfort, style, and sustainability unite with Earth Footwear. They are proud to present a revolutionary line of shoes that not only make you feel good but also help protect our beautiful planet. Prepare to embark on an extraordinary journey with footwear designed to support your feet and honor the Earth!
Feel the Ground Beneath You: Experience Unmatched Comfort
At Earth Footwear, they believe that feeling connected to the Earth is essential. Their shoes feature innovative designs that provide a barefoot-like experience while still offering optimal support and protection. With every step, you'll feel the ground beneath you, allowing you to connect with nature and rediscover the joy of walking.
Sustainable Style That Makes a Difference
They are committed to making a positive impact on the environment, which is why their shoes are crafted using eco-friendly materials. From the organic cotton used in our linings to the recycled rubber soles, every element of Earth Footwear is carefully selected to minimize our ecological footprint. By choosing Earth Footwear, you become an agent of change, promoting sustainability with each stylish step you take.
Fashion That Speaks for Itself: Elevate Your Look
Who said being environmentally conscious means compromising on style? Earth Footwear offers a stunning array of designs to suit every taste. Whether you're heading to the office, exploring the outdoors, or enjoying a night out, these shoes seamlessly blend fashion with functionality. With Earth Footwear, you'll turn heads while staying grounded in your commitment to a greener future.
Step Forward, Leave a Legacy
By joining the Earth Footwear community, you become part of a global movement to preserve and protect our planet. Earth Footwear believes that every step counts, and together, we can make a lasting difference. Each pair of Earth Footwear not only supports your well-being but also contributes to environmental initiatives, helping to plant trees, conserve natural habitats, and support sustainable initiatives around the world.
Take the Next Step: Choose Earth Footwear Today!
Experience the joy of walking in harmony with nature. Embrace comfort, style, and sustainability by choosing Earth Footwear. Join their community of conscious individuals who are stepping forward to create a brighter, greener future. Find a retailer near you and start your journey with Earth Footwear today!
🌍 Earth Footwear: Where Style Meets Sustainability. Together, We Make a Difference. 🌿
Our Earth Footwear Review:
A few years back, I discovered Earth Footwear. It's been my Spring and Summer choice ever since. I can't get over the comfort! With Spring arriving tomorrow, the them "New Year, New Wardrobe, New Earth" is perfect. Introducing their Spring and Summer collection with the "Positive heel"!
Contemporary designs. Contemporary comfort. Everyday value. It's Earth®. A modern collection of dress casual footwear, grounded in the ideals of promoting a healthy lifestyle. From dress styles and wedges, to casual styles, to everything inbetween, newEarth® styles deliver remarkably against their value with a comfort footbed that delivers wellness into every step. Earth®. Step Into Wellness!
When my Earth footwear arrived, I was really surprised. While my DNA is genetically fused to make me squee over shoes, wearing them is a whole other thing. I prefer bare feet. I stepped into the Earth Sandal and had a change of mind. I asked
Charlotte the Great
, "How can something this cute be SO darn comfortable?" It was like standing on fluffy clouds.
I was sent the Wisteria in Platinum:
Charlotte the Great thought they looked more like her than me, which is when I reminded her that regardless, they were in MY size not hers!
We both cooed about the color. It is perfect for spring and summer. The color works well with pinks, blues, browns and more. We took them shopping with us to see how they would fit in with the new spring fashions and colors. They're keepers…so many options with this shoe and style.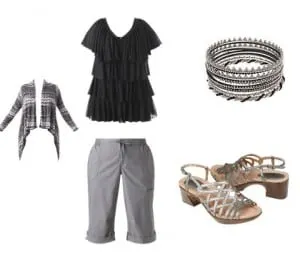 The new Earth collection is all less than $100 with prices ranging from $70-$99. They are made of real leather and outstanding quality– and I've worn my first pair for about five years now–up and down the Vegas Strip, hiking, shopping, camping and more. They're still extremely comfortable
The heel is a perfect compliment. A slight lift, but nothing that will have your feet complaining.
I dare you to find another pair of sandals with such comfort. It's alien technology with the cushioned foot bed, padded heel and reinforced arch support.
The new Earth does not have "negative" heel technology BUT rest assure, the "negative" heel shoes live strong under it's original name, Kalso Earth Shoes.
Only Earth Footwear offers all day comfort with:
A padded heel area to displace shock
A reinforced arch support to stabilize foot
A multi-density latex cushioning layer for extra support
About Earth Footwear:
Earth Footwear is a popular brand that specializes in creating shoes that prioritize comfort, style, and sustainability. They have gained a reputation for their innovative designs and commitment to protecting the environment.
Here are some key features and values associated with Earth Footwear:
Comfort: Earth Footwear focuses on providing exceptional comfort to its customers. Their shoes are designed to mimic a barefoot-like experience, allowing wearers to feel more connected to the ground while still offering ample support and cushioning.
Sustainability: The brand is dedicated to making a positive impact on the environment. Earth Footwear uses eco-friendly materials in their manufacturing process, such as organic cotton linings and recycled rubber soles. By prioritizing sustainability, they aim to minimize their ecological footprint.
Style: Earth Footwear offers a wide range of stylish designs to suit various occasions. Whether you need shoes for everyday wear, outdoor activities, or formal events, their collection combines fashion-forward aesthetics with practicality.
Environmental Initiatives: Earth Footwear goes beyond creating sustainable products. They actively contribute to environmental initiatives, such as tree planting, conservation efforts, and support for sustainable projects worldwide. By choosing Earth Footwear, customers become part of a global movement towards a greener future.
Community: Earth Footwear has built a strong community of like-minded individuals who value both style and sustainability. By joining the Earth Footwear community, customers connect with others who share a passion for preserving and protecting the planet.
Overall, Earth Footwear provides a unique blend of comfort, style, and sustainability. They offer footwear that allows wearers to feel grounded while making a positive impact on the environment. With their commitment to innovation and eco-friendly practices, Earth Footwear continues to inspire individuals to step forward towards a greener future.
*I was compensated by

Global Influence

as part of a

Bookieboo LLC campaign

with

Earth Footwear

. All opinions, where expressed, are my own and were in no way influenced by the sponsor. Others experiences may vary.