A lot of sneaker fanatics like to buy their sneakers online. Other customers really want to try on the new sneakers first so that they can tell how they feel in action and discover for themselves how they work. Here are our picks for the best stores to grab your new pair of sneakers.
Many analysts believe that brick-and-mortar sneaker stores are soon going to be a thing of the past. But right now, there are still plenty of people who want to put their hands on their purchase before they fork over the money.
All of these places also have an app and a website so that a customer can go online if they want.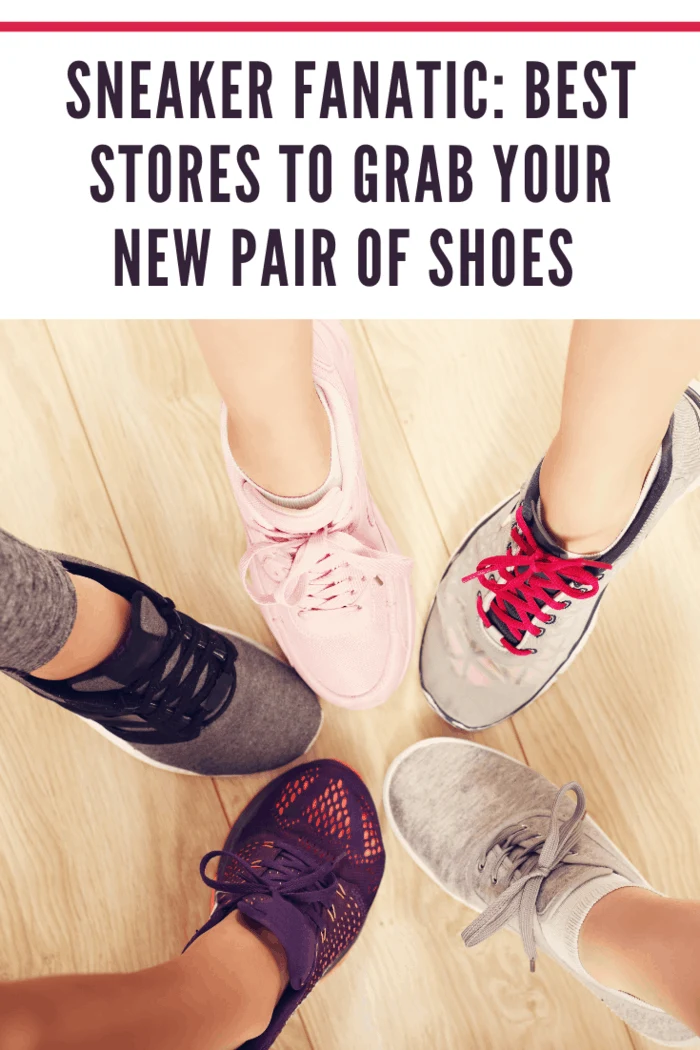 Hibbett Sports
Buying shoes from Hibbett Sports is a slam dunk. Online reviews of their retail outlets frequently mentioned great customer service and an excellent selection of sneakers. These are the only two things that actually matter to a customer, no matter what a store is selling.
Founded in 1945, this is a sneakers store that knows what they are doing. Customers report that Hibbett Sports stores look attractive and are easy to shop.
The salespeople at Hibbett Sports build their reputation on friendliness and a forward-looking style sense. They are easy to talk to and always ready to help a customer choose the right size and the right shoe.
Hibbett Sports sells the newest sneaker launches on a first-come, first-served basis. At times, however, they go to the raffle system when a new launch is particularly limited.
Hibbett Sports has 1,082 locations nationwide, so you are sure to be able to buy the hottest shoes from Hibbett Sports.
Foot Locker
Customers think of Foot Locker as the "old faithful" when they are thinking about buying sneakers. Born out of a collaboration of the old Woolworth's company with the old Kinney shoe stores, it does feel like they've always been around.
With over 3300 stores worldwide, a customer doesn't have to plan a trip to a big city just to visit a Foot Locker store. Of course, they sell all the different Nike shoes a customer might want, plus their own brands like Lady Foot Locker, Kids Foot Locker, and Foot Action.
Their first store opened in 1974 in City of Industry, California, and is still going strong today. In a recent survey of shoppers, the best thing about Foot Locker was their salespeople. The shoppers were very happy to have someone knowledgeable to help them find the perfect shoe.
Finish Line
Another of the old tried and true retail stores, Finish Line Sports, is an excellent place to try on a pair of sneakers. Founded by three running fanatics in 1974, they have retained their great reputation over a long period of time.
Although the company was founded in Indianapolis, customers can now find these stores at 670 mostly mall locations around the country. Finish Line sells all the top brands like Nike, Air Jordan, Adidas, and all the others.
Sneaker Boutiques
When sneakers became such a hot commodity with limited releases, a new kind of sneaker store was born called a sneaker boutique.
These are luxury stores that are way above high-end. But with sneakers, retail is retail. A customer can get the same pair of sneakers for the same retail price at every store.
However, if the customer wants the VIP treatment when they buy sneakers, they could visit a sneaker boutique.
Boutiques are generally located in big metro areas like New York City and Boston. Notre is one such boutique, and it is located in Chicago. These sorts of boutiques frequently rotate stock to keep the store looking fresh.
Ubiq is another one of these boutiques, and this one is located in Philadelphia. Having been opened in 2002, it makes it one of the oldest sneaker boutiques in the country. Being able to thrive just selling retail sneakers is quite a feat. Ubiq was even able to open another store in Georgetown in DC in 2016.
Located in Atlanta, A Ma Maniere is a boutique sneaker store that has expanded to other high-end products. They carry all the latest limited-edition Nikes and Adidas, and several other sneaker brands. While a customer is checking out the sneakers, they can also check out the hotel and have items brought to their room for try on.
If a customer doesn't live in the wealthy section of a big city, there are still great places to get shoes in everyday stores.