This article provides detailed insights regarding how forensic psychology contributes to the mental well-being of society.
The field of psychology is growing with every passing year. With more and more people entering the occupation annually, the discipline benefits from the research conducted by young talented individuals. Without the 20th-century development, we might not have been able to take advantage of the discipline's diversity today. Several specialists and clinicians provide adequate services with the rapid increase in people dealing with different mental health issues.
More than ever, there are multiple areas where a psychologist can be of more significant help. If not all, healthcare, education, HR, and forensics are some avenues where psychologists can enter. Many of you might be aware of the role performed by psychologists, specifically in the formerly listed fields. However, only a few are aware of how forensic psychology can help people's mental well-being. This article provides detailed insights regarding the contributions of forensic psychologists to the mental well-being of society.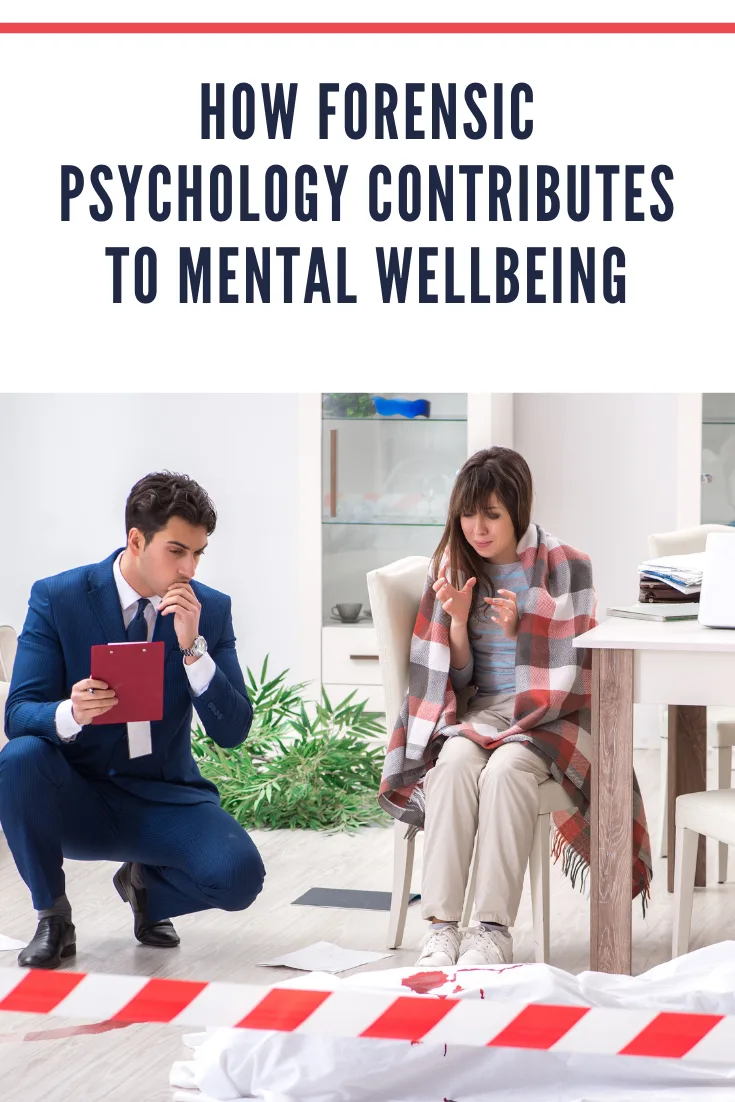 What is forensic psychology?
Forensic psychology is a branch of psychology that works very closely with the criminal justice system. Criminal profiling, crime scene investigation, and suspect interrogation are just some of the typical jobs these psychologists undertake. It is not wrong to say that the field requires social-psychological knowledge, cognitive learning, and understanding of abnormal behavior.
Because a forensic psychologist's career covers a vast range of psychological knowledge, many students pursue the subject as a career choice. With online education being a significant benefit to students worldwide, a forensic psychology degree online like online.maryville.edu is now one of the most sought-after subject decisions for young adults to make careers.
They understand criminals
One of our society's most significant issues is that criminals are labeled but never rehabilitated back into the community. It is relatively common to note that people with a criminal record have mental health issues. Whether diagnosable or environmental, there is usually some indication of poor mental health in these individuals.
In extreme cases with murderers and rapists, a history of parental abuse is all too common and, according to Live Science, contributes to psychopathic traits in children who witness abuse.
A forensic psychologist might better understand a client with a criminal record than a regular therapist. Understanding the effects of imprisonment on an individual may also benefit the treatment process. It would be best for a forensic psychologist to consider working part-time and rehabilitating clients with a criminal record.
They understand societal dynamics better.
Reasonably often, people's mental illnesses stem from societal dynamics that bother them in some way or another. Especially in young adults, social roles, relations, and expectations can cause severe stress and lead to multiple insecurities forming from a young age. Though these issues may be of paramount importance for the client, not every therapist understands them.
According to Cambridge.org, forensic psychologists consider individuals as part of this society and use their specialized skills, knowledge, and training to deal with the target individual. They further consider certain aspects of social psychology to help the client feel more comfortable.
Besides, forensic psychology helps in examining and evaluating different aspects of criminology. These psychologists help identify crime history through their in-depth research by questioning and studying victims, suspects, and people central to criminal activity. They further identify the situations and reasons associated with the particular crime and the age group involved.
Educate People about the criminal psyche
One of the best ways forensic psychologists may contribute to societal mental being is to educate the public regarding a criminal's psyche. This includes providing them with knowledge regarding what to expect from criminals. This type of learning is essential, as it helps people take the right action at the right time. Showing them the warning signs that might result in adverse outcomes is the first step to educating people.
Educating the community is especially beneficial in communities where criminal activity and juvenile delinquencies are common. It is also helpful for societies that have been the subject of attacks, such as serial rapists, kidnappers, and murders. The community needs to know what to be aware of and what behavior should be alerted to the authorities. Educating them on what to look out for can help them rest easier and improve their mental wellbeing.
Conclusion
In a society with rising sexual violence against women, a forensic psychologist could instill coping strategies in women who fear becoming attack subjects. Moreover, as the previous point mentioned, raising awareness about criminal behavior is crucial for these psychologists in improving these at-risk individuals' mental well-being.
In general, a forensic psychologist can significantly help the mental well-being of their community. Psychological awareness in today's time has given psychologists worldwide the chance to treat people who might not ever have considered a treatment in the past. As societal stigma has significantly reduced, more and more people aren't just looking at the conventional therapist and a forensic psychologist for assistance. With the growing awareness about mental health and the diversity of career choices within the discipline, one might expect increased awareness of mental health issues under different scenarios.