Slimfast® and Walgreens sponsored this post. All opinions, weight to lose and opinions are completely and totally my own.
January. It's a month of new beginnings. It's also the month that 50% of Americans who made a New Year's Resolution fail within the first two weeks. By the end of January, a full 95 percent of resolutions are abandoned.
Thanks to Slimfast, I am in the 50 percent of Americans who managed to keep their resolution beyond the two weeks. I took the Slimfast® 14-Day Challenge, simply replacing two meals a day with a tasty Slimfast Shake or Slimfast Meal Bar and eating a healthy, balanced dinner.
I resolved to be healthier, and part of this has been to make changes to my lifestyle when it comes to food consumption. I gave up soda on December 20 and I'm proud to report I have remained committed to this goal, passing my 31-day milestone last Friday!!! My next short-term goal was to eat less. I chose Slimfast. I've had success on Slimfast in the past and knew it wouldn't be a tricky weight management plan.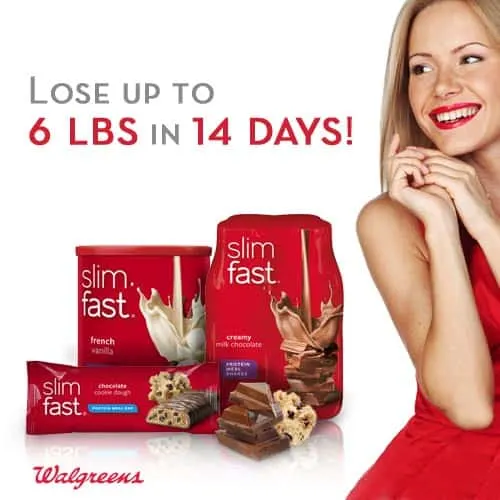 My resolutions are well-thought-out. Slimfast offered the options I was seeking. The plan allowed me to set short-term goals, like the Slimfast® 14-Day Challenge. I could ask myself, "Julee, where do you want to be two weeks from now." Two weeks is a short enough time to see results on Slimfast. I lost 4.3 pounds. There were a couple of nights I admit it, I indulged.
I love the taste of Slimfast shakes. My favorite is the cappuccino, but the Royal Chocolate is mighty good! I love that it is convenient. I could grab a shake and a bar on my way out the door in the morning and be set throughout the day. Slimfast was satisfying and helped me curb the munchies.
I'm ready to take on the next two weeks with Slimfast. It's a great way to meet a long-term goal with short-term milestones. It allows flexibility and convenience. Give it a try and see for yourself.
Slimfast can help you meet your New Year's resolutions!