This Spinach dip is a delicious appetizer that is easy to make and makes for a simple presentation. It pairs well with bread, crackers, and chips. It's a popular dip in restaurants and this recipe is easy enough you'll be serving it often.
Spinach is a vegetable that people either love or hate. It is thought to have originated in Persia, and as it's popularity migrated, it was introduced to ancient China where it was known as "Persian vegetable".
The name Florentine is often used to describe dishes containing spinach (and a creamy sauce). It is thought that this name dates back to the 16th century and the Italian wife of France's Henry II; Catherine de Medici. The unverified tale states that Catherine introduced spinach to the Court of France and to honor her Italian heritage, she then decided to call any dish containing spinach Florentine.
Not only is this spinach dip a tasty appetizer, spinach has many benefits (find them in this article from bbcgoodfood.com, making it a win-win treat!
We also love this spinach dip recipe that mimics a popular recipe chain's version.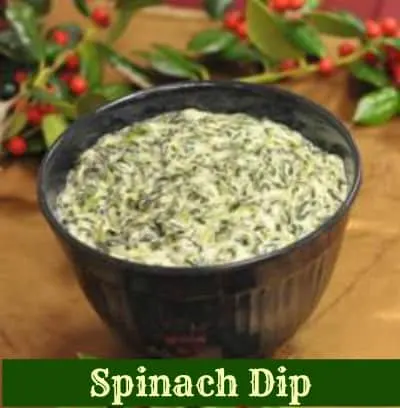 Spinach Dip Recipe Ingredients
3 Lbs. Frozen Spinach Chopped Thawed and Squeezed Dry
5 Cups Light Cream
7 Garlic Cloves, Peeled, and Minced
½ Stick of Butter
½ Cup All-Purpose Flour
½ Cup Grated Parmesan Cheese
1 Tsp. Ground Nutmeg
1 Tsp. Salt
½ Tsp. Ground Black Pepper
Spinach Dip Recipe Directions
In a medium sauce pan, combine cream, garlic, and bring to a light simmer

Cook for 5 minutes or until garlic is tender
In medium oven, over medium-high heat, melt the butter
Add flour; stir until smooth.
Add hot cream mixture; stir with a whisk until smooth
Add spinach; cook for 5 minutes or until sauce is thick and bubbly
Add cheese, nutmeg, salt, and pepper. Stir until combined, cook for additional 7-8 minutes and serve
Serve in a bowl or ramekin with desired dipping items.