Every Monday, now through December 3rd, Scentsy is launching deals and introducing new products through their Merry Monday promotions.
Today's Scentsy Merry Monday is not to be missed.
It's an amazing deal with the Gather Together Scentsy Warmer + Hygge Wax Collection all for JUST $40 + tax.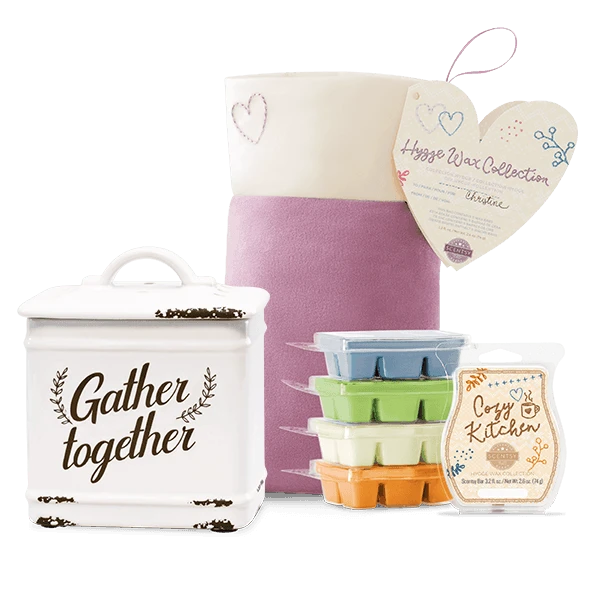 The farmhouse charm of our Gather Together Warmer. The comfort-inspired fragrances of our Hygge Wax Collection. So perfect a bundle, so enchanting a gift.
Gather Together is $35 on its own, so combining it in this bundle means you only pay $5 for the wax collection!
The Gather Together Warmer is 6″ tall. Fashioned after a vintage canister and stamped with a timeless message, Gather Together is perfect for anyone looking for a simple but on-trend piece.
Hygge Wax collection: Five exquisitely fragranced Scentsy Bars in a purple stocking ready for gifting. Available while supplies last.
All-new Hygge Wax Collection fragrances include:
Snow falls outside. You're curled up with a chunky blanket in a toasty cabin. Welcome to the holidays and the new seasonal collection: five Scentsy Bar fragrances inspired by the Danish concept of comfort, sold together, separately, or in a bundle while supplies last.
* Calming Woods: Wander through a serene stretch of vanilla bean, creamy sandalwood, and rich cedarwood.
* Cozy Kitchen: Warm up to a blissful batch of warm oats with brown sugar and a spicy cinnamon swirl.
* Quiet Clementine: Sweet orange, vanilla orchid, and sandalwood bring tranquility to a busy mind.
* Toasty Cabin: Bergamot zest, black pepper, wild fern, and acacia wood create the perfect space to hide away.
* Woolly Slippers: Slide into a sweet-and-cozy cloud of sugared lavender, marshmallow and vanilla.
Scentsy Warmers are available in a range of styles to fit every season and design. These electric wax warmers allow you to enjoy the exceptional scents that personalize your home.
You can get just the Hygge Wax collection in a purple stocking for $24+tax or mix and match five bars without the bag for $24.
For just $40 + Tax, you get all five Scentsy Scent Bars from the Hygge Wax Collection plus the Gather together warmer.