The Halo SleepSack is a type of wearable blanket designed to promote safe sleep for infants and babies. It is a popular choice among parents and caregivers as an alternative to traditional loose blankets in the crib.
The SleepSack is named after its unique design, which resembles a sack or a bag that the baby wears. It features a sleeveless upper portion that allows for unrestricted arm movement and a secure, zippered closure around the bottom half to keep the baby's legs covered. This design ensures that the baby stays warm throughout the night without the risk of getting tangled in loose bedding or suffocating.
One of the key purposes of the Halo SleepSack is to create a safe sleeping environment for infants, reducing the risk of Sudden Infant Death Syndrome (SIDS) and other sleep-related accidents. By eliminating the need for loose blankets, which can pose suffocation hazards, the SleepSack provides a secure and cozy alternative.
The Halo SleepSack comes in various sizes to accommodate newborns, infants, and toddlers. It is typically made of soft, breathable fabrics such as cotton, micro-fleece, or muslin, ensuring the baby's comfort while regulating body temperature.
Additionally, some versions of the Halo SleepSack include special features to further enhance safety and convenience. These can include inverted zippers for easy diaper changes, adjustable shoulder straps for a secure fit, and swaddle-like designs for newborns who prefer a snugger feeling.
It's worth noting that the Halo SleepSack is just one brand among several available on the market. Other companies produce similar wearable blankets with different features and designs. When selecting a sleep sack or any baby product, it's important to consider the specific needs and preferences of your child, as well as following the manufacturer's guidelines for safe usage.
Our Halo Sleep Sack Review
No Loose Blankets or Bumpers for Safer Sleep
We had a baby three weeks ago; we moved ten days ago. I am tired. I'm beyond tired. I want a nap. I know swaddling helps, but after a few days, my babies are usually strong enough to kick and punch their way out of the blanket leaving them up and awake.
I put Clara in the small swaddler HALO® SleepSack that is part of the five-piece SleepSack Crib Set™. She bundled so easily into the zippered pouch and I swaddled her sunggly with the Velcro closures. She napped for easily three hours… of course, I was so worried that she would wake up that I only slept for one of those, but hey! we found a solution!
I love the light fabric that Halo uses on their blanket sleepers. It is comfortable with a sleeper under it if the air conditioning is on or with a onesie on if it is a warm night. Clara thinks it's absolutely dreamy. While she sleeps, she stays swaddled, but with a little wiggling, she can push her arms through the holes so only her little belly stays wrapped.
Designed with whimsical prints, the HALO® SleepSack Crib Set™ will help create a beautiful and safe nursery for your little one. The American Academy of Pediatrics and leading safety organizations warn against the use of soft, loose bedding and bumpers in cribs.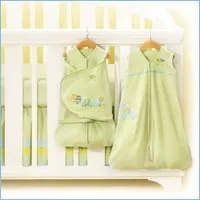 Instead of potentially dangerous comforters and bumpers, this unique five-piece SleepSack Crib Set contains only those things your baby needs to sleep safe and sound from the start:
HALO® SleepSack®Swaddle (Newborn)
HALO® SleepSack® wearable blanket (Small)
Two 100% cotton jersey fitted sheets
Decorative skirt
The HALO® SleepSack Crib Set™ is a perfect nursery set. The other three children had bumpers on their cribs; I was constantly worried that their little noses would get caught in that puffy bumper or that when they were standing, they would use those bumpers as a step to escaping the crib. The HALO® SleepSack Crib Set™ has taken the bumpers away and left us moms with the peace of mind that our children will sleep comfortably and safely throughout the night.
The 100% cotton jersey fitted sheets are so soft once they are washed that I wanted a set for my own bed! I love the decorative skirt too. It adds the colors and whimsy that a nursery needs.
There are six different designs to choose: two pinks (Jumbos Garden and Caroline's Garden), two blues (My Dog Sam and Blue Jungle), and two greens (Sage Caterpillar and Green Jungle). I love Sage Caterpillar — even though I knew I was having a girl, those greens and yellows just yelled out to me. I was right too; they are going to look perfect with our cream colored walls. I thought that those colors also coordinated with some of the pinks that are out right now. Besides, girls can love other colors besides pink, right?
The other aspect of this set that I think is superb is that it comes with TWO sleep sacks: one for newborns and one for up to six months. With MES and Big Boy, I was dismayed that they outgrew sleep sacks in a matter of weeks. Of course, Bitty Baby Clara won't have that problem – she is still curled up pre-natal style at two weeks! – but it's nice to know that I have a swaddler for now and something to use later as she gets bigger. It also matches the crib set, so my baby will be styling for awhile!
We haven't set up the crib yet; sweet baby Clara is still snoozing in the handmade cradle that my dad made so many moons ago for Julee's big boy, Jake. I am looking forward to seeing everything come together though and looking forward to a peaceful night's sleep.
Lauralee Saad loves homeschooling her three kiddos: Ballerina, age 8, Big Boy, age 6, and MESS, age 3. She enjoys sewing when she can find a spare corner to set up her machine and dig out fabrics, cooking and baking – especially if the kiddos are helping, and enjoying a good book after the kiddos have gone to bed. She is thrilled to be welcoming a baby girl into the family in March of 2012.
Disclosure of Material Connection: I received one or more of the products or services mentioned above for free in the hope that I would mention it on my blog. Regardless, I only recommend products or services I use personally and believe will be good for my readers. I am disclosing this in accordance with the Federal Trade Commission's 16 CFR, Part 255: "Guides Concerning the Use of Endorsements and Testimonials in Advertising.".