It is easy to see why a fire pit has become an essential element in backyard landscaping. The warm glow of the fire creates the perfect setting for an intimate social gathering, as the flickering fire ignites imaginations and tall tales come to life. Summer is the ultimate campfire season, but as those long, hot, summer days turn into cool autumn nights, the warmth and glow from the fire can extend your outdoor living season making your backyard enjoyable throughout the year.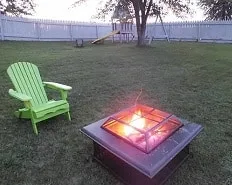 As summer draws to a close, we gear up for that first day of school, and outdoor decor seems out of season, but for those of us who live in the south, autumn is the perfect time to be outside. The weather is cooler, the humidity disappears, and once again we see crisp blue skies paired with white fluffy clouds. The best fire pit is one of those outdoor accessories that is better suited for the fall. During the summer, the idea of sitting next to a blazing fire loses its appeal, but the fire pit becomes a backyard centerpiece when the temperature drops and we are drawn to its warmth.
As part of our backyard makeover series, ACE Hardware generously provided us with a beautiful, 36″ Square Lattice Fire Pit by Living Accents. The fire pit was easy to assemble and looks great on our patio with our Adirondack chairs also by Living Accents.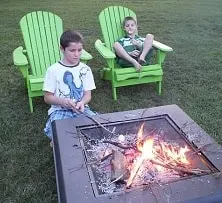 This year, National Smores Day was observed on Friday, August 10, 2012, and we are excited to be celebrating from the comfort of our backyard. With a fire pit, we can enjoy the wonderful taste of fire-roasted marshmallows without having to endure the entire camping experience. You don't need to go camping to participate in this culinary celebration, break out your fire pit and bring the wilderness to your backyard.
Campfire S'more Recipe
Ingredients:
1 large marshmallow
1 graham cracker
1 chocolate candy bar
Instructions:
Place marshmallow on a stick. Heat the marshmallow over hot embers until it begins to melt. Break the graham cracker in half. Place the hot marshmallow and a piece of chocolate on one-half of the graham cracker. Top with the second piece of graham cracker to form a sandwich. Let the marshmallow cool a bit before serving.
Or even try our Solar Oven S'mores.
I love shopping at Ace Hardware, they carry everything I need for my weekend home improvement projects without the hassle of shopping in big box stores. Locally owned and operated, each store is tailored to the local community.

Disclosure of Material Connection: I received one or more of the products or services mentioned above for free in the hope that I would mention it on my blog. Regardless, I only recommend products or services I use personally and believe will be good for my readers. I am disclosing this in accordance with the Federal Trade Commission's 16 CFR, Part 255: "Guides Concerning the Use of Endorsements and Testimonials in Advertising."