Welcome to the world of Insect Shield, where cutting-edge technology meets nature's finest defense against pesky insects. Insect Shield is a revolutionary and innovative approach to protecting yourself and your loved ones from the nuisance and potential dangers of biting insects. Harnessing the power of science and inspired by the secrets of the natural world, Insect Shield offers an unparalleled level of insect repellency, giving you the freedom to explore the great outdoors without worry.
Insects like mosquitoes, ticks, flies, and other biting pests are not only irritating but can also carry harmful diseases. The traditional solutions to repel these bothersome bugs often involve applying topical creams or sprays, which can be messy, inconvenient, and short-lived in their effectiveness. However, with Insect Shield, you can say goodbye to those hassles and welcome a smarter, more enduring way to defend yourself against insect bites.
At the core of Insect Shield's technology lies a revolutionary process that embeds insect-repelling properties into the fabric of various everyday items, such as clothing, gear, and accessories. Through this innovative treatment, your clothes become a reliable, odorless, and long-lasting shield against insects, maintaining their efficacy even after multiple washes.
Whether you're an avid adventurer exploring the wilderness, a casual outdoor enthusiast, or simply looking for a way to enjoy your backyard without the constant annoyance of buzzing insects, Insect Shield is here to enhance your experience. Join us as we embark on a journey through the incredible world of insect-repelling innovation, redefining how we interact with nature and allowing us to fully embrace the great outdoors, bug-free. Your next adventure awaits, protected by Insect Shield.
Insect Shield Review
One of the downfalls of the great outdoors is that we share it with buzzing, pesky and blood-sucking insects. I'm not about that. At. All.
I want to SEE the scenery with a clear view, not obstructed by my flailing arms trying to keep those pests away! Insect Shield has given me my view of the great outdoors and made my movements far less entertaining to those watching my sweat fest.
Insect Shield is mosquito protection for the entire family. It's more than an insect repellent however as it repels a variety of insects like ticks, no-see-ums, and sand fleas! Insect Shield garments repel mosquitoes, ticks, ants, flies, chiggers, and midges or no-see-ums. Insect Shield Gear repels mosquitoes, ticks, flies and fleas
Know what I really love about Insect Shield? It's not messy. It's invisible. It's odorless, and it works! Only the bugs know it's there.
Unlike traditional topical repellents, Insect Shield products cannot be misused or over-applied. Insect Shield technology is EPA-registered., can be worn or used by infants, children of all ages, and women who are pregnant or nursing. Since it's tightly bound to fabric Insect Shield it is preferable to traditional insect repellents, which can wash off in the shower or stream, or sprays that might risk contaminating the atmosphere.
That's seriously cool stuff.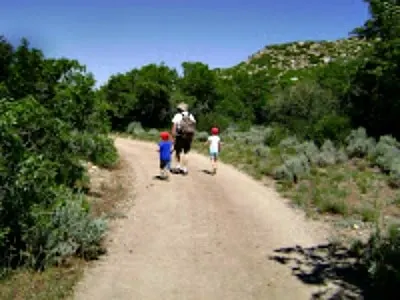 Memorial Day weekend we went to the West Desert and camped at Topaz Mountain. It was an incredible adventure, but back at camp hubby was devoured by sand fleas. He was miserable and insisted upon sharing his misfortune. As the sun set, he went to get a warmer shirt, and the sand fleas ended their feast. Hubby's secret protection, Insect Shield–what a great shirt! It brought joy back to camp–except for the kvetching about how badly he itched!
Last week the boys went camping. I sent along with an Insect Sheild bandana for Li'l Man. He called me before bed with great enthusiasm, "The bugs aren't eating me! It works, Mom!"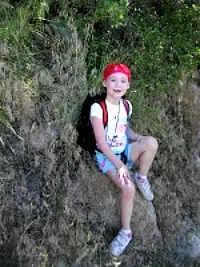 This weekend we put Insect Shield to the test again. On our hike to Bell's Canyon, Hubby wore an Insect Shield Hat, while the kiddos and I were stylish in our matching red Insect Shield bandanas! We headed up the canyon, and since the canyon was a CSI Crime Scene, we ended up off the trail back in some oak shrub by the river.
We ducked down the bank onto some granite boulders and ate. The area had stagnant water, was dense, shady, and much cooler. It was the perfect conditions for mosquitoes. As we climbed down into the area, we could see swarms of mosquitoes.
They vacated as we checked in. We didn't have to swat once; no one was lunch for the blood-suckers. It was just a peaceful, beautiful time!
We continually drenched the bandana with water throughout our hike to keep the kiddos cool. This didn't impact the effectiveness of Insect Shield at all! Even before leaving the lunch site, we dipped the bandanas into the cold river, rang them out, and put them back on the kiddos. Not a bug came near them.
Our only downfall was when one of the bandanas missed being washed, and as we added water, it bled.
Insect Sheild garments are completely washable and effective for up to seventy washings.
Insect Shield comes in a variety of garments, from bandanas to socks and everything in between:
INSECT SHIELD APPAREL PRODUCTS
Insect Shield Outdoor/Adventure Travel Apparel is available through retailers like LL Bean, Orvis, ExOfficio, White Sierra, REI, Haeleum, Outdoor Research, RailRiders, Tilley, BUFF, Gander Mountain, EMS and more…
Hiking
Insect Shield Hiking Gaiters – Adults/Kid's (Outdoor Research)
Hunting
Insect Shield Camo Hunting Apparel (GameHide – ElimiTick Collection, Cabela's, Orvis)
Gardening
Insect Shield Gardening Hats & Accessories (Sloggers)
Infants/Toddlers
Insect Shield infant/toddler apparel (Buggies Clothing)
Youth
Kids outdoor summer apparel and accessories (Gander Mountain/White Sierra/Outdoor Research)
Workwear
Insect Shield protective workwear (Ergodyne)
For Pets
Insect Shield Dog Bandanas (Orvis/Bandana Warehouse)
Horse fly sheets (Horseware Ireland)
Global Health
Insect Shield Kangas, mosquito nets and protective apparel for field workers (Insect Shield)
This state-of-the-art insect repellent isn't just for apparel.
INSECT SHIELD GEAR PRODUCTS
Camping/Backyard
Insect Shield Bug Repellent Hammock (Eagles Nest Outfitters)
Insect Shield Bug Hut Tent (REI)
Insect Shield Camping/Deck Chairs (TravelChair)
Insect Shield Bunk Sack (Cocoon)
Insect Shield Mosquito Nets (Sea to Summit/Mombasa)
Insect Shield Coolmax Adapter Cover (Sea to Summit)
Don't let the bugs ruin your outdoor adventures. With Insect Shield, you can protect yourself and your family from miserable bites, potential diseases like Lyme disease, Malaria, West Nile Virus, and Dengue Fever.
We enjoy the outdoors far more with the protection of Insect Shield. It gives us the opportunity to enjoy our time away from home and talk about something more than the bugs that are biting us!
Disclosure: I received Insect Shield Bandanas in order to facilitate the review. No other compensation was received. This post is based on my honest opinions and experiences, which were in no way influenced by the sponsor. Others experience may vary.