Friends 4 Ever Growing Tree Toys' Friendship Bracelet Kit Review
My children love to create and share their finished masterpieces with everyone. Through the winter, they worked on making Friendship Bracelets the old fashioned way. It was challenging, especially to my younger children–all those strings and tape and where the next movement was to be made. Now, they've been introduced to Growing Tree Toys Friendship Bracelet Kit and they are friendship bracelet making maniacs.
Summer is a time of celebration, and one of the things we are celebrating is the Growing Tree Toys Friends 4 Ever Bracelet Kit.
It has simplified friendship bracelets and brought many smiles to not only my children but to those with whom they have chosen to share these creations.
Growing Tree Toys offers a large selection of educational toys that, as a parent, I appreciate.
Filled with hours of imaginative or creative play, there's something for every age group and skill level.
The Friends 4 Ever Bracelet Kit by Alex Toys has so many perks.
It comes in a heavy-duty box that looks like a suitcase.
It snaps shut and is designed with bold, fun colors.
The inside is a plethora of options.
The kit has an abundance of string, in a rainbow of colors, including my children's favorite–variegated!
Easy to read instructions, including diagrams, made this project simple enough for my eight-year-old to create independently.
Once she mastered the steps, she was a great instructor to my six-year-old and calmed some of the frustration my left-handed 17-year-old was experiencing because he was too lazy to read.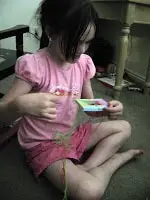 Then the kit gets rockin'. The Friends 4 Ever Friendship Bracelet Kit comes with foam looms that make weaving the perfect friendship bracelet easy peasy.
These four-color-coded foam looms allow the easy creation of distinct bracelets with eight funky and fabulous patterns!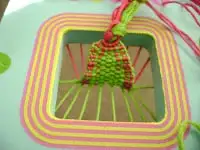 Embellishing the bracelet is a snap with special accents like beads, a beading needle, and 22 skeins of floss.
Seriously, the options are limited only by the creator's imagination!
The kit is compact enough and durable enough to take along in the car, or my children enjoyed sitting outside with it.
The Friends 4 Ever Friendship Bracelet kit retails for $24.95 and provides hours of fun and plenty of clever creating opportunities.
My children even made bookmarks for sharing with their library friends using this kit.
It's been a lot of fun, and they love being able to weave for a time and then set it down and come back to it, resuming where they left off.
They gifted one to the friends they have and are using the bracelets they make to make new friends.
The Divine Miss M seems to always have a few in her pocket and when we are at and about (at the grocery store), she'll see a child and walk up and gift him a handmade friendship bracelet she created.
This is a mega kit and won't disappoint!
I received the product mentioned as compensation for this post. No other compensation was received. The opinions are my own and were in no way influenced by the sponsor. Others' experiences may vary.
We appreciate your subscription to Mommy's Memorandum