I enjoy cooking. I love trying new recipes and making them from scratch. It's how I show my family I love them. Several years ago, I discovered cooking with clay cookware, never looking back. My new favorite is the Reco Romertopf Clay Cookware.
If you've never used clay cookware, I'm encouraging you to try it.
My love affair began with Charlotte the Great told me that the best way to raise bread dough is in a clay pot. I bought one, thinking it would solve all the problems I was having with the long passed generation bread recipe. I struggled–more from using the mixer versus adding the flour by hand, but my dough was far more light. Using an unglazed clay bowl allows the water in the dough to evaporate during the rising process, yielding fantastic bread! Then I baked a loaf of bread in clay cookware, and the crust was crisp, the inside moist.
Naturally, my thought came to be, "What else can I do with this clay cookware?"
Clay cookware is porous, and when saturated with water and heated in the oven, there is slow evaporation of steam through the clay's pores. The moist, enclosed environment yields increased flavor and tender meats. Clay cookware requires less liquid, little pot-watching, and less fat, making it convenient and healthier!
The more I use clay cookware, the more I discover. There are ridges on the bottom of clay cookers. This elevates the cookware allowing steam to encircle the food and browning meat. My oven remains clean when I cook with clay cookware. Food remains warm long after removing my meal but doesn't continue to cook.
Take a moment to view this slideshow to get a better perspective of how Reco's Romertopf works.
The Reco Romertopf came with a recipe book and instructions. I plan on trying all of them, but they are heavier than we typically eat during the summer months, and they seem more holiday fare: Shoulder of Lamb with French Beans, Stuffed Duck, and Pot Roast with Cider. This is not to say a Romertopf is not practical for everyday use.
Right now, it's my favorite piece to make bread in. Our favorite end result becomes
Sticky Buns
.
I also love loaf bread:
But when it comes to my family Reco's Remertopf is delivering tender, juicy meats like our favorite Chicken in a Pot!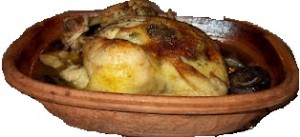 Chicken in a Pot
1 whole chicken
baby carrots
stalks of celery
large red onion cut into quarters
1 lemon, halved
4 tbsp butter, room temperature
springs of fresh thyme
springs of fresh parsley
springs of fresh rosemary
2 cloves garlic, minced
1/2 cup white wine
1/2 cup chicken broth
Directions:
Soak Clay Pot for at least 20 minutes. I soak the cookware while I'm cutting the herbs and vegetables and tending to the chicken. Soaking the pot is crucial to your success.
Wash chicken and dry thoroughly.
Using a fork mix the butter with one minced garlic clove and 1 tablespoon of each of the herbs to make a herb butter.
Lift the breast of the chicken skin and smear the herb butter between the skin and meat.
Place 1 half of the lemon inside the chicken and rub the chicken with salt and pepper.
Place carrots, onion, and celery in the bottom of the clay pot. Add wine and chicken broth—season with salt and pepper and the other minced garlic clove. Squeeze the juice of the other half of lemon over the vegetable medley.
Place chicken on top of the vegetable breast side up. Cover with the lid.
Place in a cold oven and set the oven temperature to 400 degrees. Do NOT preheat the oven. Bake for 1.5 hours covered and then remove the lid and cook for another 30 minutes or until done.
The chicken is fall-off bone tender and loaded with great flavors.
Here are some other suggestions, and by the way, the Reco Romertopf is one of the MOST beautiful clay cookware I've ever laid eyes on. It is rich in detail and a beautiful serving piece!
Give cooking with a Reco Romertopf OvenPot a try and see why it's my preferred cookware of choice!
To find out more about Reco, visit them online.
ABOUT THE RECO ROMERTOPF OVEN POT
Easy, healthy, and delicious, the Reco's Romertopf Clay Cookware seals in moisture and flavor, producing tender and tasty dishes!
The secret lies in the specially selected porous clays used to create these unglazed pieces of Reco's Romertopf cookware. Their ability to absorb a great deal of water is the key to this unique cooking process. Before use, both the top and the bottom must be soaked in water for 15 minutes, after which the food can be placed in the clay pot, which then goes into the oven.
Over 20 million pieces of Romertopf clay cookware have been sold worldwide since the pots first went on the market in 1967. Developed in Germany, the line includes a wide range of sizes and shapes designed for cooking various dishes, from whole turkeys to apples and heads of garlic.
Reco International is the exclusive manufacturer and distributor of Romertopf clay cookware for the United States, Canada, Central, and South America. Manufacturing is conducted under very strict supervision to ensure that the terra cotta contains no lead or cadmium. For more information about the full line of Reco's Romertopf clay cookware, please visit www.reco.com.
Disclosure of Material Connection: I received one or more of the products or services mentioned above for free in the hope of mentioning them on my blog. Regardless, I only recommend products or services I use personally and believe will be good for my readers. I am disclosing this in accordance with the Federal Trade Commission's 16 CFR, Part 255: "Guides Concerning the Use of Endorsements and Testimonials in Advertising.".