This meatball pasta soup recipe is my comfort food go-to. It's filling and rich in textures.
You can easily substitute the homemade meatballs with premade meatballs to save time.
Add or subtract vegetables to fit your personal taste.
It makes great leftovers and tastes delicious with bread.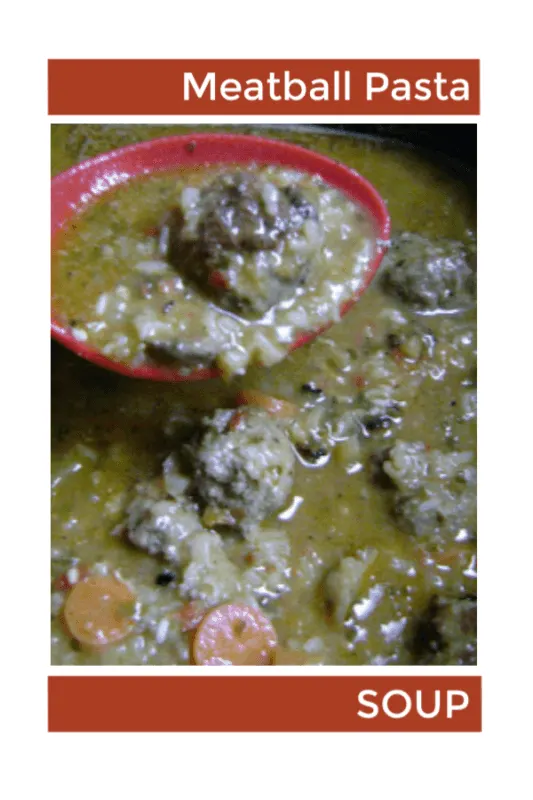 Meatball Pasta Soup Recipe Ingredients:
Ingredients For Meatballs:
1/2 cup dried breadcrumbs
1/2 cup Parmesan cheese, grated
2 Tbsp.onion, minced
1 garlic clove, minced
2 tsp dried basil
1/2 tsp. salt
1/2 tsp. pepper
1 large egg, lightly beaten
1 lb. ground beef
Ingredients for the soup:
2 Tbsp Olive Oil
1 small onion, finely chopped
1 celery rib, finely chopped
1 garlic clove, minced
5 cups chicken stock
1 cup crushed, canned tomatoes in purée
1 tsp Italian Seasoning
1/2 tsp salt
Pepper to taste
1/3 cup small pasta
Meatball Pasta Soup Recipe Directions:
First, make the meatballs. Combine the bread crumbs, cheese, onion, garlic, herbs and spices in a large bowl. Use a fork to mix in the egg, then add the ground beef, mixing well with your hands. Shape into 1″ balls. cook in a skillet for 8-10 minutes, turning often to brown evenly; cook until centers are slightly pink, they will finish cooking in the soup.
For the soup, heat the oil in a large soup pan. Add the onion, celery, and garlic. Partially cover the pan and cook the vegetables over moderate heat for 8-10 minutes. add the chicken stock, crushed tomatoes and spices. Bring the soup to a simmer over low heat, then add the pasta. Cook at a gentle simmer until the pasta is almost done. Add the meatballs and simmer for 30-50 minutes more.
Makes 6 servings.