Rosemary Apricot Grilled Chicken with Grilled Apricots
Tonight I made grilled rosemary apricot chicken with grilled apricots for dinner. It was fabulous!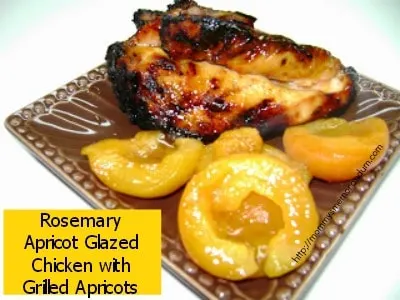 It was easy.
For the Grilled Apricots, I peeled them, then cut them in half, removed the pits, and laid them on aluminum foil, so the "half" side with the hole was facing up. I then loosely filled the pit hole with brown sugar and placed a small square of butter on each apricot half. Folded the foil around the apricots and sealed the edges. I grilled these for about 10 minutes.
The chicken was just as easy.
I sprinkled each
chicken breast
with salt, pepper, and rosemary. I then grilled the chicken until golden and turned on the grill. The side that was browned I smothered with homemade apricot jam. When the other side was golden, I flipped the chicken and smeared it with apricot jam. I let the chicken grill on low for about 3 minutes and then served.