Pedia-Lax Fiber Gummies Review
One of my children suffers from constipation. She complains her tummy hurts all the time. I try and remember to ask if she's moved her bowels each day, but in the scheme of things, I don't always remember. I know. Bad Mom!
We've tried so many over-the-counter products trying to regulate her. For some of them, the flavor is just too "gross" to convince her to take more than once. Other products work so quickly that it's almost violent. Instances of "accidents" have traumatized her…and me. While still others tend to take days to work, and the discomfort seems only prolonged. It's been a battle.
There is nothing worse than watching your child in pain. It's a horrible moment when she gets off the bus, in tears, crying, "my tummy hurts!"
Then a few months back, we picked up a bottle of Pedia-Lax Fiber Gummies. It has been our salvation and the solution to tummy pains.
To begin with, there was no issue in getting The Divine Miss M to take the Pedia-Lax Fiber Gummies. They are tasty! She loves that they taste very much like her favorite candy, Gummy Bears, and that they aren't complicated. She can suck on them or chew them..it's all up to her.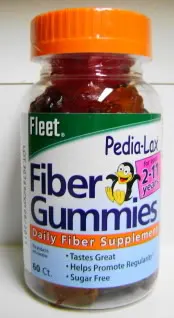 Pedia-Lax Fiber Gummies are fun-shaped Penguins.
The shape makes her giggle!
I love that they are sugar-free, have no calories, and contain nearly 1.5 grams of fiber per gummy.
It's a great way for us to supplement our regular diet of fruits, vegetables, and other fiber-rich foods.
The recommended serving is one gummy three times per day.
We started with this but currently are doing well with just one in the morning.
It didn't happen all at once, but once she regulated, we cut back.
On days when I know we have missed our fiber intake, I also give her one in the evening.
Pedia-Lax Fiber Gummies are not a laxative.
Therefore, I feel good about allowing my other children to have one.
It doesn't hurt them, and I don't have to worry about those abrupt explosions!
A child her age, 6, should be consuming 25 grams of fiber every day.
Sometimes that's a tough one.
With the Pedia-Lax Fiber Gummies, The Divine Miss M has yet to complain that her "tummy hurts."
She's a regular bowel-moving machine!
As a result, she is more active and eats better.
Nothing kills an appetite like stomach cramps!
Pedia-Lax Fiber Gummies really do work.
If you're looking to help a child who suffers like The Divine Miss M or just help your child stay regulated.
We buy our Pedia-Lax Fiber Gummies at Target for $9.99; of course, the cost may vary.
We buy the 60-count bottle.
You can find a store that sells these near you with the store locator.
Also, a money savings coupon for your first purchase!
Disclosure: No monetary compensation was offered or accepted for this post. I was sent the item mentioned in this post to facilitate my review. The opinions are my own and in no way influenced by the sponsor. Others' experiences may vary.
We appreciate your subscription to Mommy's Memorandum.