K'NEX
Kick It! Elmo Review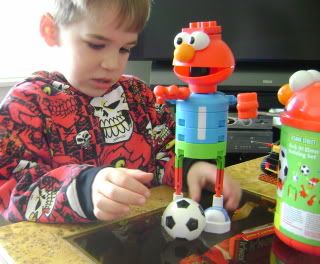 My children love Elmo.
This was the first in the K'NEX sets we put together. Li'l Man was in charge and he looked at the instruction booklet and then started to assemble.
He had no issues with manipulation as the pieces are chunky and big and snap together easily.
When Elmo was assembled he was a great play figure and Lil'l Man played with him for over an hour.
Kick It! Elmo retails for $11.99 and offers creative play with one of Sesame Street's favorite characters. The pieces are heavy duty and large so smaller children can't swallow them.
When playtime is over, Elmo fits back into the plastic storage can. I love this feature, though it did take some skill to get the lid back on as the pieces were heaped. We figured it out though and it wasn't over the top frustrating.
From the K'NEX website:
"Your child can build Sesame Street 's coolest red monster, Elmo, gearing up to kick his soccer ball! This 13 piece set includes parts to build Elmo in his uniform and ready to hit the field with his soccer ball. "Play & Learn" activity sheet filled with collaborative and educational fun for parent and child is also included along with additional building ideas. When playtime is over store the parts in the handy canister for a quick and easy clean-up"