A child's life should not be centered around the discomforts of constipation. I have a child who does, and it breaks my heart to hear her complain her tummy hurts.
Seeking relief for her, we have tried so many over-the-counter products. There has to be a balance for her to take a product, she's opinionated about taste, and we've both been horrified when a product reacts like lightning. It's been a path of trial and error.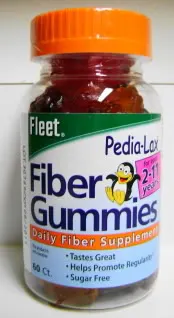 As a mom, I want my children to be healthy and happy. Part of this nirvana has been to keep them regular. She should be outside playing and filling her dreams with dandelion wishes, not in the fetal position on the couch crying, "My tummy hurts! Make it stop!"
Then a few months back, we picked up a bottle of Pedia-Lax Fiber Gummies. It has been our salvation and the solution to tummy pains. We've never looked back. I was already a believer when Family Review Network presented the opportunity to review Pedia Lax Fiber Gummies.
The Divine Miss M enjoys taking the Pedia-Lax Fiber Gummies. She declares them, "Nummy!" Tasting like fresh gummy bears. Our bottle always runs out of her favorite flavor, orange, before any other flavor! She can suck on them or chew them.
Aesthetically, Pedia-Lax Fiber Gummies are fun-shaped Penguins.
I love that they are sugar-free, have no calories, and contain nearly 1.5 grams of fiber per gummy. It's a great way for us to supplement our regular diet of fruits, vegetables, and other fiber-rich foods.
The recommended serving is one gummy three times per day. We started with this but are currently doing well with just one in the morning. It didn't happen all at once, but once she regulated, we cut back. When I know we have missed our fiber intake, I also give her one in the evening.
Pedia-Lax Fiber Gummies are not a laxative. Therefore, I feel good about allowing my other children to have one. It doesn't hurt them, and I don't have to worry about those spontaneous explosions!
A child her age, 6, should be consuming 25 grams of fiber every day. Sometimes that's a tough one. With the Pedia-Lax Fiber Gummies, The Divine Miss M has yet to complain that her "tummy hurts." As a result, she is more active, and she eats better. Nothing kills an appetite like stomach cramps!
Pedia-Lax Fiber Gummies really do work. If you're looking to help a child who suffers like The Divine Miss M or just help your child stay regulated. We buy our Pedia-Lax Fiber Gummies at Target for $9.99; of course cost may vary. We buy the 60-count bottle. You can find a store that sells these near you with the store locator. Also, a money savings coupon for your first purchase!
This post was written for Family Review Network & Cystex, which provided the complimentary product in exchange for my honest review. No other compensation was received. The opinions are my own and were in no way influenced by the sponsor. Others experience may vary.