Experience the Joy of Colorful Easter with PAAS Egg Dye Kits!
Spring is in the air, and Easter is just around the corner. It's time to gather your loved ones and celebrate the season with PAAS Egg Dye Kits, the ultimate way to bring vibrant colors to your Easter eggs!
🎨 Unleash Your Creativity: With PAAS Egg Dye Kits, the possibilities are endless. Let your imagination soar as you create stunning designs on your eggs. Whether you're aiming for traditional pastels or bold, eye-catching shades, PAAS has got you covered!
🐣 Fun for the Whole Family: PAAS Egg Dye Kits are perfect for a fun-filled family activity. Get everyone involved, from kids to grandparents, and embark on an egg decorating adventure. Watch as laughter fills the room and creativity flows, creating memories that will last a lifetime.
💪 Safe and Easy to Use: Our dye kits are designed with safety in mind. The non-toxic, food-grade dyes ensure that you can enjoy your beautiful creations worry-free. The easy-to-follow instructions make it a breeze for even the youngest egg decorators to participate.
👪 Build Traditions: Start or continue a cherished family tradition with PAAS Egg Dye Kits. As you gather around the table year after year, each egg will tell a unique story. From the first stroke of color to the final masterpiece, you'll be creating traditions that will be passed down through generations.
🎁 Perfect for Gifting: Looking for an egg-cellent gift idea? PAAS Egg Dye Kits are an ideal choice! Spread the joy of Easter by surprising friends, neighbors, or colleagues with a colorful kit. It's the perfect way to brighten someone's day and make their Easter extra special.
🌟 Join the PAAS Community: Share your vibrant creations with the PAAS community! Connect with us on social media and discover a world of inspiration. Show off your artistic skills, get inspired by others, and join in the excitement of this beloved holiday tradition.
Don't miss out on the opportunity to make this Easter extra special. Get your PAAS Egg Dye Kits today and let the colors of joy and creativity fill your holiday season!
Our PAAS Egg Dye Review
I love brands that were part of my childhood and carry into my own children's memories. PAAS was a tradition I loved growing up and is now part of my own family's traditions. They've been helping America celebrate Easter for more than 130 years.
I have fond memories of my mom doing the food coloring drops; then we migrated to PAAS and the color tablets. Now PAAS is so much more and spawns creativity for my children.
The 2012 Easter Celebration has PAAS introducing eight new fun and creative kits to help make that time around the table memorable, not to mention yield some pretty awesome eggs. There are stickers, coloring pens, tattoos, kits with hair, and so much more.
We reviewed three of the new kits:
Rockin' Designs – Easter eggs get a rock 'n roll makeover with designs and stickers inspired by popular fashion trends.
Eggstra-Terrestrials – Create truly out-of-this-world egg decorations. Send your imagination into another galaxy with 3D glow-in-the-dark foam stickers that just landed from outer space!
Chrome Eggshaust – Rev up your engines and head out on the highway with the PAAS Chrome Eggshaust kit. Stickers, colorful dye tablets, holographic "eggarounds" and egg stands to transform ordinary eggs into road-worthy hotrods.

And one tried and true PAAS kit:
Other new kits include:
3D Eggsplosion – Grab your 3D glasses and a front-row seat and watch these egg masterpieces come to life in front of your very own eyes!
Go Wild – Fashionistas can get wild and crazy with the PAAS Go Wild kit! Dress eggs with giraffe spots, tiger stripes, and more, then embellish with sparkly sequins.
Egg Tats – Open up your own tattoo parlor for eggs and decorate in a whole new way using special art transfers.
Retro Splatter – Splatter designs mean every egg dyed with this retro-chic kit is one-of-a-kind.
Deggorating Doodles – Let your creative juices flow and "eggspress" the artist within with Deggorating Doodles. The special coloring pens and stencils allow you to decorate eggs any way you want!
The kiddos set up the dyes in a row and began the process of coloring their eggs.
We talked about how Czar Nicholas and the Romanoff family made the Egg famous.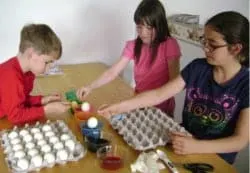 They loved the vivid, bold colors: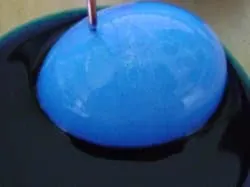 They all loved the shrink wraps.
Li'l Man aims the blow dryer at the egg while Mom holds it to shrink the cover: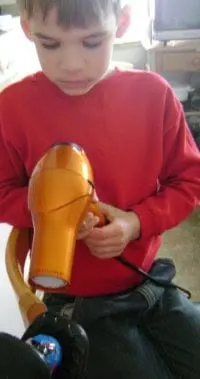 The kiddos had a blast.
They decorated eggs for nearly four hours.
Working around stations and creating some amazingly fun creations:

PAAS kits are available at your favorite grocery, drug, and mass merchandise stores for a suggested retail price of $2.99–5.99.
About PAAS
PAAS stands for "Pioneer of American Art and Science," a well-known brand specializing in egg decorating kits. The company has been a trusted name in the industry for over 135 years, providing families with high-quality products to create beautiful and colorful Easter eggs.
PAAS was founded in the late 19th century by a druggist named William Townley. He developed a unique formula for dye tablets, revolutionizing the way people decorated their Easter eggs. The company quickly gained popularity and became synonymous with Easter egg dyeing.
Over the years, PAAS has continued to innovate and expand its product offerings. Today, they offer a wide range of egg decorating kits, including various dye colors, stickers, stencils, and other tools to help unleash creativity and make egg decorating a fun experience for the whole family.
One of the reasons for PAAS' enduring success is its commitment to safety. The company ensures that all their dyes are non-toxic and food-grade, allowing users to enjoy their beautifully decorated eggs without any health concerns.
PAAS' egg decorating kits have become a beloved Easter tradition for many families. The kits allow loved ones to unite, spark creativity, and create lasting memories. Whether it's the classic pastel shades or bold, vibrant colors, PAAS offers a wide range of options to suit every decorator's preference.
Additionally, PAAS encourages users to share their creations with the larger community through social media platforms. This creates a sense of belonging and excitement, as people can showcase their unique designs and get inspired by others.
With a rich history and a reputation for quality and innovation, PAAS continues to be a leading brand in the egg decorating industry. Their products have brought joy and color to countless Easter celebrations, making them an essential part of the holiday tradition for families worldwide.
Disclosure of Material Connection: I received one or more of the products or services mentioned above for free hoping that I would mention them on my blog. Regardless, I only recommend products or services I use personally and believe will be good for my readers. I am disclosing this in accordance with the Federal Trade Commission's 16 CFR, Part 255: "Guides Concerning the Use of Endorsements and Testimonials in Advertising.".