🎉 Exciting News for P. King Duckling Fans! 🎉
Calling all P. King Duckling enthusiasts! Prepare for an adventure-filled treat that will make your little ones jump with joy. We're thrilled to announce that the beloved television series, P. King Duckling, is now streaming on Netflix and Amazon.
Join P. King, Wombat, and Chumpkins on their fantastic escapades in this delightful show designed especially for children aged 3 to 6. With its lovable characters and captivating storytelling, P. King Duckling will ignite your child's imagination and take them on unforgettable journeys.
Now, you can dive into the charming world of P. King Duckling anytime, anywhere, as the entire series is available for streaming on Netflix. Let your little ones laugh, learn, and discover valuable life lessons alongside their favorite feathered friend.
Don't miss out on this fantastic opportunity to introduce your children to the vibrant world of P. King Duckling. Start streaming today and let the excitement unfold in your living room! Hurry, grab the popcorn, gather around, and embark on endless adventures with P. King Duckling on Netflix.
🦆🌟 Stream P. King Duckling on Netflix now and let the fun begin! 🌟🦆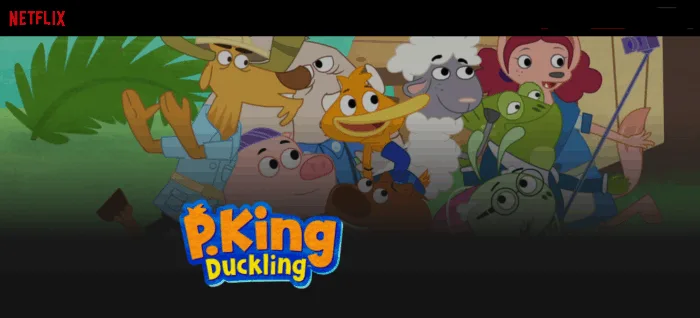 P. King Duckling Synopsis:
P. King Duckling is an animated television series that follows the charming and adventurous duck named P. King, along with his best friends Wombat and Chumpkins. Together, they embark on thrilling journeys in their small town of Hilly Hole, where they encounter various challenges and learn valuable life lessons along the way.
P. King Duckling's imaginative and curious nature often leads to exciting and unexpected adventures. Whether it's exploring new lands, solving puzzles, or helping their friends, P. King and his pals always find themselves in unique situations that teach them important values such as teamwork, friendship, and perseverance.
The series incorporates elements of problem-solving, creativity, and social-emotional development to engage young viewers. With its vibrant animation, catchy songs, and relatable characters, P. King Duckling aims to entertain and inspire children aged 3 to 6, encouraging them to embrace their curiosity and imagination while learning essential life skills.
Join P. King and his friends on their thrilling escapades and discover the joy of friendship, exploration, and endless possibilities in the world of P. King Duckling!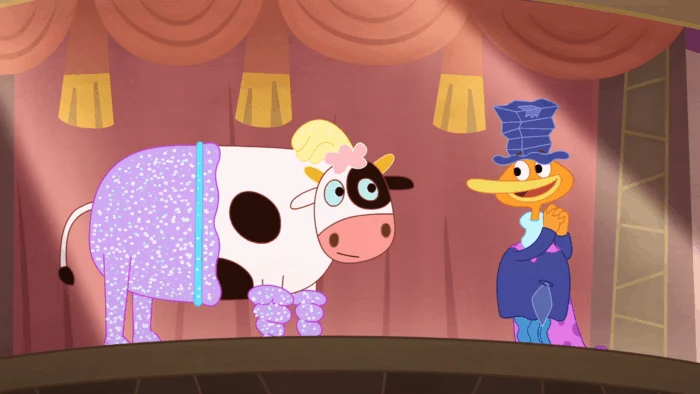 What Positive Messages does P. King Duckling Share with Children?
I really love that the series inspires positive thinking, and curiosity and, most importantly, is about being yourself. Every episode Overcoming Challenges and Creative Thinking, such important lessons for children to learn.
P. King Duckling conveys several positive messages to children through its engaging storytelling and lovable characters.
Some of the key messages include:
Friendship and Cooperation: P. King Duckling emphasizes the importance of friendship and working together. The show encourages children to value and cherish their friendships, teaching them that they can achieve more when they collaborate and support each other.
Problem-Solving and Critical Thinking: The series promotes problem-solving skills and critical thinking as P. King and his friends encounter challenges and puzzles. It encourages children to think creatively, explore different solutions, and persevere in the face of obstacles.
Embracing Differences: P. King Duckling celebrates diversity and teaches children to embrace and appreciate differences among individuals. The show highlights that everyone has unique qualities, backgrounds, and talents, fostering acceptance and understanding.
Positive Attitude and Resilience: P. King's optimistic and can-do attitude inspires children to approach life with a positive mindset. The series teaches resilience by showing that setbacks are a part of life, but with determination and a positive outlook, one can overcome difficulties and learn from them.
Curiosity and Imagination: P. King Duckling encourages children to be curious, explore their surroundings, and use their imagination. The show sparks a sense of wonder and discovery, nurturing children's innate curiosity and encouraging them to think creatively.
Kindness and Empathy: The series promotes kindness, empathy, and compassion towards others. P. King and his friends often lend a helping hand and show empathy towards those in need, teaching children the importance of caring for others and being considerate.
By conveying these positive messages, P. King Duckling aims to inspire and educate children, fostering their emotional development, social skills, and positive values in a fun and engaging way.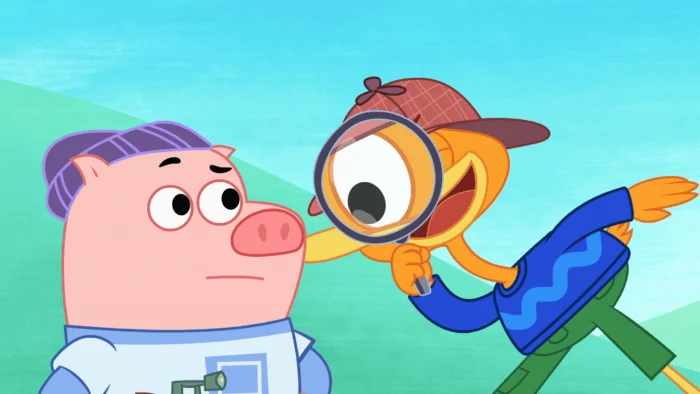 The King Duckling Series, developed along with Dr. Christine Ricci (Dora the Explorer), has been nominated in the category of Best New Animated Preschool Series for the Kidscreen Award Show.
4 Core Values P. King Duckling Shares with Children:
Challenge Yourself –
Encouraging children to try new things, don't give up, and "Seize the Day!"
Express Yourself –
Empowering children to think and express themselves creatively through music, dance, role-play… but most importantly to have fun and be yourself.
Do-it-Yourself –
Inspiring children to build, create and play using their imagination.
See for Yourself –
Motivating children to journey near and far… "Next stop, the moon!"
Entertain your children with P. King Duckling, now streaming on Netflix.
Why Do Children Love P. King Duckling?
Kids will love P. King Duckling for several reasons:
Lovable and Relatable Characters: P. King, Wombat, and Chumpkins are endearing characters that children can easily connect with. Their vibrant personalities, quirks, and friendship dynamics make them relatable and lovable.
Exciting Adventures: P. King Duckling takes young viewers on thrilling adventures in each episode. From exploring new places to solving mysteries, the show offers a sense of excitement and discovery that captivates children's imaginations.
Engaging Storytelling: The series weaves engaging stories with humor, suspense, and valuable life lessons. The entertaining plotlines keep children entertained while imparting important messages and teaching valuable skills.
Catchy Songs and Music: P. King Duckling features catchy songs and lively music that kids can sing along to. The music adds an extra layer of fun and enjoyment to the show, making it memorable and engaging for young viewers.
Colorful Animation and Visual Appeal: The vibrant and visually appealing animation of P. King Duckling creates an immersive world that draws children into the show. The colorful settings, adorable characters, and eye-catching visuals enhance the overall viewing experience.
Positive Messages and Values: P. King Duckling promotes positive values such as friendship, cooperation, problem-solving, kindness, and resilience. Kids appreciate shows that entertain them while also teaching important life lessons in an engaging and relatable manner.
Educational Elements: Alongside the entertainment factor, P. King Duckling incorporates problem-solving, critical thinking, and social-emotional development. Children enjoy learning through engaging content stimulating their curiosity and encouraging intellectual growth.
Overall, P. King Duckling combines entertaining storytelling, relatable characters, positive messages, and educational elements to create a show that kids will love. It sparks their imagination, teaches valuable life lessons, and provides an enjoyable and wholesome viewing experience.
🦆🌟 Stream P. King Duckling on Netflix now and let the fun begin! 🌟🦆