We received this product for free in exchange for a fair and honest review. Our love for all things Youtube and Subscription boxes remain our own.

So there are healthy juices, and then there's Guava Juice. According to my children, if you don't know what I'm talking about (hint: it is NOT a fancy detox juice), you're missing out. I was part of the crowd who had no clue, but now, I know Guava Juice is a hilarious YouTube Channel starring YouTuber Roi.
My children love him for his over-the-top humor and his willingness to try just about anything. It's all part of what makes his excellent videos. MacKenzie watches him for the crazy experiments and DIYs while William tunes in for all his wacky challenges.
I'd like to introduce you to the Guava Juice Holiday Box with introductions out of the way!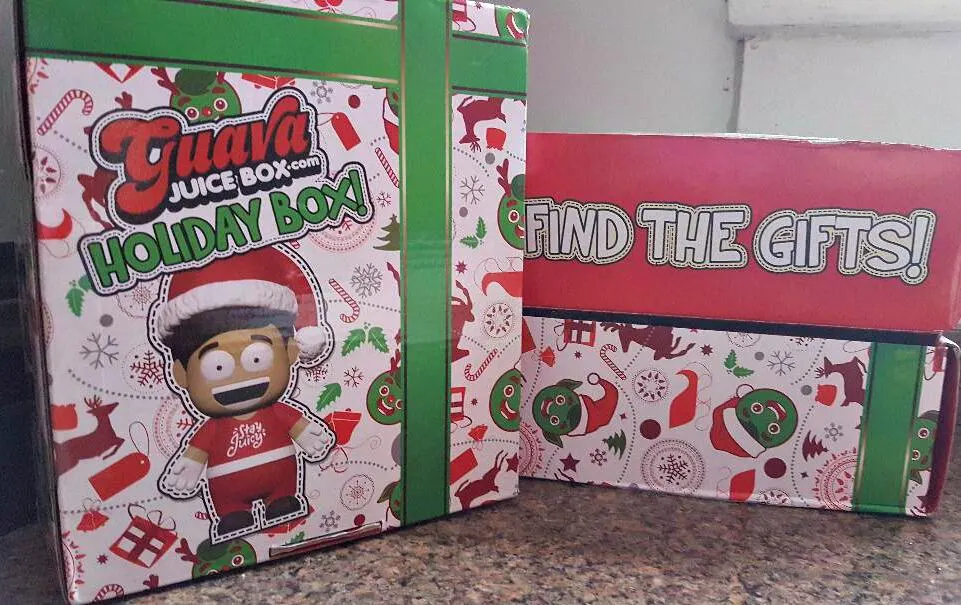 The holiday box is the fifth Guava Juice subscription box to be released. It's filled with fun, holiday-themed toys. I'm sure you heard the squees and squeals when the Guava Juice holiday box arrived at my door, and then again as the kiddos unpacked the holiday extravaganza. There's plenty of Guav swag, and even the box is part of the festivities with a fun game printed on the inside.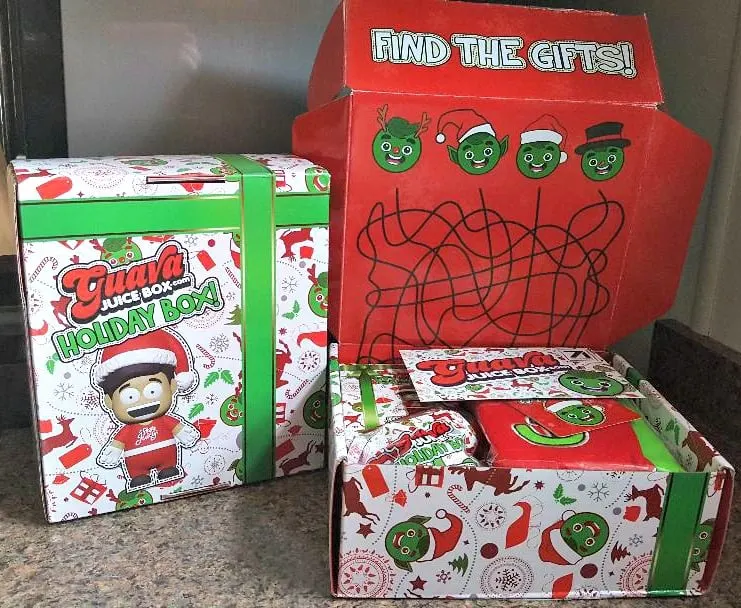 Let's take a look inside.
The

Holiday Guava Juice Box:
Holiday Roi Figure:
What would a Guava Juice Holiday box be without the main character, Santa Roi? It's the second Roi Figure ever to be released and better than the original because he comes dressed in a Santa Suit. By the way, that's Roi's iconic, crazy facial expression!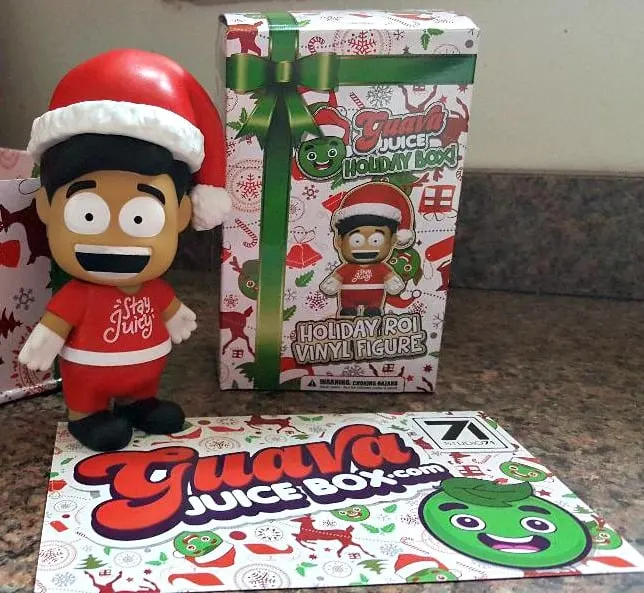 1st Anniversary Pin:
The Holiday Box also commemorates the First Anniversary of the Guava Juice Box. To celebrate, the Guava Juice Holiday Box includes a pretty spiffy First Anniversary enamel pin!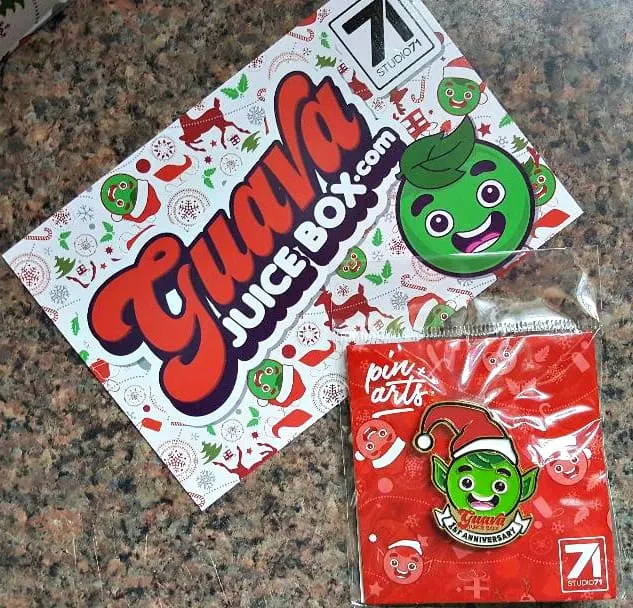 Holiday Stocking:
Holidays require stockings, and Santa Roi has included a high-quality, lined, Guava Juice signature stocking!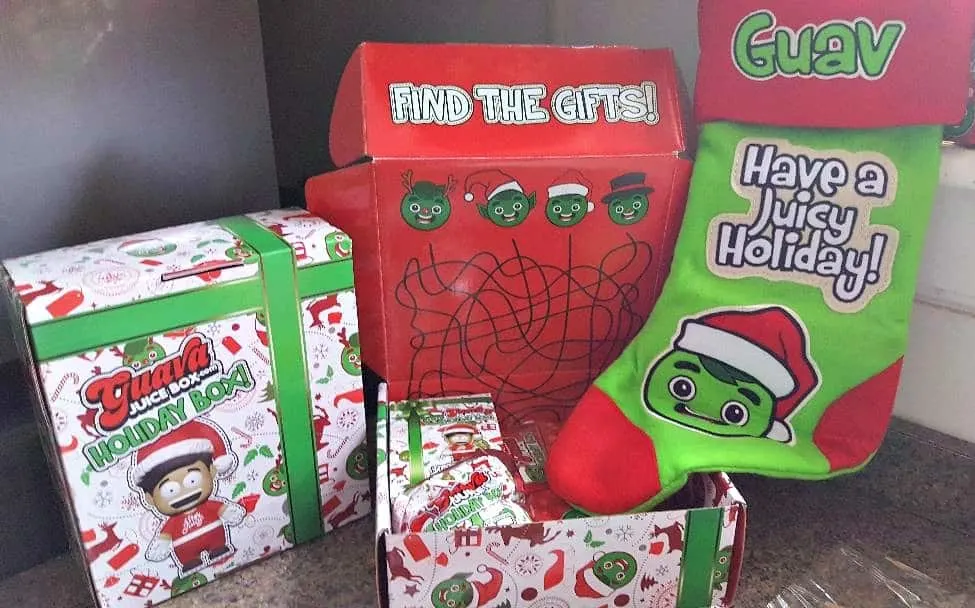 Guava Juice Egg Spinner:
We're a house that embraced the fidget spinner. After receiving the Guava Juice Holiday Box, we realize the standard fidget spinner lacks character, which is why we are in love with the Guava Juice egg spinner. Spin the center around and see how long you can keep it rotating!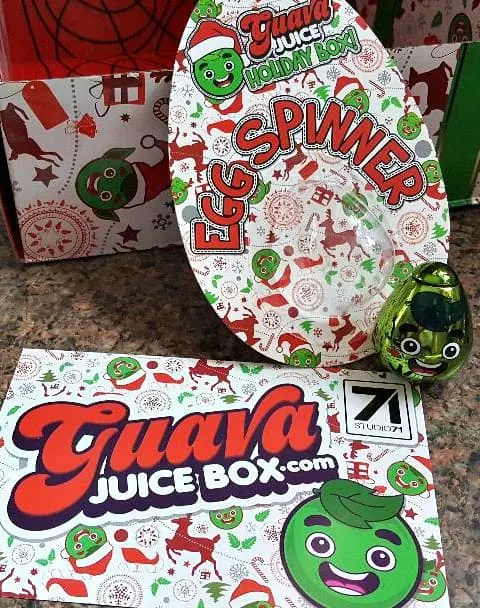 Slap Bracelet:
My younger children weren't part of the era that introduced slap bracelets. Still, Guava Juice is allowing them to live the dream with this 90s inspired signature Guava Juice Magnetic Wrist Bracelet.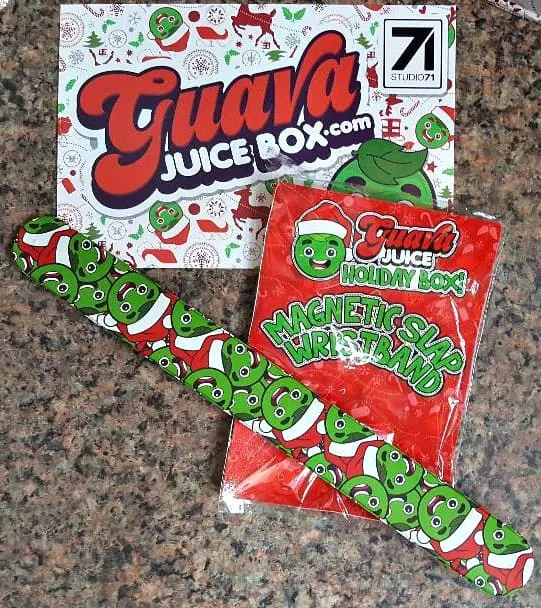 Finger LED Projector:
Perhaps William's favorite in the box is the finger projector. It projects a glowing Guava face on any surface.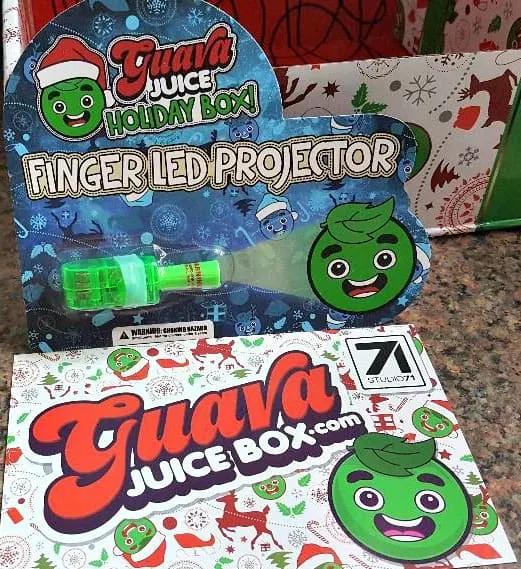 Guava Juice Splat Ball:
MacKenzie's favorite is the Guava Juice splat ball. Throw it against any wall, floor, or hard surface and watch it SPLAT! It flattens out then returns to its original shape. Imagine slime inside a latex surface, and you have this Splat ball.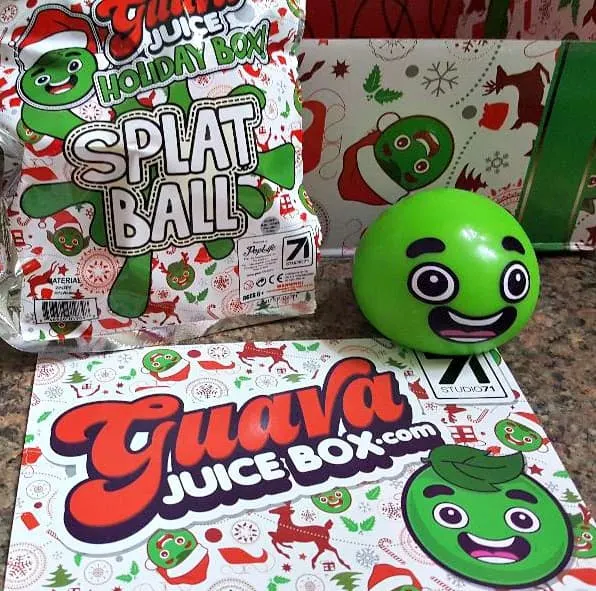 Finger YoYo:
I've never been good at yo-yos, which is why, after watching finger yo-yos on youtube, I thought I'd finally be a champion. Then we received a finger yo-yo in the Guava Juice Holiday box, and I came to conclude that yo-yo of any kind is hard! I'm still waiting for someone at my house to master this.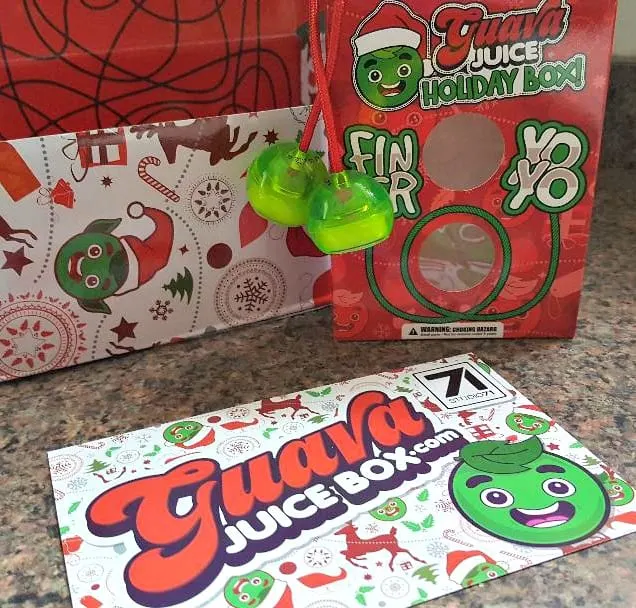 There you have it. The entire contents of the Guava Juice Holiday box. Each Guava Juice Box has over $50 value inside, and it's a steal at just $19.99 ($14.99 if you sign up for a 3-month subscription).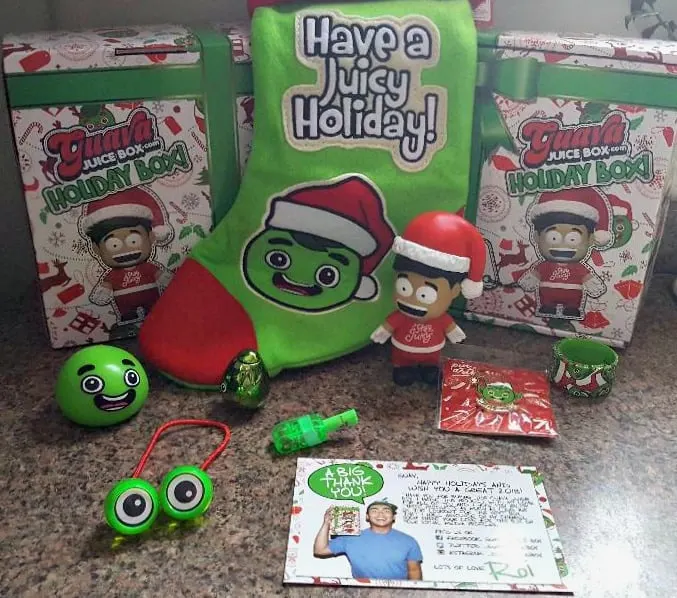 Guava Juice Holiday Box is a fun subscription box that delights any Roi fan.