It's Mighty Good!
Mighty Leaf Tea is helping me keep my cool in the steamy Southern days of summer. Just stepping out the door, the heat sucks the life from me–a couple of swigs of Mighty Leaf Tea, and I'm feeling rejuvenated.
Pre-portioned tea bags make brewing up a gallon of my favorite iced tea recipe happen in less than five minutes. It's gourmet goodness in every glass. There's no work, it's half the cost of bottled ice tea and is all natural and free of sugar (except what I add), calories and artificial flavors.
Bid bye-bye to the bottles this summer and make DIY Mighty Leaf Iced Tea for an easy, frugal, and green refreshing flavor.
Whole Tea Leaves, Chunks of Fruit, Spices: Mighty Leaf Tea Stands Out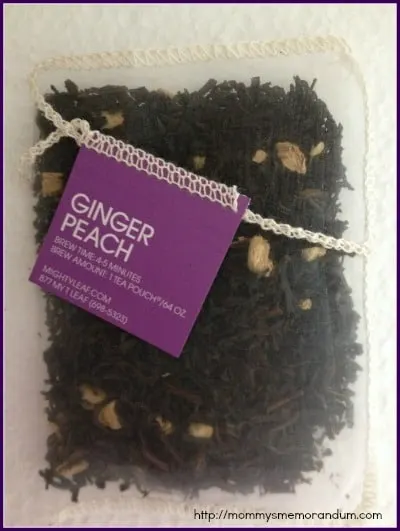 Out of the box, the size of the leaves will impress you. Brewed, the flavor will tantalize. We're talking whole leaves (no fannings) in the original hand-stitched tea bag, a high-quality silk pouch that you can actually see what's inside and lots of room for the whole leaves and chunks of fruit and spices to do their thing and mingle.
Mighty Leaf Tea Offers Flavor Variety:
Mighty Leaf Tea offers a tremendous variety of tea and flavors from bagged tea to loose and tried-and-true flavors to more exotic blends.
Ginger Peach Iced Tea was the first Mighty Leaf Tea. It has an incredible aroma. It's just the beginning; the taste is phenomenal! A blissful and lightly sweet black iced tea infused with sun-swelled peaches and delicate ginger; doesn't that just envelope summer?!
I guzzle it by the gallon.
Calypso Mango Iced Tea. Again, the aroma will delight–and this is right out of the box! I have a thing for Mangos and coupled with black tea this one's a tropical paradise in taste!
Refreshing Sunburst Green-Iced Tea: a cool and vibrant iced green tea that delivers mountain-grown Chinese green tea leaves brightened with the crisp taste of ripe oranges and sweet citrus. The lowest in caffeine among all four flavors.
Mighty Leaf Tea also offers Organic Black Iced Tea: a flavorful black iced tea made of refreshing rich and smooth South Indian Organic black tea leaves hand-picked on the dewy slopes of Nilgiri Mountains. It's delicious, but, I admit, it seems so naked compared to the other amazing flavors.
Suggested Retail Price is $5.99 for a 4-pouch box. That's just $1.50 per gourmet tea bag that makes 1/2 gallon or four 16oz. servings. At 37 cents per 16oz serving, you're saving big considering a pre-brewed iced tea retails for $1.50 or more–and Mighty Leaf Takes just 5 minutes to make–less time than you can run out and buy a bottle.
The Mighty Leaf Tea pouches are gigantic! Each brews a half-gallon of incredible iced tea. It's easy to have a refreshing glass of Mighty Leaf Tea in minutes.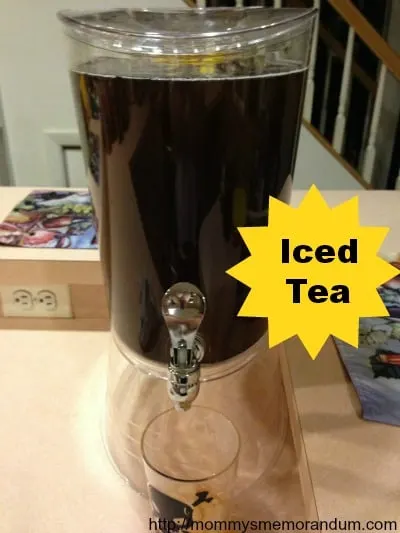 The Original Mighty Leaf Iced Tea Recipe:
1.) Add 1 Mighty Leaf Tea pouch to a 64 oz. glass pitcher
2.) Pour 32 oz. boiling water over pouch and steep for 4-5 minutes*
3.) Remove pouch and add ice until pitcher is full. The iced tea is ready to serve. Pour over ice in a glass and enjoy!
Servings: 1 pouch makes 64 oz. or 1/2 gallon. 1 box makes 2 gallons or 32 servings.
*Mighty Leaf Tea recommends using a heat-safe pitcher that will not crack.
With so many iced tea recipes, it's hard to settle on just one.
One of my favorite ways to drink tea is a 50-/50. Right now I'm hooked on the Mighty Leaf Ginger Peach with Crystal Light's Pomegranate Lemonade.
Say "bye-bye" to bottles this summer. Make DIY Mighty Leaf Iced Tea–it's easy frugal and green. If you haven't tried Mighty Leaf Tea before, you're in for a treat!
Hand-picked whole leaves, blossoms, herbs, fruits and spices

Hand-crafted artistry of carefully chosen blends
Heady and intoxicating aromas
Flavors and nuances that dance on your palate
Silken to the touch, hand-crafted hand-stitched tea pouches. Seriously, these are the largest tea pouched you have ever seen! Perfectly portioned for error-free iced tea!
Want to win four boxes of artisan-crafted Mighty Leaf Iced Tea, a Flash Iced Tea Brewer, and a glass water bottle?