I received a 90 day supply of Nucific BIO-X4 in exchange for my honest review. All opinions expressed here are my own and were not influenced by the sponsor.
–
You may have seen Nucific Bio X4 on social media. It's trending right now as a supplement. It's one of the best-selling probiotics in the market.
But what exactly does Nucific Bio X4 do?
The Nucific website says Bio X4 is a natural probiotic weight loss supplement.
The landing page offers the reader key benefits that users can expect from using Bio X4:
Reduced food cravings
Faster metabolism
Facilitates smoother digestion
Promotes weight loss
I am here because I believe in the benefits of probiotics and use them in my life daily.
I don't use them for weight loss, and honestly, I'm not going to talk much about this claim of Bio-X4 because I don't believe there's a "magic pill" for weight loss.
Weight loss requires burning more calories than you consume.
It is recognizing that all calories are not equal.
Eliminating processed foods from your diet and so much more.
Typically, probiotics promote OVERALL good health and improve cognitive function (axis of good gut, good mind).
Weight loss is not the main reason that people usually use probiotics.
Typically, it promotes good health or improves cognitive function (via the gut-mind axis).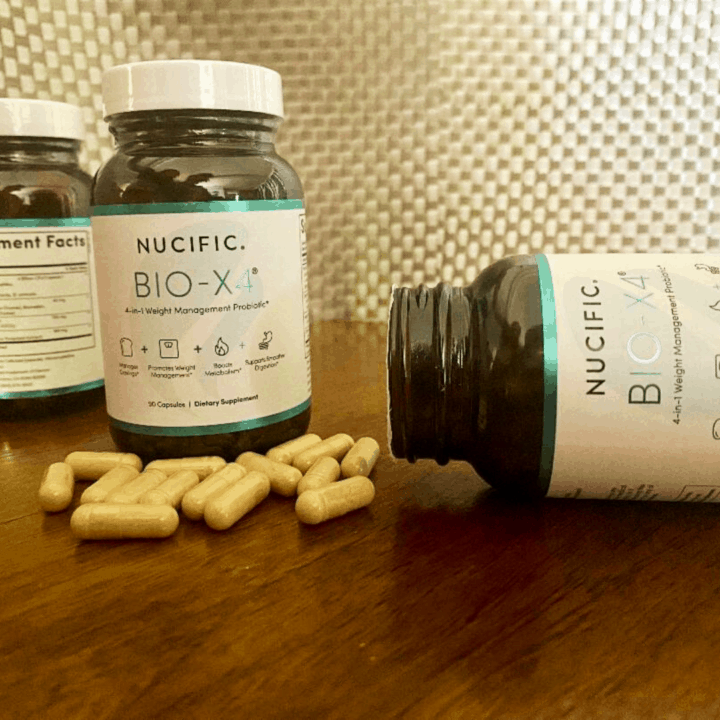 Does Nucific Bio X4 work?
Is it safe for long-term use?
What ingredients does it use?
Are there better ways to promote a healthy gut microbiome?
Take a look at the Nucific Bio X4 label below!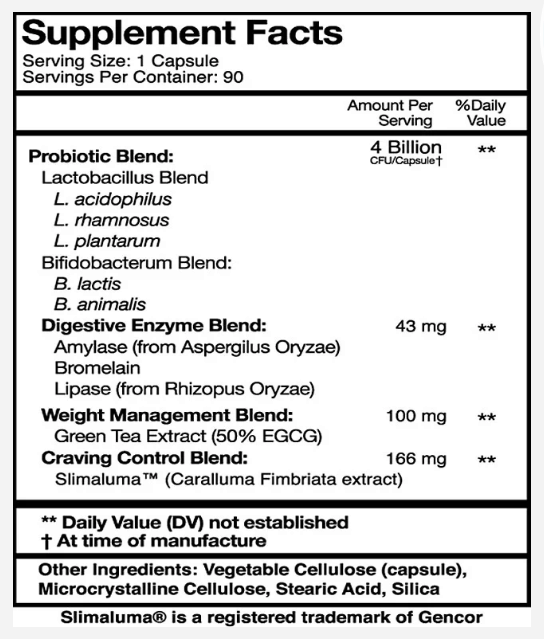 While many of us plan to taste and try new foods this summer by experimenting in the kitchen, ordering something new, or traveling to a country that makes the food we've never had, our palate and stomach don't always agree.
Introducing different spices and ingredients into our diet starts as a fun food journey but can quickly turn into regret hours later.
Instead of ruining your food journey, Nucific has created Bio X4 to help stop digestive issues before they happen.
It contains ingredients such as Lactobacillus and Bifidobacterium (probiotic strains for more comfortable digestion and gastric issue relief), digestive enzymes such as amylase, lipase, and bromelain (to help break down food and absorb more nutrients), and ECCG (a natural compound in green tea that boosts your metabolism).
I became a believer in probiotics when stress would cause these incredibly painful boils on my inner thighs.
I have one that is a constant reoccurring mess.
If I take probiotics, it doesn't flare, but it returns if I wait for my specific probiotics for seven days.
One thing to note, if you are new to probiotics, you may experience bloating and gas.
This is normal.
The extradition of the BAD bacteria in your gut and the new, GOOD bacteria claiming home.
Bio-X$ has a sensible blend of digestive enzymes, gut-friendly bacteria.
It also includes the addition of high-EGCG green tea extract.
When you take a probiotic, you improve gut microbiome health, which improves several different aspects of health and performance.
Your gut is central to everything about you.
It affects your immune system, digestive system, and your cognitive performance.
Loosely translated, this means that taking Nucific Bio-X4 improves mental function, physical performance, and overall health.
Good gut health improves your mood and mental health.
My experience with Nucific Bio-X4 has been positive.
I received my sample for review, and the next afternoon, some food poisoning kicked in from our Chinese indulgence the night prior.
I work from home, taking live calls, and my stomach was rumbling.
My gut was in pain!
I took one capsule of the Nucific Bio-X4, and within 20 minutes, my stomach stopped rolling, and the urgency was gone.
Nucific recommends taking one capsule before each meal.
There are 90 capsules per bottle, making one bottle a month's supply.
A bottle of Nucific BIO-X4 costs $100.
While I am a huge believer in the benefits of probiotics, $100 for a one-month supply seems steep by industry standards.
POSITIVES
Good range of bacteria
Includes vital enzymes
Focuses on fat and protein digestion
NEGATIVES
Very expensive for what it is
Most of the bacteria and enzymes are transient
Not a permanent fix for gut health
Slimaluma (added to reduce cravings) may cause side effects
Not suitable for people with a weakened immune system
Nucific Bio X4 is a good probiotic. It contains some good digestive enzymes and beneficial bacteria. When taken as directed, these substances will improve gut microbiome health, which improves cognitive function, mood, physical performance, and overall health. We do recommend using probiotics, like BIO-X4. The only big downside is the price tag – $100 for a month-supply bottle is extremely expensive for a probiotic!