Travel Buddies Review
We are a family on the go and while some of us can keep up, it can be taxing on my littlest troops.
I've propped them with pillows and bribed older siblings to allow a small one to lean on them while they bobbed in their seat unconscious and getting some much needed REMs.
Recently we had the opportunity to review Travel Buddies by Noodle Head.
Travel Buddies are soft pillows that are whimsical in design.
There is a HUGE selection of choices–19 fun, friendly animals ready to cushion your child's neck whether travel finds you on a plane, a train or more likely, an automobile!
Li'l Man received the Giraffe.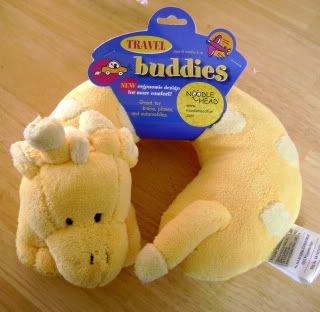 When he opened the box, he hugged it and claimed to have found his "new best friend".
He petted it, he wrapped it around his neck and disappeared for a jungle adventure.
The details of this Travel Buddies pillow are delightful.
The giraffe has a wiggly tail, front hooves, ears, and adorable horns.
The eyes are embroidered, as is the nose.
He's also incredibly soft to pet and rests a weary head upon.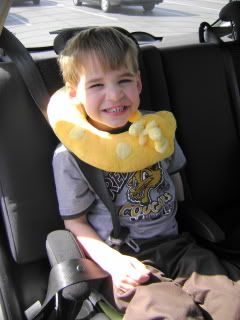 Li'l Man drags his Travel Buddies Giraffe to and from the car and believes he is not completely "buckled in" unless the Giraffe is around his neck.
He is not taking any chances of neck pain in the event he just can't fight off sleep any longer.
Travel Buddies are recommended for children 18 months and older.
My six year old has been permitted to use the Giraffe Travel Buddies pillow once when she fell asleep and Li'l Man had far too much to say to even consider sleep.
He was generous and "shared".
Travel Buddies can be purchased online through Bath and Body Works, Amazon and other fine retailers.
Disclosure: No monetary compensation was offered or accepted for this post. I received the items mentioned in this post from the sponsor for review purposes. The opinions above are my own and were not in any way influenced by the sponsor. Other's experiences may vary.
We appreciate your subscription to Mommy's Memorandum