Our Nickelodeon Gak and Floam Review
Jake and Zac were my kiddos of the 90s. I have a vague recollection of Nickelodeon's Gak and Floam and their creativity with it. Now my younger kiddos are experiencing the same fun because Gak and Floam are BACK!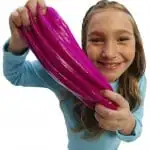 Over the weekend, after bribing kiddos to clean their rooms, they set up the Creation Station and I brought out the Gak and Floam. Their li'l eyes widened as they asked, "What is that stuff?!" I said nothing, put it on their play tray, and walked away.
It was the last I saw of them for hours!
Floam!
Floam: The Bead-Filled Sensation
History: Floam, another iconic creation from the '90s, was a colorful and textured modeling compound. It was designed to provide hours of creative fun and was initially introduced in 1994.
What's Floam?: Floam was made up of tiny, foam microbeads suspended in a non-toxic, moldable putty. It was known for its unique texture, allowing users to sculpt, mold, and shape it into various designs. Floam also came in vibrant colors, making it a versatile artistic medium.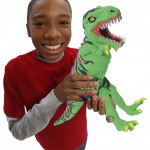 The first one they chose to play with was Floam, think styrofoam beads mixed with a gelatinous component. It's reusable and can be molded over and over or allowed to harden (overnight) and become a creation you keep forever.
The kiddos molded, flattened, pounded, rolled and folded the Floam. Grandpa had to touch it. Dad wanted to know what it was about and the kiddos just kept on going. They like the beaded, almost-sticky texture and thought it was awesome to experiment with pressing different objects into it from around the house. Mostly, they just loved the feel of it and marveled at its fun!
We received Rockin' Red, Blazin' Blue, and Electric Yellow and it is also available in Glimmer Green, Posh Pink, and Purple Power. The Floam comes in an air-tight container where it can be stored and includes a mini-shaper.
GAK
Nickelodeon Gak: A Nostalgic Slime Sensation
History: Nickelodeon Gak was a hit sensation in the 1990s, capturing the hearts of kids and adults alike. This gooey, stretchy, and oddly satisfying substance was first introduced in 1992 by Nickelodeon, the famous kids' television network.
What's Gak?: Nickelodeon Gak was a non-toxic, squishy material that came in various vibrant colors. It was marketed as a stress-relief toy and a sensory delight. Gak could be squeezed, stretched, and even made funny noises when manipulated, making it a unique and entertaining plaything.
Then came Gak. The first two reminded me a lot of Silly Putty with the smooth texture, only it was a little more pliable allowing twisting, rolling, squishing and more. The third package was a mess! It was incredibly wet. I have since learned that if this happens, to leave it uncovered in the container for a while and then begin the hands-on fun!
We received GAK in Blue It, Yakkity Yellow, and Rebel Red. It is also available in Tickled Pink, Purple Panic, and Goo Green!
From the get-go, GAK was a success. The kiddos laughed and giggled as it popped and cracked as it was manipulated. Then The Beauty Queen read about stretching it and they tried that but when she shared you could blow bubbles with GAK, the kiddos never looked back!
The kiddos immediately stuck a straw into their glob and sealed it tightly…then they blew. And blew.
The only drawback we found to GAK is that it involved clean-up. It wasn't anything difficult, it washes off hands and the play trays easily with just water, however, Bailey Mae, our dog, wore it and I discovered a splat of GAK upstairs on my curtains. We've deemed this a SUPERVISED activity so it all stays in one area.
Gak and Floam are available at retailer like Target, Toys R Us, Bed, Bath and Beyond and Walgreens nationwide. They each have a suggested retail of $6.99. Plus, they are non-toxic, non-staining, and free of phthalate, latex and BPA.
Disclosure of Material Connection: I received one or more of the products or services mentioned above for free in the hope that I would mention it on my blog. Regardless, I only recommend products or services I use personally and believe will be good for my readers. I am disclosing this in accordance with the Federal Trade Commission's 16 CFR, Part 255: "Guides Concerning the Use of Endorsements and Testimonials in Advertising.".