Review
Holidays are a favorite at our house. I have one child who especially loves the build-up and celebrations centered around holidays. I strive to make these celebrations personal and each year set out to find something "special" to add that much more fun to the festivities.
This year, I was fortunate to find My Embroidered Gifts. It's a unique storefront with some very fun gifts that can all be personalized.
As Easter is quickly approaching, we were fortunate enough to have the opportunity to review the My Embroidered Gifts Color My World Plopkin Bunny. It was the FIRST bunny that captured my six-year-old's heart.
Plopkin captures my children's imagination with her floppy ears lined with a soft pink striped fabric that matches all four of her paws!
She is a 10″ plush with a "beany' bottom that enables her to sit–making her the perfect guest for tea parties and sharing secrets!
She is single stitch eyes and the most darling pink nose.
We love her "blushed" cheeks.
Plopkin is perfectly accented with a pink and green organza neck bow.
We got big giggles from her "cotton" tail. It was truly the perfect touch!
I appreciate that she is surface washable and soft enough for my children to not only play with but cuddle in bed with and fall asleep.
In her original form, Plopkin is perfect for Easter Baskets, Baby Showers or that special li'l "bunny". As an added bonus, My Embroidered Gifts offers the service of personalization through embroidery on the ear at no additional charge!
There are many fun items available in the great selection at My Embroidered Gifts. My children each had their favorites.
Li'l Man liked the "My first Easter Basket"…while it's not his first Easter he liked the hands-on features and the different shapes and items in the basket.
I was wanting a bigger size in the Bunsy Baby Bunny Costume. It's ADORABLE!
Charlotte the Great found this Clever "Bunny Hugs" and thought he was sweet enough for everyone!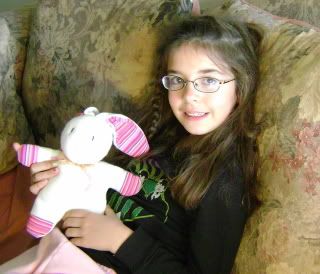 In the end, it was Plopkin who truly owned our hearts. She has not been put down since she "hopped" into our hearts.
My Embroidered Gifts wants to share the love we have for Plopkin with YOU!
Disclosure: No monetary compensation was offered or accepted for this post. I was provided the item mentioned in this post by the sponsor for review purposes. The opinions above are my own and were not in any way influenced by the sponsor. Other's experience may vary.