Your daughter's wedding is a special day, and you need to make sure everything looks perfect, including your hair; check out these updos full of style.
You planned this day together ever since she was a little girl.
Together, the two of you imagined what her wedding dress would look like, what color theme to use, what types of flowers to include, and so much more.
Now, the day has finally come.
Your daughter is getting married.
She found the person she wanted to spend the rest of her life with, and a small weight has been lifted off of her shoulders.
As the weight of finding suitable spouse lifts, however, the importance of finding the right mother of the bride updos now sinks in.
Whether you have short hair, long hair, grey hair, or anything in between, there's are updos that are right for you!
For updos ideas, continue reading below.
Here are several hairstyles for mothers of the bride for you to try on your daughter's wedding day!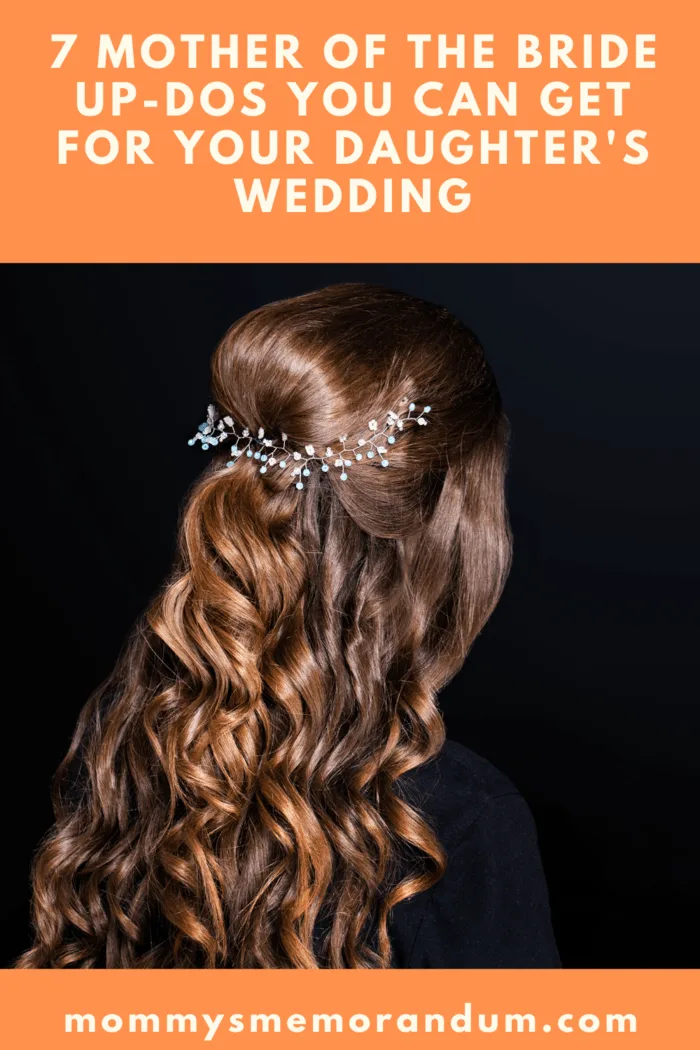 1. Hair Knot
If you have vibrant hair color, you'll want to try the hair knot.
A hair knot is similar to a bun, but the way the hair stays in place is as if it were tied in a knot.
It's a sleek updo look that looks best with bright red, shiny black, and other bright or shiny hair colors.
When trying out the hair knot updo, place the hair knot at the back of your neck.
A low hair knot is elegant and well-suited for a mother of the bride.
You can even consider leaving two hair strands loose in the front to update the look.
2. Chignon
A chignon is a hairstyle with a meaning, "nape of the neck."
The chignon hairstyle rests at the back of the neck, but a chignon isn't the same thing as the hair knot.
There are many different variations of the chignon, so you have plenty of options to choose from.
One excellent option is a chignon with a jeweled hairpin or a barrette.
Adding either of these features creates a more glamorous appearance.
It's sophisticated and works well with shoulder-length hair.
MyWedding.com shares, if possible, see if you can match your hair accessories with a similar piece in your daughter's hair.
This is a way to tie the two of you together throughout the wedding.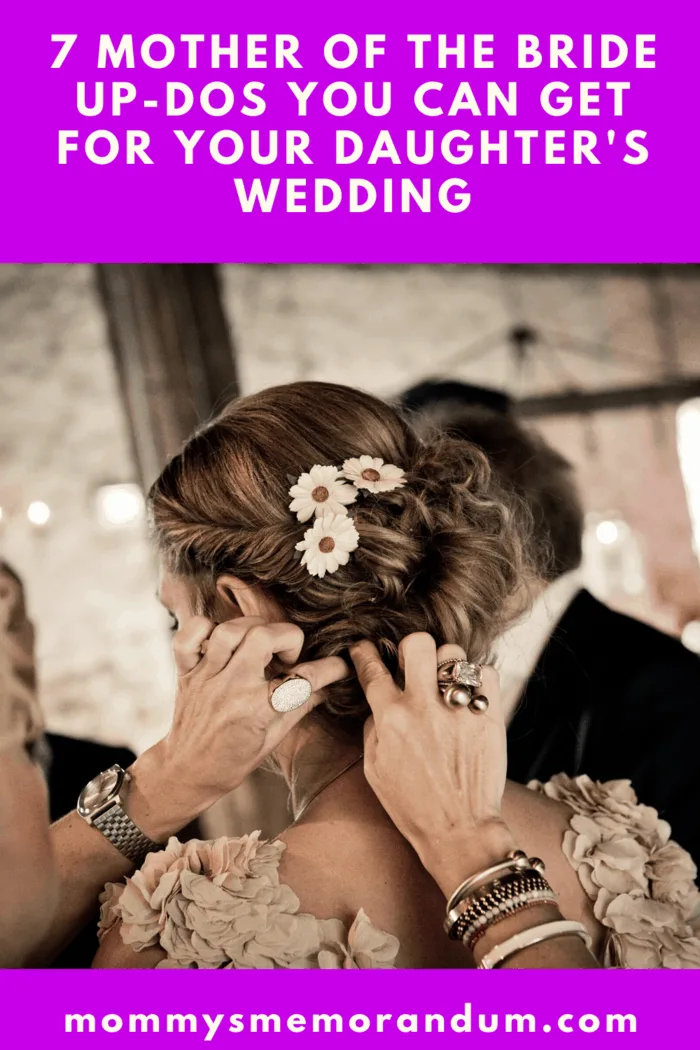 3. Gatsby Bun
Is your daughter having a Gatsby-themed wedding?
Do you love the Gatsby style yourself? Even if the wedding isn't Gatsby-themed, you can still find a way to bring this style into the wedding through your hair!
The Gatsby bun includes a twisted, loose bun at the back of the neck.
The bun rests on your shoulders and complements a jeweled and dazzling headpiece.
Allow a couple of loose hairs to fall to your shoulders to complete this look.
4. Simple Curls and Locks
Natural curls and locks are something that people without them pay for!
If you have naturally curly hair, then you're already a step ahead of everyone.
Take what you already have and keep it simple.
You don't have to worry about doing as much with it when you have fantastic hair.
If your hair is shoulder-length, add some gel or hairspray and keep it natural!
If you still want an updo of some sort, you can consider pinning up the sides and letting the rest of your hair sit on your shoulders.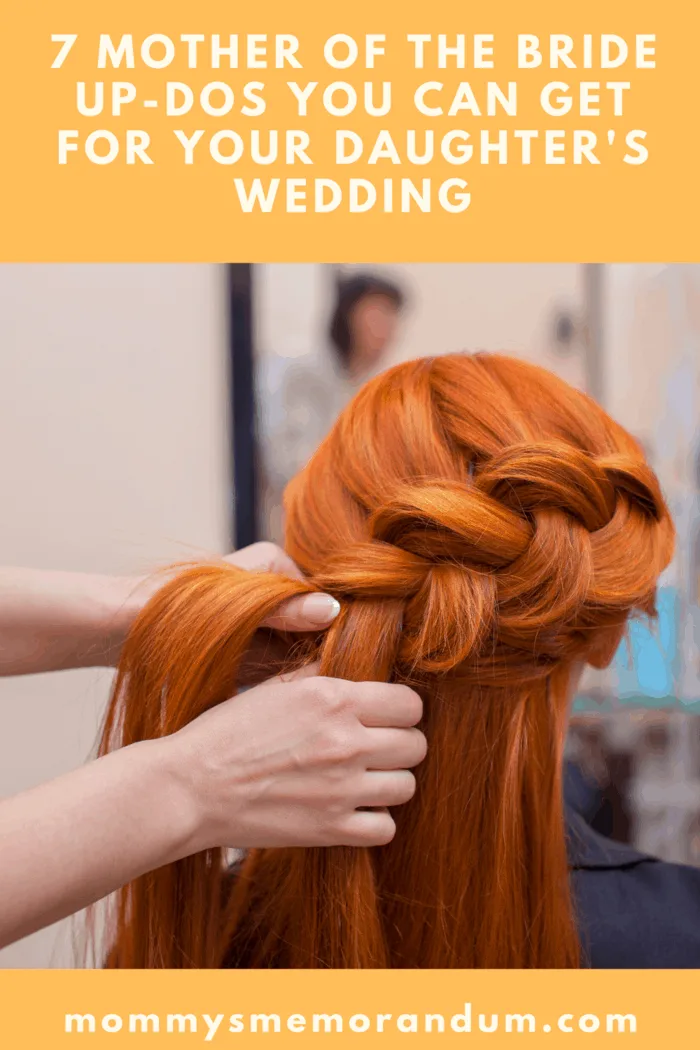 5. Long Half Updo
There's a lot that can be done with short hair for updos, but long hair works wonders for creating updos.
For long hair, you can do a long half updo.
Keep half of your hair up and the other half down.
You can curl the hair before placing it up and hold the top half up using a knot, a braid, or any other style you can think of.
Doing so makes them look more elegant than when using a hair tie.
To add more beauty, you can place flowers in your hair.
Try using many tiny baby breath flowers, or you can use one big flower.
6. Braided Updo
A braided updo works well for those with medium to long hair.
If you love the braided updo look but don't have long enough hair, then you can add extensions to complete the look!
You can do a low braided bun, mixing a braid and a bun.
You can also try a center braid updo.
This updo consists of a french braid down the center of your head.
The tail is then tucked under at the end of the braid to create the updo effect.
7. Faux Bob
A Bob is a beautiful hairstyle for wedding updos and short hair.
The hair is longer in the front, reaching just under the chin, and the hair in the back is cut shorter.
Bobs are a popular look and can be achieved without cutting your hair this short.
A faux bob is created by tucking your long hair up in the back but allowing hair in the front to fall loosely.
You can consider curling it if you have straight hair before pinning it up!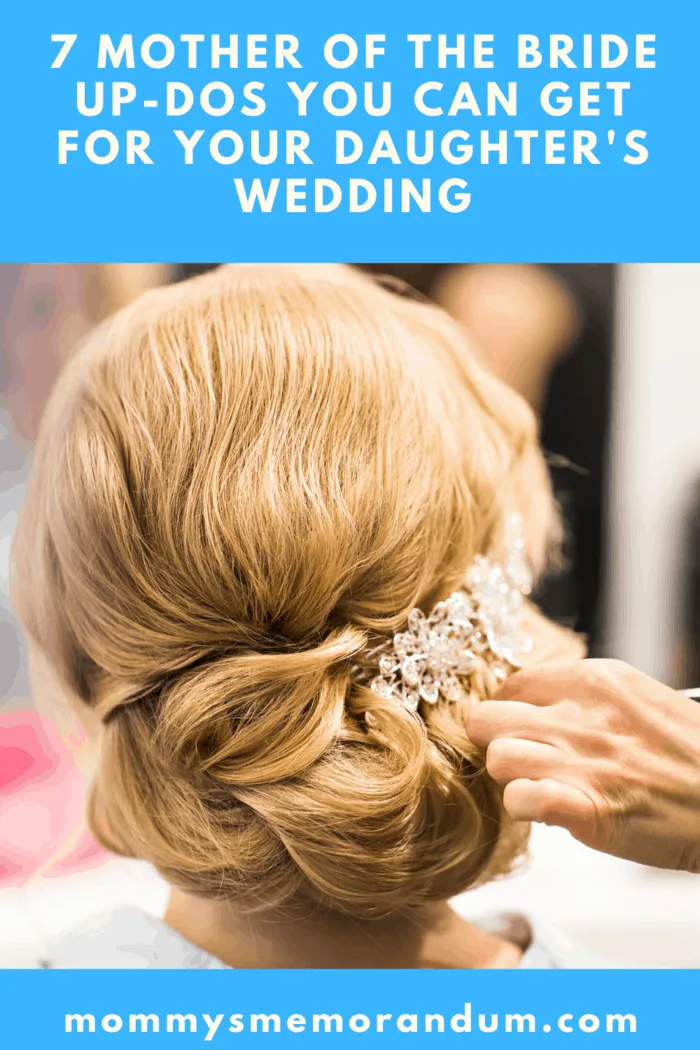 These Mother of the Bride Updos Are a Must Try!
Many mothers of the bride updos choose from for your daughter's wedding day.
Try one of these updos listed above, or gather some inspiration from some of them to create your look!
If all else fails, ask your daughter which updo style she likes on you best.
For more posts as helpful as this one, be sure to visit us daily!