JB Bernstein, Rinku Singh, and Dinesh Patel are real-life individuals who played significant roles in the Million Dollar Arm story, which was adapted into a Disney film in 2014. The movie is based on the true events that took place in 2008.
JB Bernstein, portrayed by Jon Hamm in the film, is a sports agent who co-founded the sports management firm Sports + Entertainment + Media (SEM). Facing financial struggles, JB comes up with an unconventional idea to find baseball talent in India and turn them into professional pitchers for Major League Baseball (MLB). He devises a reality TV competition called "Million Dollar Arm" to discover young Indian cricket players who could potentially transition into baseball.
Rinku Singh and Dinesh Patel, played by Suraj Sharma and Madhur Mittal, respectively, were two participants in the Million Dollar Arm contest who went on to achieve remarkable success. Rinku and Dinesh were both javelin throwers in India and had no prior experience with baseball.
The movie follows JB Bernstein's journey as he travels to India to conduct tryouts, facing cultural and logistical challenges along the way. Rinku and Dinesh emerge as the winners of the competition and are brought to the United States to receive professional training and pursue their dreams of playing baseball in the MLB.
Under the guidance of JB and with the help of a grizzled baseball coach named Tom House, portrayed by Bill Paxton, Rinku and Dinesh undergo intense training to learn the nuances of the game. They face numerous hurdles, including homesickness, language barriers, and the pressure to succeed.
Despite the challenges, Rinku and Dinesh's hard work and determination pay off. In 2008, Rinku Singh becomes the first Indian national to sign a professional sports contract in the United States when he joins the Pittsburgh Pirates organization. Dinesh Patel also signs with the Pirates shortly after.
Their inspiring journey from small-town India to professional baseball in America captured the attention of people worldwide, and their success helped pave the way for more Indian players to explore opportunities in baseball.
Overall, the Million Dollar Arm movie showcases the resilience, friendship, and triumph of JB Bernstein, Rinku Singh, and Dinesh Patel, highlighting the power of dreams and the potential for greatness that can be found in unexpected places.
During a Disney Press Junket I had the opportunity to Interview JB Bernstein, Rinku Singh, and Dinesh Patel.
Exclusive Interview with JB Bernstein, Rinku Singh, and Dinesh Patel
We live in a world where sports and athletes are the stuff legends are made. Behind every great athlete is an agent, which is why I was in Los Angeles last week. To meet a sports agent and his athletes.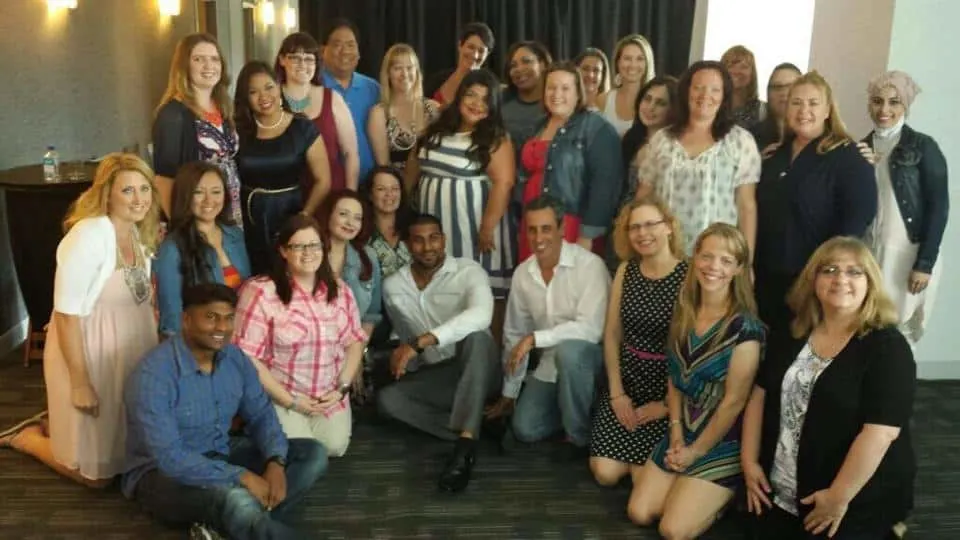 I was invited to this event by Disney and ABC as part of a media event. Accommodations and other expenses were paid for in exchange for my coverage of the event, but all opinions are my own and were not influenced in any way.
For American culture, the three names didn't ring any bells, and no trumpets played. In fact, when I mentioned J.B. Bernstein, Rinku Singh, and Dinesh Patel, the common response was, "Who?"
So when an energetic man walked in the room, flashing a million-dollar smile with 6'2″ man in a crisply ironed shirt and a quiet counterpart, with a voice that radiated home runs and touchdowns, I was at full attention.
Sports Agent, J.B. Bernstein displayed his humor with his first words, "How's everybody doing? Good. Good. Is this the Free Lunch or what?"
J.B. Bernstein less than a decade, branched off to start his own business as a Sports Agent. He found himself in the gamble of his life. All or nothing rested on one thing, "Million Dollar Arm".
In the movie, we learn how Bernstein came upon the idea of the Million Dollar Arm contest and it was time to learn if the movie was relatively accurate to how it began?
"You know, some of the things they touch on is the inspirations are accurate like American Idol and seeing Cricket. But like any idea, I have Business Partners and they were part of the Idea Generation but it's hard to tell a Movie from 80 points of view. In reality, my two Business Partners, Will Chang and Aasif Vasudevan, who were both in the Movie, helped us and we were all thinking about these things separately and it wasn't really until we came together that the idea, came from this, nebulous fuzzy thing of 'Hey, we should try to find Talent in India too'."

"We should try to do this Game Show and see if we could find, some Athletes. It's pretty accurate in that it shows the inspirations for things but obviously, I'm not smart enough to come up with this idea about myself."
In the movie, and perhaps, Bernstein's life, he learns about compassion, about family. He went from being a bachelor to learning to balance the dynamic of a life with two boys from India who needed a substitute father in America. These days, Bernstein, adds to his résumé "Dad" with a young daughter. Does he have any advice for dads?
"Wow,Delphine's only 3 so I don't know that I would qualify to give advice just yet after only 3 years. I'm still probably taking advice. Having Rinku and Dinesh live with me, gave me a taste of Fatherhood. It reminded me of the importance of Family. It reminded me of the importance of being surrounded by people who you love and that love you. Being able to take pride in other people's accomplishments, many rudimentary lessons of life, came back into focus. I think in a lot of ways, I started being a Parent, although kind of Baptism by fire with these guys."

"Now with Delphine, the best advice I can give to any Parent I think is to treasure your time. It's almost inconceivable that she's 3 years old. It's almost inconceivable that it was 2008 and 2009 when these guys (Rinku and Dinesh) were living with me. "Time goes so fast. There's no way you can possibly cherish time enough with your kids. So I guess that's the best advice I can give. Other than that, I'm actually in the taking advice mode so if you have any, just text. A lot of you have tweeted me. Send out all the advice. I'm taking it."
By the way, you can tweet your advice to J.B. Bernstein on Twitter to @JBBernstein.
Seated to Bernstein's right was Rinku Singh and to Bernstein's left, Dinesh Patel. These two were the winners of the first Million Dollar Arm contest in India.
At first glance, I realized, baseball players are built far differently than I entered this room thinking. My impression was lean and perhaps lanky. Rinku stands at 6'2″ and has a body of solid muscle. His shirt is pressed to perfection. Dinesh is solid as well in a denim button up shirt.
We have heard much about these two and asked them how does it feel seeing yourself in the movie, Million Dollar Arm?
Dinesh, the quiet one, almost whispers, "This is a big deal for me. I'm very happy and my family is also happy so good deal."
How do you feel about Suraj Sharma (from Life of Pi) playing you?
Rinku, who is played by Sharma answers:
"He's done a great job. I mean, he's not just a great actor, he's also a great Human. Meeting him as a person, it just really meant a lot. He really was nice and plus seeing him in this movie, I really liked it. It was pretty inspirational and he did a great job. The way he actually did it, was awesome. I really liked it. He really reminded me of 2008, and the little Indian that I was. " [LAUGHTER]
In the movie, we learn that Rinku and Dinesh really don't know a thing about baseball. They had to learn it. How was it learning the game?
"It really takes some time. Just like, if you took an American Baseball Player and made them become a Cricket player. They have no idea how to pitch in Cricket, right? So this was totally different world for me coming here and playing Professional Baseball. I had no idea. It did take a year but I believe that it doesn't matter what you're doing in your life, if you're willing to give whatever you got inside and out, you are going to succeed."
One of the most emotional scenes for me in the movie is when Rinku and Dinesh leave India. We asked, from their own point of view, what it was like to leave behind their families and what role has family played in your life.
Dinesh spoke first:
"My parents,were really afraid by my leaving. They said, 'Don't go' because this was a new world for me. We had never left India, so they were very afraid."
Rinku followed with his answer:
"We didn't just leave our family. Besides the family, we left our Culture, Family, Friends, Food. We were just 18-year-old kids. Making that huge decision wasn't easy for us. What were we going to do without knowing anything about American Culture. We didn't know the language. We didn't know anybody besides JB. Our parents, were really afraid because we never went out of our country."

This really changed our life. It really taught us that whatever comes into your life, you make that decision. If you're willing to just give in and out, you will be happy for the decision you made. So I'm really proud of the decision I made being in America. It's totally amazing. It has changed my life, changed my family's life. I wanted to stay here."
Of course, at 18, we've all made mistakes and we have regrets. Do Rinku and Dinesh? If they could do everything all over again, would they?
Rinku is eager to answer.
"I would do it again. I would love to. I have learned a lot. I didn't just walk through this journey. It has taught me a lot of things. It really makes me and Dinesh whole people working with "Million Dollar Arm". For me personally, I grew up a lot from that. I wouldn't be the man I am today if I didn't do this–if I wasn't in here. Even if I were turning 60, I wouldn't be the person I am now without Million Dollar Arm and the experience."
Following our interview, we'd be heading to the Million Dollar Arm Pitching Contest, the Million Dollar Arm Red Carpet and the Million Dollar Arm Premiere. Rinku and Dinesh would be there. Were they excited and how did they feel?
Dinesh smiled.
"Yeah, I'm very excited."
Then J.B. Bernstein stepped onto his surrogate Dad soap box and shared with the bloggers:
"They both have seen the movie. Rinku had the chance to screen the movie with his team down in Renton. Dinesh actually was at a Screening with us with the Ambassador, the Indian Ambassador of the United States. These guys have met Obama. I've been a Sports Agent for 20 years. I've never done anything good until I met these guys. You know, Lisa, who was our publicist, actually got to go to the White House so with them. I was getting married that day."

"I would probably speak for all of us when I say that this is a really personal journey for us. It's not like your traditional business deal. This is something that obviously is a very pivotal point in our life. Our hope is really two things. One is that people take away what these guys have endured and persevered in order to be successful and — Two. Take away the lesson that dreams are possible in this country more so than maybe anywhere else in the world. We hope kids will be able to look at Rinku and Dinesh as role models and say, 'Look, if these guys did this; I can do anything'."

"I could be a Baseball Pitcher. It's that first spark of hope, not just for kids in India, but for kids here, for kids everywhere. They have these two guys to look at who have done something that's never been done in the history of the world. They went from a position of never hearing of the sport baseball, to Rinku winning his first game 13 months from the day he picked up a Baseball. Dinesh won his first game 14 months from the first day that he picked up a Baseball. That's just unheard of. I've been a Sports man my whole life. I've been an Agent my whole Adult life. I've never heard of anything like this. I never heard of anybody even thinking something like this could be possible."
It should be noted that while you and I may have never heard the name J.B. Bernstein, he's kind of a big deal as a Sports Agent. His clients include Barry Bonds and Barry Sanders among others.
Bernstein continues:
"And then you know, for my story, I think that I'm excited for people who realize it's never too late to change. It's never too late to be a better person. It's not that I was a bad person. I think I was somewhat one-dimensional. Everybody asks, 'Were you really that big of a jerk?' and I side step that question because –well, I didn't feel like a jerk at the time. I wasn't trying to be. I just was — very myopic and I think that, now, thanks to these guys, thanks to my family,I have a much different view. I'm hoping that those two things come through to the general audience. It's exciting to be able, after 6 years of negotiating and filming and whatever, to be able to actually finally share this with the world."
All eyes were on Rinku when the question was asked how being part of this experience, the movie coming out and now how people see him and his family, how is it?
"A lot of grown ups and young kids look at us as role models. Dinesh went back to India where he is helping a lot of kids. He is teaching them how to play baseball. He is sharing his journey and what he has been through as well as what his journey meant. He knows first hand what it is like I growing up as these kids. Before Million Dollar Arm, I had the same dream to just get a job and support my family; that's it."

"But we did something different from those kids. It really opened their eyes and they are dreaming big now. We have proven to them that dreams come true. We proved this to even their Mom and Dad. They talk about wanting to be like Rinku and Dinesh. We already have done enough to make them realize if you want to see dreams, see something big. Those kids really see their dream in us.".
Once you see the movie, at the end, it will share how J.B Bernstein is still involved in Million Dollar Arm. Is it still taking place in India or is different now?
"It is still running in India. We'll start our 3rd Season this Winter. Our first season, we saw about 38,000 kids. This year we'll see half a million. Major League Baseball is now playing a big part in it, so is Disney and Simon & Shuster. We have a lot more muscle to flex then when it was me, Rinku, Dinesh, Ash and Will. Not that the 5 of us aren't formidable on some level but we have a bit more muscle to flex and a little bit bigger microphone. My hope is what Rinku said is that yeah, sure we'll find talent and there's a monetary side to this thing, but there's a social side to this thing that really none of us saw coming that has really become the primary focus of "Million Dollar Arm". It sounds weird for an Agent to say because I'm suppose to be about making money. This is a unique opportunity. We have to have almost a Social Revolution."
We know Rinku and Dinesh left India to come to America, but have their families been able to come to America to see their new life and if so, how do they feel about it?
Rinku answers:
"The answer is no. They haven't. First of all, it would be a big cultural change for them. Plus baseball life is too busy. My family might come here and they wouldn't like it because I won't be able to give them time. I really don't want my parents to feel that way. I'm thinking when I make it, I will definitely bring them over here to see. Obviously, they are talking about, our changing life. They already have seen enough, since we've moved to the States, and we go back to India. They already know enough about how much we have changed and how much we have changed their life."
J.B. explains a little more:
"Immigration is not easy either. You get the Passports and Visas. When Rinku make the Majors, we'll make a Herculean effort to make sure his parents are there."
One scene in the movie, Brenda tells JB that his Porsche looks a lot like a mini-van. So? Was that fact or fiction? Bernstein dishes the dirt:
"You know what's funny? With my current family, I've actually gotten rid of two Porsches. I got rid of the Carrera– I couldn't even keep the 4-Door. I couldn't even keep the Panamera. But we have what I like to call our "Tank" which is our Volvo. That's — the only thing our kids allowed in. Then we have a Cadillac. Rinku actually has a Mustang now. Living vicariously once again through Rinku." [LAUGHTERS]
Then Rinku pipes up.
" Just doing my job."
Earlier Bernstein mentioned that the collaboration of the idea "Million Dollar Arm" was between he, Chang, and Ash. So at the end of the Movie, the second try-out was happening, Chang said that he was not going to back you. Was that an actual event that happened?
"No. Will is probably the nicest..first of all, Chang. It's funny. I laughed when you said Chang because his name's Will. No one calls him Chang. It was just something that was kind of invented with the movie script. Rinku probably says it best, "with a movie, this is a true story but they sprinkle a little cream on top to make it Hollywood." One of the things that was probably the most dramatically changed from reality is Will. If I'd come to Will and said, Will, we need 5 years more. He'd be, "OK. What's next?" He wouldn't even a beat."

"He's not really a mean guy but it works so much better in the movie for me to be under that kind of fear and pressure. They threw that in there but in reality, he's a super nice guy and he was as invested and continues to be as invested in these guys' success and whatever is best for them."
What was it like for Jon Hamm to play Bernstein on the big screen?
"Well, you know, the resemblance is striking. [LAUGHTER] And I mean that by if they struck Jon in the face with a shovel. I can't speak to what it was like for him to play me but I can tell you what it was like for me and to have him play this role. First of all, Jon, as you guys know I'm sure, some of you by demographic watch "Mad Men." I guess a lot of women watch that Show. I don't know why?"
Rinku knows why:
"Obviously, because they love him."
But it's Bernstein's moment:
"Exactly! Exactly. It's a good Show. It's a good Show. He is probably one of the hottest actors in Hollywood. Everybody's throwing parts at him. Every Studio wants to get him into a film. They realize "Mad Men's winding down. He's the It guy."
"So the fact that with everything available to him that he chose to play me is very humbling and surreal. He gets me really, really well. There are parts of the movie where friends of mine have seen him and go, " Oh My, how long did he stay with you?" I didn't meet him until halfway through they started the filming. He obviously thought I'm the most trite person ever or they wrote a great script."
"It was really humbling and he's become a good friend and someone who I really care about. He's someone who is just a genuinely good guy. You meet a lot of celebrities in my line of business and you realize they're just like regular people. Some are very nice and some are jerks and you know, the richer they are, the more free they are to be their true person. Jon is just one of these guys who probably has been the same since he was a kid. He's the same guy, very even keeled, nice guy. I'm really lucky to have him play me. It doesn't mean much at home though. My 3-year-old doesn't know who Jon Hamm is and doesn't care."
Dinesh conquered baseball and started professional Javelin. What other sports, if any would he like to learn and conquer next?
Without hesitation Dinesh reveals:
"Volleyball."
Bernstein points out:
"There's not a lot of 5 11 guys in Volleyball but you know, I'm not gonna tell this guy not to dream."
One of Rinku's ritual's before a game is that he listens to Eminem before he pitches. What other ritual does he do before he goes out on the field at the same time?
"Beside Eminem, there's always a reminder that I don't want to go back where I'm came from. I want to continue to make changes for success. That really keeps me going because, like we just talked about earlier, there's so many kids back home who see their dream in me so I really have to keep going no matter what."
"Whether I listen to Eminem, or not before a game, what I realize that is– this is going to be my day — every game I pitch, it's like my last game. It really helps."
Million Dollar Arm portrays Indians a certain way and the cities that Rinku and Dinesh came from. A lot of Americans obviously have never been to India. Just as many people who live there haven't been here. How do they feel about the portrayal compared to how it actually is?
Rinku speaks up:
"That's a good question. First of all, you've never been to India, right? How many of you been to India? OK, so let's talk about me. I'm Indian. I had never been to America. I'm was thinking exactly the same thing as you're thinking now. I have never been to America just like you have never been to India. Then there's the movies. There's so many places that are like and not like what is in the movie. If you really wanted to make a movie, you can go out in to America. You can find someplace and Hollywood can make it look like anywhere. There are places like that in India but it's not 100% true."
J.B. Bernstein expands on this thought a little more:
" To add to what Rinku is saying, I've been to many places in India, maybe even more than these guys. It's so diverse. There are so many types of places. There's huge Cities obviously Delhi, and Bangalore, and these amazing technical centers, huge Office Buildings. Proctor and Gamble, Apple, everybody's there. Then there are Villages like where these guys came from which are kind of rural, just what you would almost call Middle Class."

"Farming Villages. Everybody lives off the land. They have honorable jobs. They work hard and have strong family units. There are Villages that are somewhere between. They're like what you might call Mid-Cities, like Varanasi, which is, about 30 minutes from where Dinesh lives, and which happens to be the birth place of 3 religions. It's more of an Old World City than a city like Delhi which looks almost like Boston. The diversity from place to place is so broad that there's no way you could do a movie about India and characterize the entire Country, but where these guys came from is what India might consider almost like Middle Classes, nice Farming Villages. They both came from good homes. They both have good families."

"They both went to High School. As a matter of fact, Rinku's family especially."
JB pauses and puts his hand on Rinku's and then continues.
"I think you're very proud that your father was able to send all the seven kids through school. Every single one of them. It's really amazing– His dad is as amazing as Rinku is. I hope you don't mind me saying, his dad is even more amazing. Dinesh' Parents as well. The lengths that they went to keep the family together. I think that's kind of àpropos for this group. That's the story more so than the geography or the trappings of Villages or whatever it may be. The length Indian families will go to keep together as a family is the best way I would characterize India. Is that fair?"
A nod of Rinku's head and then, he says to Bernstein:
"You said it perfectly."
In the 6 years that Rinku and Dinesh have been here, do they feel like they are much more acclimated to this country? Do they feel more at home here or do they still feel like they are missing home?
Get out the Kleenex because Rinku's response will make you want to call home.
"Home is always gonna be home no matter what. No matter how happy you are in another country you are always going to miss home. I'm pretty sure that it would be the same for anyone. It doesn't matter where you live. You always miss your home. Being here, I have to be happy because my dream is here. I have my Mom and Dad there.I go home once a year and get my heart charged. I get ready for another year. Am I happy in America? Yes. But , like I said, home is always going to be home. I'm always going to miss home."
Dinesh, has returned to India and Bernstein turns and asks him:
"You've had the experience of both so now you're back and lived here for a while. What do you think?"
There is a quiet pause and then Dinesh speaks with a smile on his face.
"When I was here, I missed home a lot. Right now, I'm living in India with my Family. I'm happy."
J.B. Bernstein asked Dinesh:
"Do you miss America now that you're back?"
With a nod of the head and a bigger smile, Dinesh answered:
"Yes." [LAUGHTER]
Bernstein continued interviewing Dinesh;
"What do you miss? Movies? TV?"
His smile broadened like a Cheshire cat. He paused and then said,
"Everything."
Still in the role of interviewer, J.B. asked Dinesh:
"Food?"
Still in his quiet stance and wearing his smile, Dinesh nods his head, and reveals:
"Of course. Pizza."
Once you see the movie, you'll know exactly what J.B. Bernstein meant when he exclaimed,
" Of all the true parts, that is one of them!"
Just three guys, two from the same walk of life and the other, a sports agent, who made dreams come true when he discovered not just the talent but the drive that makes Million Dollar Arm a must see for the family!
Disney's Million Dollar Arm Synopsis:
Here's a synopsis for Disney's Million Dollar Arm:
In a last-ditch effort to save his struggling sports management firm, JB Bernstein, a sports agent on the verge of giving up, comes up with a unique idea. He decides to search for baseball talent in India, a country where cricket is king, by hosting a reality TV competition called "Million Dollar Arm." The goal is to find young cricket players who can transition into professional baseball pitchers.
JB travels to India, where he faces cultural differences, logistical challenges, and skepticism from the locals. Through a series of tryouts in different cities, he finally discovers two promising talents, Rinku Singh and Dinesh Patel, who have never played baseball before but have impressive skills as javelin throwers.
JB brings Rinku and Dinesh to the United States and immerses them in a rigorous training program. They face a steep learning curve as they struggle to adapt to the rules and techniques of baseball while dealing with homesickness and the pressures of the competition. Along the way, they form a close bond with JB and his unconventional roommate, Brenda, who provides them with support and guidance.
As the clock ticks and their chance at success approaches, Rinku and Dinesh must overcome their doubts and insecurities. With the help of a seasoned baseball coach, Tom House, they work tirelessly to refine their skills and compete in tryouts with professional teams. Their journey is not only about becoming professional athletes but also about personal growth and self-discovery.
Against all odds, Rinku and Dinesh capture the attention of Major League Baseball scouts and teams. They make history when Rinku becomes the first Indian national to sign a professional sports contract in the United States, followed by Dinesh. Their achievements not only change their lives but also inspire a nation and pave the way for other Indian players to pursue their dreams in baseball.
Million Dollar Arm is an uplifting and inspiring story that showcases the power of determination, friendship, and the pursuit of dreams, proving that talent can be found in the most unexpected places.
Own Million Dollar Arm Today.