Did you know that
3 out of 4 car seats are improperly installed
? It's something I've written about and continue to share because I believe car seats do keep children safe. My children are older, and still, we use a car seat. The Divine Miss M has just transitioned to a Kiddy USA CruiserFix Pro, and we're not looking back. It's like a Cadillac of luxury.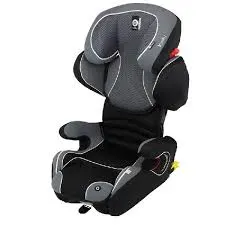 I want my children to be safe–always and in the car, there are a lot of variables as I can't always predict what another driver is going to do or even where they will come from so I rely on car seats.
Car Seats are Not All Created Equal: Kiddy USA Cruiserfix Pro Leads the Way!
The Kiddy USA Cruiserfix Pro offers many great safety features.
Superior Side Impact Protection (SIP):
Anyone with kiddos knows shoulders are a weak spot on children. They hold up the body's heaviest part, the head. Kiddy USA knows this and uses a high-performance material in the head and shoulder areas. It is designed and shaped specifically to extend the best protection in the event of an accident.
I love that as you raise the headrest to fit your child, the shoulders extend automatically for a perfect fit.
The car seat also offers a Kiddy Shock Absorber (KSA): For the first time, a children's car seat has taken proven 'crumple zone' technology from the car industry to make an even safer car seat for older children. The Kiddy Shock Absorber is situated on both sides of the seat shell. The vehicle seatbelt rests against the KSA when installed properly. In the event of a collision, the force of impact is transferred into the KSA and deforms the special crumple zone materials inside. No other car seat manufacturer offers this fantastic new feature which is patented by kiddy.
The Kiddy K-Fix Connectors provide an easy connection to the vehicle's LATCH system located between the seat back and seat cushion. Including a detailed list of vehicle types.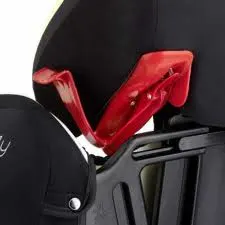 NEW Integrated Diagonal Belt Guide – Kiddy's new lever technique for its Integrated Diagonal Belt Guide allows the vehicle seatbelt to be appropriately positioned across your child's chest and collarbone. The seatbelt position is critical to your child's safety.
Handy Retraction Mechanism – The retraction mechanism let you hide the Kiddy K-fix Connectors easily in case of using a vehicle without latch.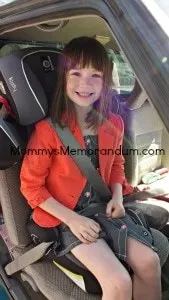 Easy Adjustment – Kiddy's unique adjustment mechanism design allows for the height and width of the seat to be altered with just one squeeze off a hand. It is just as easy for Miss M as it is for me. This seat is versatile for children of all sizes. I appreciate that she is safe and comfortable whether we're running a short errand, or driving for hours.
If you've followed Mommy's Memorandum for long, you know Miss M heats up something terrible. With the Kiddy USA Cruiserfix Pro, I don't have to worry about her getting sticky or sweaty in the heat thanks to the Breathable Thermotex Fabric. It is positioned to specific areas of the seat to increase circulation and ensure a comfortable seating environment.
There's also Comfortable Armrests – The Kiddy World Plus armrest design contours the body in its natural shape to help make for a more enjoyable journey.
And because sometimes we eat in the car and accidents happen, I love the Durable Cover – The covers can be easily removed, and machine washed at 30 degrees Celsius on delicate. Talk about relief!
The manual is stored in the back of the
car seat
, making it easy to reference. We used it for our installation, which went smoothly.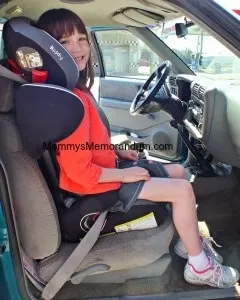 One of the first things Miss M commented on was that her legs no longer fall asleep on the longer rides. In fact, Cruiserfix Pro is the only manufacturer that offers a leg extension in the car seat for added comfort and safety. They are also the ONLY car seat manufacturer to carry an Aktion Gesunder Rucken (AGR) Recommendation. This campaign for healthier backs offers a seal of approval award on products that have had their back-friendly construction tested by an independent review panel of medical and scientific experts.
The Kiddy Cruiserfix Pro is available through amazon.com
We love this car seat and the features that make it truly comfortable and safe!
—–
Julee is a quirky, dorky, North Carolina Transplant with an appetite to taste the world, meets its desserts and blog about them. When she's not behind the computer, you can find her playing with her family, reading a good book, being a Bon Jovi fangirl and celebrating the little things.
Disclosure of Material Connection: I received one or more of the products or services mentioned above for free in the hope that I would mention it on my blog. Regardless, I only recommend products or services I use personally and believe will be good for my readers. I am disclosing this in accordance with the Federal Trade Commission's 16 CFR, Part 255: "Guides Concerning the Use of Endorsements and Testimonials in Advertising.".Julee Morrison