If you've been following the ketogenic (keto) diet for a while, you are already familiar with the challenges of eating out.
Steakhouses and the Cheesecake Factory may seem like the safest places to go, but did you know that you can find low-carb options at fast-food restaurants?
From McDonald's and Taco Bell to Chipotle and even Starbucks, these places serve food that can fit into any keto dieter's meal plan.
In case you didn't know, a keto diet is a high-fat, low-carb eating plan designed to put the body in a metabolic state called ketosis.
In ketosis, the body burns fat, rather than glucose, for fuel.
This switch in fuel utilization leads to easy weight loss and many other health benefits.
But for keto to truly work its magic, around 75-80% of your calories should come from fat, and your carb intake should be limited to roughly 50g per day.
With that out of the way, check out these fast foods and restaurants that meet keto standards.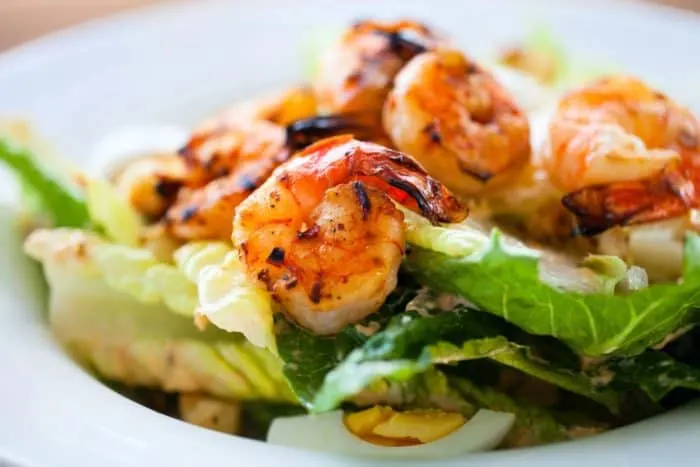 Keto-Friendly Fast Foods & Restaurants
What to Order at Restaurants
When eating out at your fast food place, order one or more of these items from the menu:
Burgers
Many fast food places now offer bunless burgers to their low-carb customers.
Instead of the bun, the burgers are wrapped in lettuce leaves and topped with condiments of your choice.
Salads
Chicken or turkey salads without the croutons and side salads topped with non-starchy vegetables like tomatoes, peppers, and avocados are two options.
Watch out for carby condiments, though!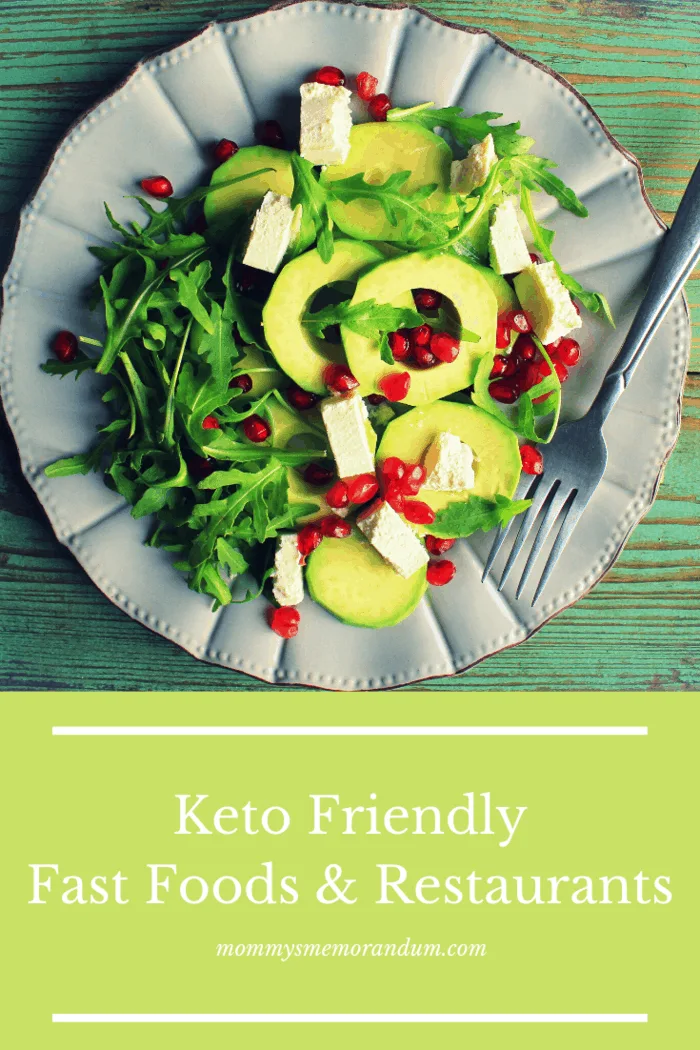 Meats
Grilled chicken, roast turkey, steak, and sausages are always good on a keto diet.
Burrito bowls
Without the shells and tortillas, these make for a low-carb, high-fat meal to help you stay full till dinner time.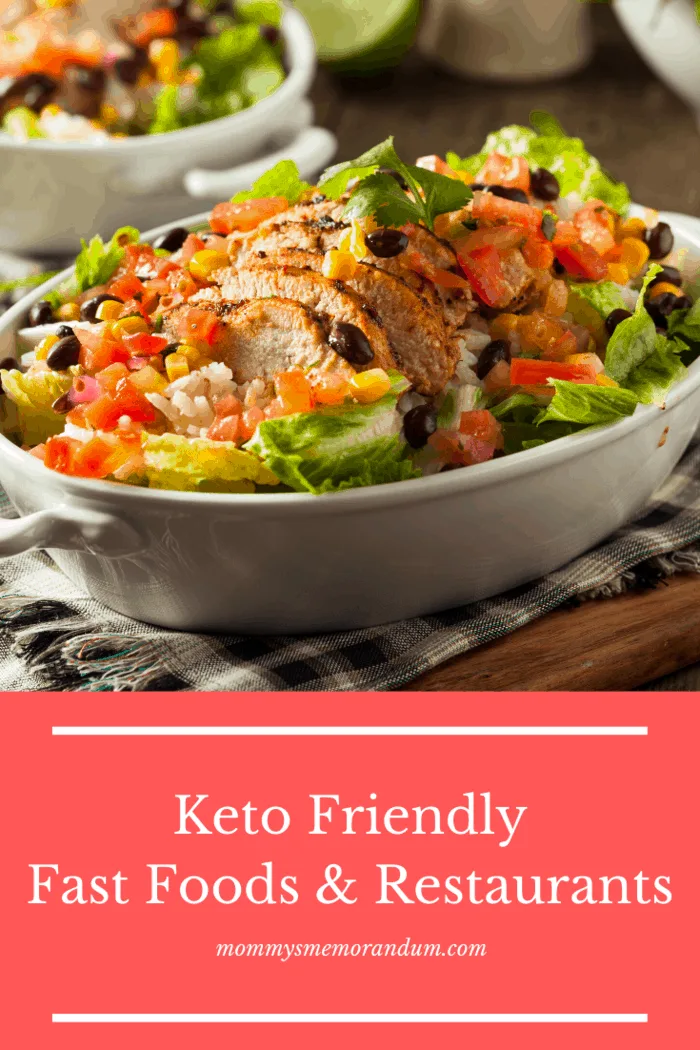 Eggs
Scrambled eggs, omelets, sunny-side-up eggs, and sous vide bites are just a couple of examples.
Order a side salad or sausage if you want to make it more filling.
Drinks
Diet Coke, iced tea, coffee, or just plain water are safe to order on keto.
Other orders to consider include a wide range of toppings and spreads such as avocado spreads, guacamole, green beans, salsa, sour cream, mustard, hot sauce, ranch sauce, mayonnaise, bacon, cheese, and more.
What to Avoid
Of course, knowing what to avoid is a big part of eating low-carb.
And when it comes to fast food menu items you need to steer clear of, keep an eye on the following:
Buns and other wheat-based items like bread, croissants, and tortillas.
Breaded meat such as chicken nuggets, fried shrimp, and breaded beef.
Hash browns and mashed potatoes.
Legumes (beans, chickpeas, lentils, etc.), corn, and rice.
Milkshakes, smoothies, lattes, milk, and regular Coke.
Ketchup, barbecue sauce, sweet and sour sauce, and honey.
When in doubt, read the nutrition table if available or ask the server what the ingredients in a food are.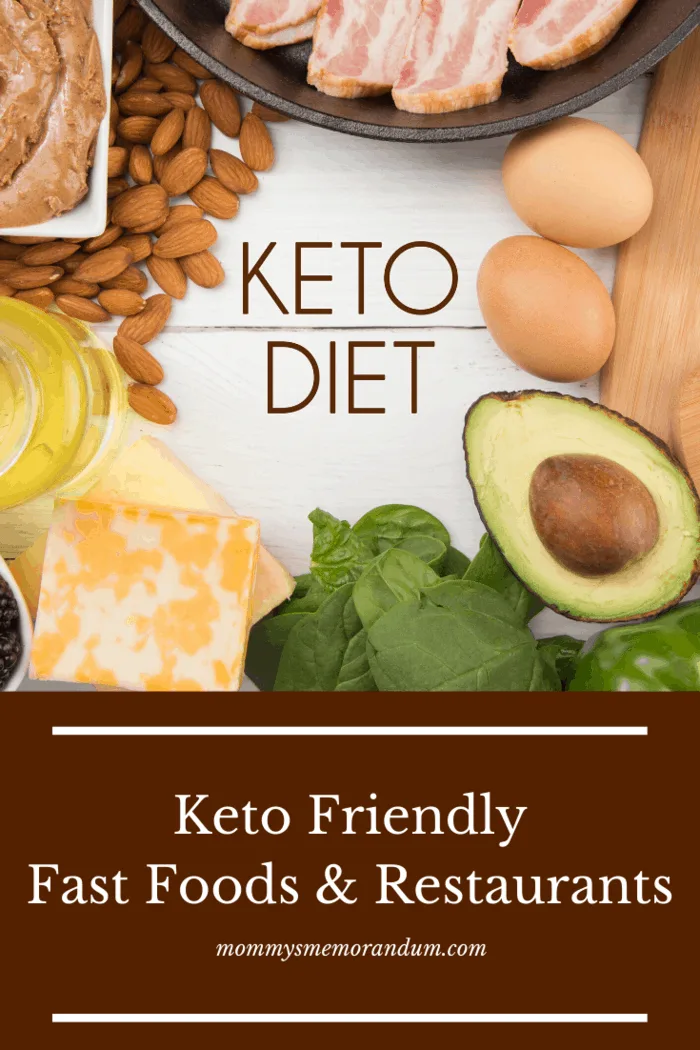 Fast Food Places to Order Low-Carb
Many fast-food restaurants will let you customize your order to meet your nutritional needs.
But some already have keto-friendly options on the menu, which is even better.
Here are some great examples.
McDonald's
Consider ordering some of McDonald's breakfast items but without the buns.
Great options include Egg McMuffin, Bacon, Egg, & Cheese Biscuit, and Sausage McMuffin.
Other filling low-carb options at McDonald's include:
Bunless Steak, Egg, & Cheese Biscuit
Calories: 260 Fat: 18g Protein: 20g Carbs: 4g
Bunless Big Mac Bacon
Calories: 400 Fat: 30g Protein: 23g Carbs: 8g
Bacon Ranch Grilled Chicken Salad
Calories: 320 Fat: 14g Protein: 42g Carbs: 8g
Hardee's
Hardee's offers low-carb items with fewer than 15g net carbs in a single serving. Orders to consider include:
Charbroiled Chicken Club Sandwich
Marinated skinless chicken fillet topped with Swiss cheese, two strips of crispy bacon, sliced tomatoes, and mayo.
All packed in fresh an Iceberg lettuce wrap.
Calories: 340 Fat: 22g Protein: 24 g Carbs: 12g
Modified 1/3 Low Carb Thickburger
Ask for a Thickburger without the ketchup, and you'll have a keto-friendly lunch option.
Calories: 450 Fat: 36g Protein: 22g Carbs: 2g
Panera Bread
While having bread in the name might make low-carbers avoid this fast food place, Panera Bread offers much more than just tasty pastry.
Greek Salad
Order this healthy, vegetarian, and low-carb lunch or dinner. This salad includes a bed of crisp romaine lettuce with, tomatoes, feta cheese, pepperoncini, red onion, kalamata olives, ground black pepper, and Greek dressing. If you want to lower its carb content further, ask if they can skip the Greek dressing.
Calories:390 Fat: 36g Protein: 6g Carbs: 11g
Other options include egg-based breakfasts without the bun and with steak and ham.
Chipotle
Back in January of this year, Chipotle Mexican Grill announced they were including a line of Lifestyle Bowls for different diets, one of which was keto.
Keto Salad Bowl
The Keto Salad Bowl includes carnitas, red salsa, cheese, guacamole, and romaine lettuce and comes with the following macros:
Calories: 590 Fat: 42g Protein: 32g Carbs: 7g
However, there are other ways to order low-carb at Chipotle and, with a little bit of tweaking, make it low carb.
Consider adding a meat of your choice, extra cheese, guacamole, sour cream, and other high-fat ingredients of your liking.
Arby's
There are great low-carb salads you can order at Arby's.
Roast Turkey Farmhouse Salad
This one contains roast turkey, pepper bacon, cheddar cheese, tomatoes, mixed lettuce greens, and iceberg lettuce – all perfectly keto-friendly ingredients.
Calories: 240 Fat: 13g Protein: 23g Carbs: 7g
Chopped Side Salad
This simple side salad isn't all too bad either at 3 g carbohydrates for when you need to be particularly careful with your carb intake.
It contains romaine lettuce, diced tomatoes, cheddar cheese, and a dressing.
Calories: 70 Fat: 5g Protein: 5g Carbs: 3g
Taco Bell
Taco Bell lets you customize their Power Bowl as you see fit.
You can skip the rice, beans, and potatoes and go for sour cream, extra guac, and different types of meat.
Power Menu Bowl
A power bowl with no rice and no beans but shredded, chicken, cheese, bacon, sour cream, guacamole, and avocado ranch sauce on a bed of lettuce.
Calories: 330 Fat: 24g Protein: 21g Carbs: 8g
Starbucks
Not exactly a fast-food restaurant, but Starbucks is a place to order some fast-food meals to go with the coffee.
Low-carb options include:
Sous Vide Egg Bites (Bacon & Gruyere)
Made with cottage cheese, eggs, Monterey jack cheese, gruyere cheese, butter, uncured bacon, a bit of starch, and hot sauce.
Calories: 310 Fat: 22g Protein: 19g Carbs: 9g
Sous Vide Egg Bites (Ham, Cheddar & Peppers)
Made with cottage cheese, eggs, Monterey jack cheese, bell peppers, onions, cotija cheese, cheddar cheese, butter, lemon juice, garlic, a bit of starch, and hot sauce.
Calories: 250 Fat: 16g Protein: 17g Carbs: 11g
And since you can't visit Starbucks without ordering a drink, go for an Espresso Macchiato, brewed teas, Caffe Americano, or iced Caffe Americano.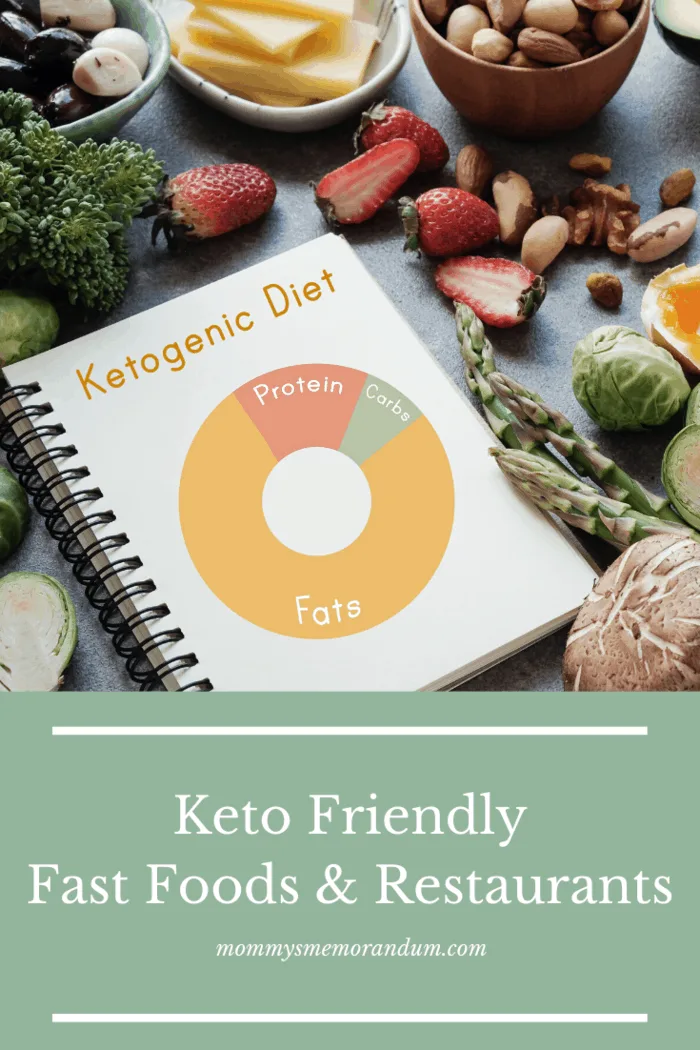 Conclusion
While the options are certainly limited, ordering low-carb at fast food places isn't impossible.
With some research and customization, you can enjoy a nice keto-friendly meal when you find yourself at a fast-food place.
The options laid out here are just a couple of popular examples.
There are many other options at different restaurants to go for.
Just make sure to research the restaurant's menu before you go, and always avoid foods not on the keto-approved list.