I received Pound Puppies: Puppy Love in exchange for this post. All opinions are my own.
Discover the Magic of Puppy Love!
Introducing "Pound Puppies: Puppy Love" DVD
Get ready for an adventure filled with wagging tails, adorable antics, and boundless love! Pound Puppies are back, and they're bringing their heartwarming tales to your living room in "Puppy Love," an enchanting collection of animated episodes that will capture the hearts of the entire family.
Meet Your New Furry Friends
Join Lucky, Cookie, Niblet, Squirt, and Strudel – the spirited and lovable Pound Puppies – on a journey of friendship and compassion. These cuddly canines are on a mission to find loving homes for their fellow furry pals at Shelter 17. From the city streets to the countryside, the Pound Puppies embark on heartwarming rescue missions, teaching us the true meaning of love, loyalty, and the importance of family.
Fun-Filled Adventures
"Puppy Love" packs hours of tail-wagging fun! Watch as the Pound Puppies take on daring adventures, working together with humor and determination to make sure every pup finds a forever home. Each episode is a rollercoaster of emotions, filled with laughter, excitement, and touching moments that will leave you with a warm feeling inside.
Perfect Entertainment for the Whole Family
Pound Puppies: Puppy Love is the perfect addition to your family's DVD collection. Share the magic of puppy love with your kids and let them experience the joy of compassion and friendship through these endearing characters. The heartwarming stories are not only entertaining but also teach valuable life lessons about empathy and caring for others.
Bonus Features
Alongside the delightful episodes, "Puppy Love" comes packed with bonus features that will delight Pound Puppies fans of all ages. Enjoy sing-alongs, games, and behind-the-scenes insights into the making of this heartwarming series.
Unleash the Love – Order Your Copy Today!
Bring home the warmth and joy of "Pound Puppies: Puppy Love" DVD. Whether you're a long-time fan of the beloved Pound Puppies or new to the magic, this enchanting collection promises endless cuddles and smiles. Order now and experience the puppy love that will stay with you furever!
*Disclaimer: Actual Pound Puppies not included. Cuteness overload is guaranteed!
Our Pound Puppies: Puppy Love Review
In the 1980s, Tonka (
Thrillist
) made trucks, but they also launched a toy line that, decades later, is still popular. I'm talking Pound Puppies. My grandma bought me my first Pound Puppy, it was the mid-1980s. I loved my plush stuffed dog with his floppy ears and droopy eyes. Mine was white with spots. He lived in his cardboard doghouse case and I promptly filled out his adoption certificate.
Their popularity endured through the 1990s. My kiddos loved them as much as I did.
Pound Puppies were created in 1984 by Mike Bowling.
Now a new generation is enjoying Pound Puppies on DVD. On February 3, the newest Pound Puppies: Puppy Love DVD will be released by Shout! Factory Kids line.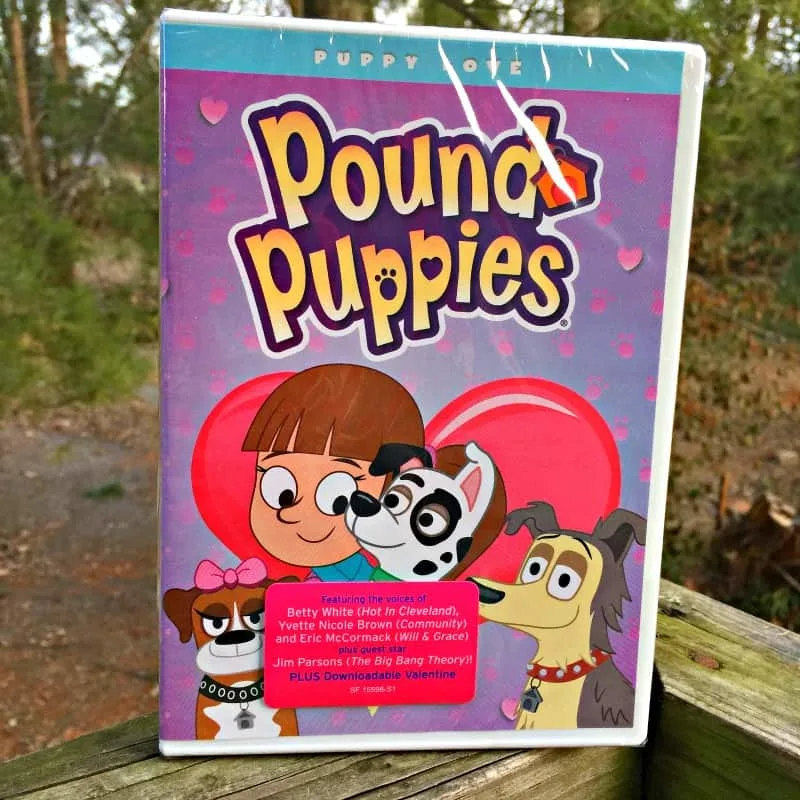 I was excited when our copy arrived. Pound Puppies: Puppy Love features the voice talent of Jim Parsons (
The Big Bang Theory
). You may know him best for his character Sheldon Cooper on the CBS sitcom
The Big Bang Theory
, but he's also been on Broadway portraying Tommy Boatwright in the play
The Normal Heart.
Pound Puppies: Puppy Love Synopsis
Don't Miss The Puptastic Fun!
Every boy and girl should know the undying love of a puppy. That's exactly what the Pound Puppies are for! "A pup for every person and a person for every pup!" That's their motto and they mean it. So join the pups for five fun-filled adventures featuring the voice talents of Betty White (Hot In Cleveland), Yvette Nicole Brown (Community) and Eric McCormack (Will & Grace) plus guest star Jim Parsons (The Big Bang Theory).
Bonus Features
Includes Your Very Own Printable Valentine That You Can Share With Your Favorite Pet Or Human!
Pound Puppies: Puppy Love Episodes
| EPISODE | EPISODE TITLE |
| --- | --- |
| 1 | Pound Puppies: Toyoshiko! Bark Friend Machine |
| 2 | Pound Puppies: McLeish Unleashed |
| 3 | Pound Puppies: The General |
| 4 | Pound Puppies: When Niblet Met Giblet |
| 5 | Pound Puppies: Rebound's First Symphony |