Sometimes, just for fun, we make a batch of mini-cheesecakes in the Instant Pot. I love the convenience. They are crustless, basic cheesecakes that allow each one to be customized to your craving. Top with fresh fruit, whipping cream, pie filling, compote, pudding, or they're good enough just to consume plain.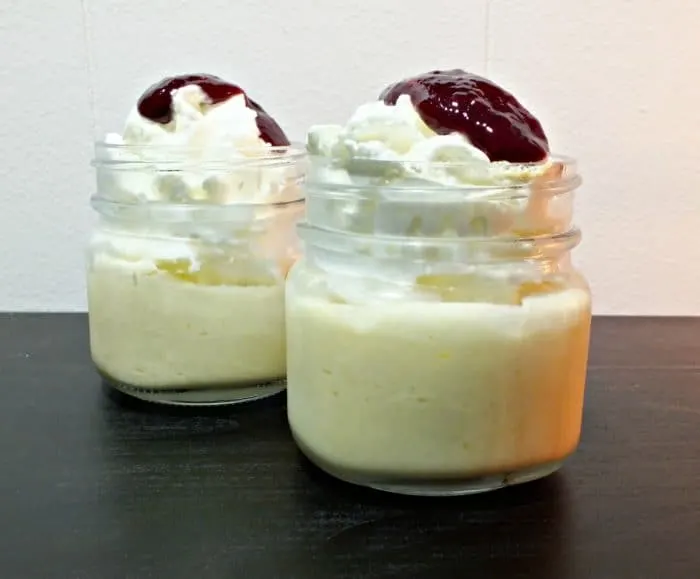 Serves 6
Prep Time: 10 minutes
Function and Time: Manual or Pressure Cook 8 minutes
Cook Time: 8 minutes
Release Method + Time: Natural Pressure Release 15 minutes
Total Time: 2 hours and 45 minutes
Instant Pot Mini Cheesecake Ingredients:
16 ounces cream cheese, room temperature
1/2 cup sugar
1 tsp. flour
1 tsp vanilla
1/4 cup sour cream, room temperature
3 eggs, room temperature
Instant Pot Mini Cheesecake Directions:
Prepare Instant Pot: Pour 1-1/2 cups of water into the electric pressure cooker and place a trivet on the bottom.
Prepare your batter: In a large mixing bowl, combine cream cheese, sugar, and flour. Beat until creamy and well blended. Stir in vanilla and sour cream. Add one egg at a time and stir only until incorporated. Do not overbeat.
Prepare your Jars: This recipe will need 6 half-pint mason jars. To each jar, add 1/2 cup batter. Loosely cover each jar with aluminum foil. Arrange three to four of the jars on the trivet. Stack the remaining jars on top of the bottom jars.
Lock Lid. Place the lid on the Instant Pot and lock it, making sure the valve is set to the "sealing" position.
Set the time. Press Manual or Pressure Cook and set the time for 8 minutes.
Natural Pressure Release. When time ends, allow a Natural Pressure Release for 15-minutes. Then quick release any remaining steam
Remove jars from the pot: Open the Instant Pot and, using oven mitts, remove the jars from the Instant Pot and place them on a cooling rack. Allow to cool to room temperature and then place in refrigerator for at least 2 hours.
Garnish and serve. Garnish with a choice of topping and serve.

The Instant Pot® College Cookbook is the definitive dorm room solution for easy, homemade meals.

Cereal and pizza might be enough to sustain a crash study session, but the best brain food is a homemade meal.

The Instant Pot® College Cookbook saves college students from four years of nutrient deprivation with quick, easy, budget-friendly meals.

From grab-n-go Breakfast burritos to late-night Macaroni and Cheese, this college cookbook contains 75 tasty meals that require no previous cooking or Instant Pot® experience to whip up.

Using easy-to-find and affordable ingredients, The Instant Pot® College Cookbook also saves students time and money, with good fast food that rivals any take-out menu.

The Instant Pot® College Cookbook includes:

Instant Pot® cooking 101 explains pressure cooker settings for every type of food, tips, and FAQ.
75 home-style meals that include breakfast, everyday staples, soups and stews, meatless meals, poultry, pork and beef, dessert, and more!
Fool-proof recipes that combine quick prep times with easy-to-find and affordable ingredients to suit student schedules and wallets.

Save ramen for emergencies with quick and easy recipes from The Instant Pot® College Cookbook.

Including this great Instant Pot Cilantro Lime Rice recipe. and Instant Pot Pork Fried Rice.

About Julee:

Julee Morrison is a blogger, mother of six, living in Virginia's foothills with their two dogs.

Her first book The Instant Pot® College Cookbook: 75 Quick and Easy Meals that Taste Like Home celebrates her family recipes and making quick meals everyone will love.

Her writing has appeared on The Huffington Post, Scary Mommy, Pop Sugar, SheKnows, Yahoo Shine, Love What Matters, Ellen Nation, and her recipes have been featured on Bon Appetite, SparkPeople, and The Huffington Post.