This summer MacKenzie decided she wanted to learn to bake. She chose to start with a Cheesecake.
I remember being a newlywed and trying to duplicate my mom's New York Cheesecake. Oh, mercy! That cheesecake of hers is good stuff. It took about 38 hours start to finish. It was rich. It was decadent. It was perfect. It was also expensive and the time it took to make was not something I felt like doing again and again. So? Cheesecake slid to the back of the recipe file.
The Instant Pot is a game changer. With a few inexpensive ingredients and waaaaay less time than mom's, you have a beautiful, decadent, rich chocolate cheesecake.
MacKenzie's first cheesecake turned out stunning.
She shared it with her friends for a birthday celebration for one of them.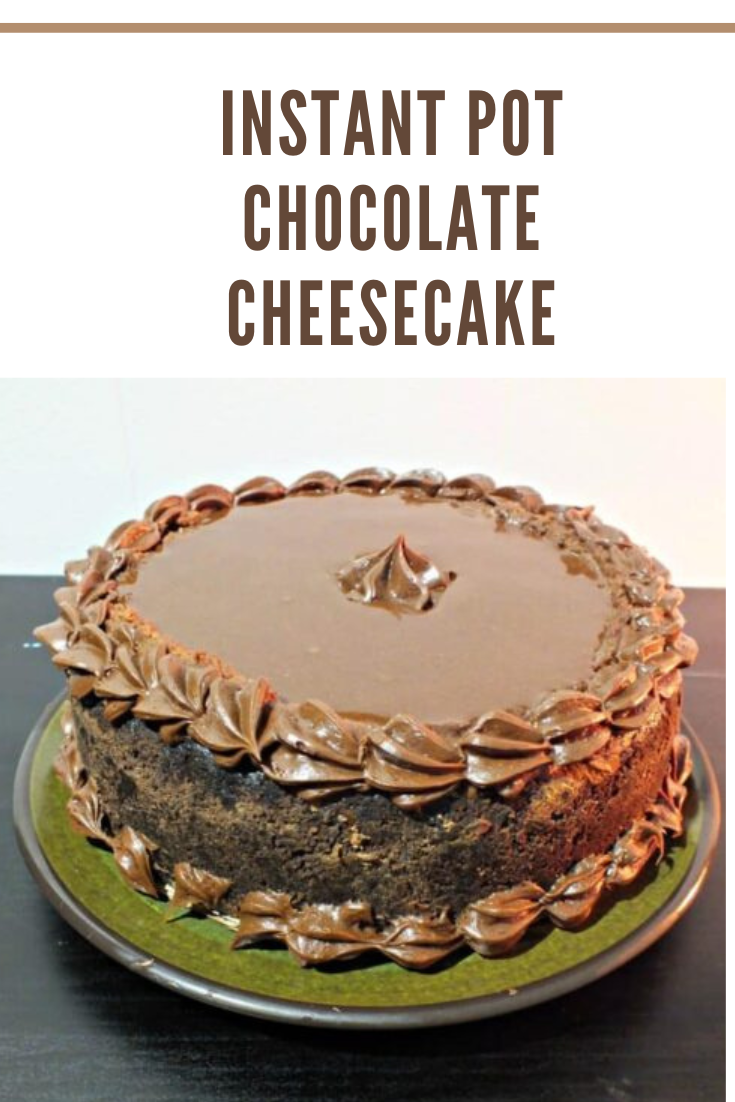 Serves 8
Prep Time: 15 minutes
Function and Time: Manual or Pressure Cook 25 minutes
Cook Time: 25 minutes
Release Method + Time: Natural Pressure Release 15 minutes
Total Time: 5 hours and 5 minutes
Instant Pot Chocolate Cheesecake Recipe Ingredients:
8 ounces milk chocolate chips
1-1/4 cup chocolate cookies, crushed
5 Tbsp. butter, unsalted and melted
16 ounces cream cheese, room temperature
1/4 cup dark brown sugar, packed
1/4 cup white sugar
1 egg, room temperature
2 egg yolks, room temperature
1/4 cup sour cream
1 tsp. vanilla extract
1 Tbsp flour
1/4 tsp. salt
1 can chocolate frosting
How to Make Instant Pot Chocolate Cheesecake
Prepare the Instant Pot: Add 2 cups of water to the Instant Pot and place the trivet in the bottom.
Prepare for Pot-in-pot cooking. Grease a 7″ springform pan; for best results, I recommend placing a piece of parchment paper in the bottom of the pan and greasing that as well.
Prepare the Crust. Place crushed cookie crumbs in a medium mixing bowl. Add melted butter to the cookie crumbs and stir until all crumbs are moist. Pour the crumb mixture into the springform pan and press to the bottom of the pan and up the sides about 1-inch.
Prepare the Filling. In a large mixing bowl combine the cream cheese, brown sugar, and white sugar and mix until well combined and fluffy. Add 1 egg and mix well. Add egg yolks, one at a time, mixing just until incorporated after each egg yolk. Add melted chocolate and stir. Add sour cream, vanilla, and flour, and salt and mix until creamy, scraping the sides of the bowl to combine all ingredients.
Pour filling into springform pan. Once combined, pour the filling batter into the prepared springform pan. Spread batter with a spatula. Cover pan with foil. Using a sling, lower the pan into Instant Pot on to trivet.
Set time. Select Manual or Pressure Cook and set the time to 25 minutes.
Natural Pressure Release. When the timer beeps, allow natural pressure release for 15 minutes.
Remove pan from Instant Pot. After Natural Release, use Quick Release to release any remaining steam. Open Instant Pot and lift the pan out of the Instant Pot using the sling. Place pan on a cooling rack and allow to rest for one hour.
Remove cheesecake from pan. Unfasten the collar of the springform pan and slide a knife around the outer edge of the cheesecake. Release the cake from the pan and allow to cool to room temperature.
Chill in refrigerator. Once the cheesecake is cooled to room temperature, place in the refrigerator and let it chill for at least 4 hours when done, pipe with chocolate frosting and garnish with cookies or cookie crumbs.