Traditional lasagna takes effort. This Instant Pot Lasagna Soup Recipe gives you all the flavors of lasagna in a soup! Its rich tomato base and noodles complement the flavor of Italian Sausage. If you let it sit overnight, the noodles will absorb the sauce—you can eat it as a lasagna/goulash or you can stir in some chicken broth or pasta sauce and bring it back to consistency for soup.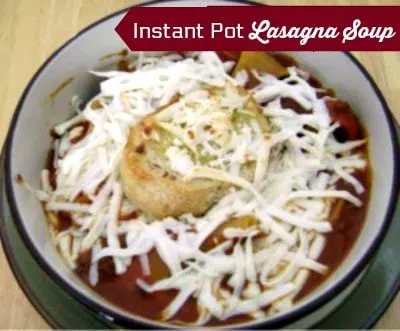 Serves: 8
Prep Time: 5 minutes
Function and Time: Manual or Pressure Cook 4 minutes, Saute 5-minutes
Cook Time: 20 minutes
Release Method + Time: Natural Pressure Release 10 minutes
Total Time: 35 minutes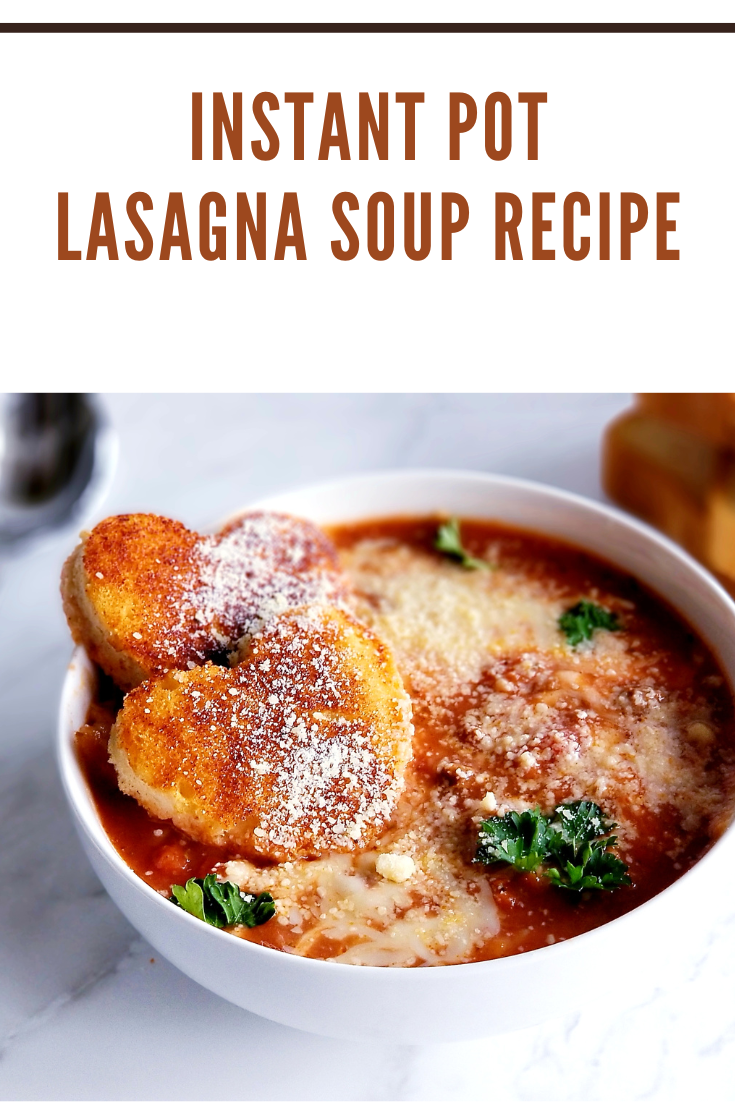 Ingredient list
1 Tbsp. Butter
1 small onion, peeled and chopped
1 Tbsp garlic, minced
1 green bell pepper, cored, seeded, and chopped (optional)
1 lb Italian Sausage
2 jars Pasta Sauce
4 cups Beef Broth
1 Tbsp. Italian Seasoning
8 oz. lasagna noodles, broken up
1 cup mozzarella cheese, shredded
1 cup ricotta cheese (optional)

Garlic Crostini:

1 thin French baguette
1/2 cup extra-virgin olive oil
2 cloves smashed garlic
Salt and freshly ground black pepper
How to Make Instant Pot Lasagna Soup
Prepare Instant Pot. Press Sauté and add butter to the pot.
Prepare Ingredients. Add onion, garlic, bell pepper, and sausage to the butter and sauté for 5 minutes. Pour in the Pasta sauce, beef broth, and Italian Seasoning and stir to combine all ingredients. Add broken-up lasagna noodles and stir to coat noodles.
Lock the Lid and Set the Time. Place the lid on the Instant Pot and lock it into place. Turn the valve to the "sealing" position. Press Manual or Pressure Cook and set the time for 4- minutes.
Natural Pressure Release. When the timer beeps, allow a Natural Pressure Release for 10 minutes. Then a Quick Release to release any remaining pressure, keeping hands and face away from steam.
Finish Soup and Serve. Open the Instant Pot, stir the soup and serve in bowls. Garnish with a dollop of Ricotta Cheese and Sprinkle with mozzarella.

Preheat oven to 350 degrees F.

Cut bread into 1/4-inch round slices. Place on a baking sheet and brush each slice with olive oil. Season with salt and pepper; place in oven and bake until golden and crisp, about 15 minutes. Remove from oven and let cool slightly. Rub each side with smashed garlic cloves.