This Instant Pot Copy Cat Panera Bread Broccoli and Cheese Soup recipe is comfort food for the soul. Crisp fall and chilly winter weather beg for the creamy texture and the flavor of rich cheddar with pieces of broccoli. It's oh, so good! Now there's no need to fight the weather, make it when you crave it–this recipe is one you'll make over and over again!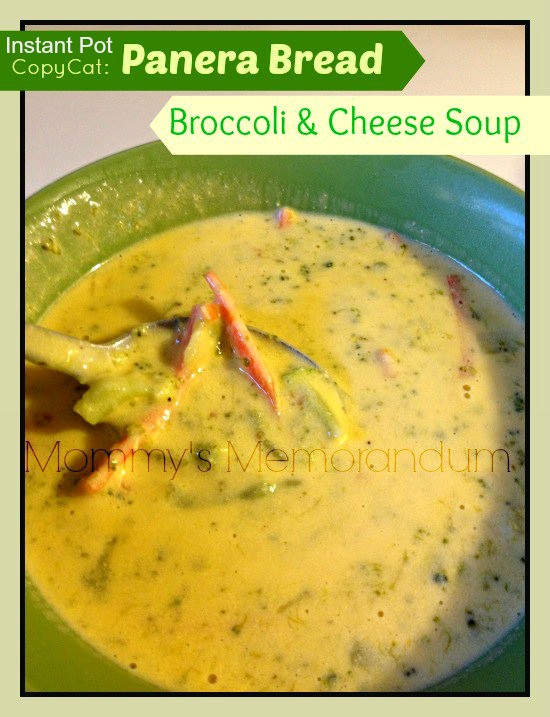 Add more cheese or a dash of Tobasco Sauce, it's even good with a can of green chiles. Follow the basic recipe and customize to your own preference.
Serves: 4
Prep Time: 5 minutes
Function and Time: Manual or Pressure Cook 12 minutes, Saute 3-minutes
Cook Time: 25 minutes
Release Method + Time: Natural Pressure Release 10 minutes
Total Time: 40 minutes
Instant Pot Copy Cat Panera Bread Broccoli and Cheese Soup Ingredient list
2 Tbsp butter
1 small yellow onion, peeled and chopped
1 cup julienne-cut carrots
2 (14.5-ounce) cans low-sodium chicken broth
1 (16-ounce) package frozen chopped broccoli, defrosted
1 cup milk
1 Tbsp Flour
1 cup half-and-half
2 cups cheddar cheese, shredded
1 tsp Salt
½ tsp ground black pepper
Instant Pot Copy Cat Panera Bread Broccoli and Cheese Soup Recipe Method
Prepare Instant Pot. Press Sauté and add butter to the pot.
Prepare Ingredients. Add onion and carrots and sauté for 3-minutes. Add broccoli and chicken broth.
Lock the Lid and Set the Time. Place the lid on the Instant Pot and lock into place. Turn valve to the "sealing" position. Press Manual or Pressure Cook and set the time for 12- minutes.
Natural Pressure Release. When the timer beeps, allow a Natural Pressure Release for 5 minutes. Then a Quick Release to release any remaining pressure; keeping hands and face away from steam.
Finish Soup and Serve. In a small mixing bowl whisk the flour into the milk. Open the lid of the Instant pot and add the broccoli. Whisk in the milk and flour mixture and the heavy cream. Stir in the cheese until melted. Season with salt and pepper and serve.