I received InstaNaturals Lemon and Peppermint Essential Oils in exchange for this post. All opinions are my own.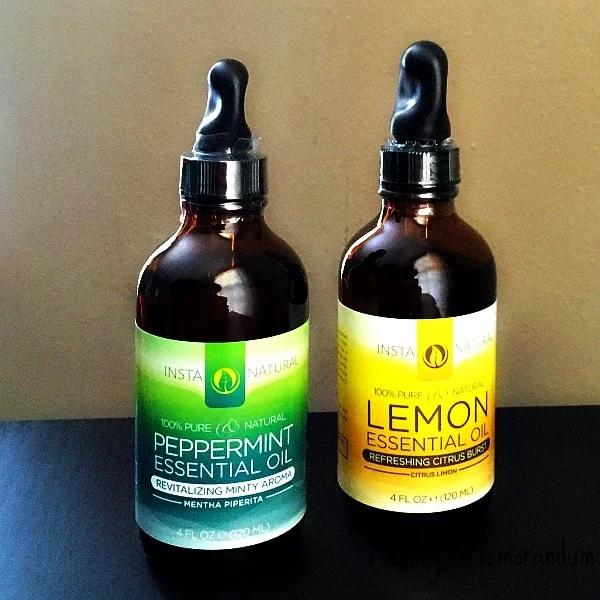 Essential oils are trending right now. I love essential oils and am discovering so many great uses for them. We've been using InstaNatural Lemon, and Peppermint Essential Oils, and our house smells amazing, and the uses just keep being found!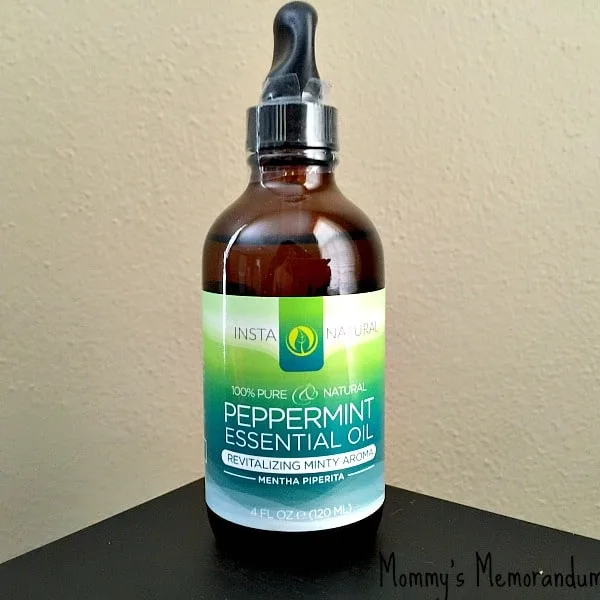 InstaNatural's Peppermint Essential Oil
is a multi-purpose oil that cools, energizes and refreshes the body and
mind
. This steam-distilled oil is extracted from dried or fresh leaves from the Mentha Piperita herb, giving it a sharp, menthol fragrance. Its pleasantly sweet and minty aroma makes it a premium choice for aromatherapy to improve the mind and lift the spirits.
Use to freshen breath
Soothe an upset tummy or nausea
Use as an air freshener (see recipe below, substitute the Peppermint Oil in place of the Lemon Oil.)
I add a drop to lotion to my temples when I have a headache.
Rub a drop under the nose to boost concentration.
Add a couple of drops to a humidifier for a great decongestant.
InstaNatural's Peppermint
Essential Oil smell
delicious. It is invigorating. I love it in a diffuser! We could smell it in the box. Mmmmm Heavenly!
InstaNatural's Lemon Essential Oil
This essential oil is extracted from the rinds of lemon, which lends its fresh citrus fragrance. This cold-pressed oil has a strong bright scent that is both refreshing and uplifting. Its astringent and purifying properties also make it a great aid to help cleanse and tone the skin while delivering a boost of Vitamin C antioxidant benefits. We have been around Lemon Essential Oils before, but InstaNatural's is amazing. The smell is intoxicating. Miss M loves when we make air freshener with this. It's simple:
Lemon Essential Oil Air Freshener:
6 drops InstaNatural's Lemon Essential Oil
Water
How to make an air freshener with essential oil:
Mix together in a spray bottle and spritz to your liking. Add more water for less smell and less water for a more powerful smell.
Lemon Oil is an antiseptic and disinfectant
It can be used for aromatherapy–it will brighten your mood and energize
It works great to clean metal surfaces, wood, dishes, clothes.
Add a drop to water to aid digestion
Use it on the skin as an astringent
Try mixing a few drops with your favorite lotion for an uplifting scent.
Both of these oils are so great. We are sure to enjoy them and discover new ways to incorporate them into our everyday life. They smell incredible!
Learn About the Brand
InstaNatural is a leading online and global distributor of more than a dozen nature-inspired beauty and cosmetics products. Our products are one of the top sellers on Amazon. They can also be found in leading spas, salons, and aesthetic centers in the US and internationally in UAE, UK, and Canada (coming soon). We are constantly searching for wonderful natural and organic ingredients from around the globe, so we can bring you the absolute best products, no matter the cost. In addition, we strongly believe in treating our customers the way we would want to be treated. This is why our lifetime satisfaction guarantee and our customer service is unlike any other company in the industry.