An immersion blender is a versatile tool that helps you to create smoothies at home, and the best part is that they take up very little space. They are also easy to clean and could be used in many smart ways. Many people with an immersion blender will put it to few uses not knowing that there are many things they could do with it.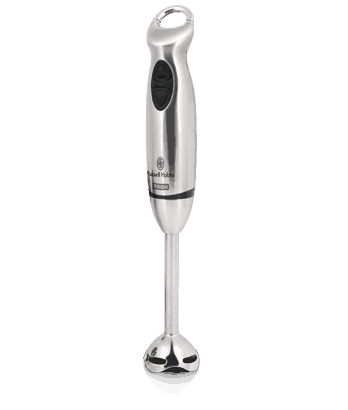 Here are some of the ways you could use an immersion blender in your kitchen.
Blend Pancake Batter
You can use an immersion blender to mix up pancake batter. To prepare the perfect classic buttermilk pancakes (finecooking.com), you can use the immersion blender to mix the ingredients and you will not need to worry about lurking clumps of flour.
There are few recipes you can check out for preparing pancakes that allow you to use an immersion blender.
Beating Eggs
An immersion blender can also be used in making scrambled eggs, frittatas, or omelets. Instead of whisking your eggs, you can use the blender to mix them and it does the job in seconds and better. Blending mixes the whites and yolks uniformly so you are able to make fluffy eggs all the time.
Making Pesto Sauce
The only thing you need is to whirl the immersion blender quickly to help transform a handful of leafy green leaves, nuts, parmesan, and olive oil into a perfect shape while making your pasta. It is the most suitable solution when preparing pesto sauce that you should try as it is fast and reliable.
Pureeing Tomato Sauce
In some cases, you don't want to deal with a chunky tomato sauce piece. You can create something better to work with using an immersion blender. A simple whirl of the blender through the tomatoes will prepare it in seconds.
General Tips for using an Immersion Blender
As you can see, there are many things you can do with immersion blenders. You can make your kitchen more amazing by learning how to take care of the blender using the few general tips shared below.
Clean it as Soon as you are Done
There are many areas of the blade that are hard to reach and this makes it challenging to keep it clean if you are not keen. You should be careful to remove all deposits in these places otherwise you might pile up contents in these crevices and it turns into a problem of hygiene. One thing you can do to prevent issues is to clean the blender under hot water immediately after every use.
Allow Hot Dishes to Cool before you Blend
While using the blender, you should also be careful not to blend in hot dishes. Let them cool to avoid any damage.
Move Around
While blending, move the blender around for maximum effectiveness. This ensures the blender picks up everything and does blending evenly.
An immersion blender is an awesome choice when you want to quickly prepare some eggs or pancakes. It helps to blend the mixture evenly and faster than you would do with your hands. You also need to keep it clean by ensuring you clean it immediately you are done preparing things.