Raspberry Swirl Buttermilk Chocolate Chip Bacon Beer Pancakes #Recipe #TfalxPancakeDay #MyPancakeStyle
Celebrate National Pancake Day on February 28th with this delicious Raspberry Swirl Buttermilk Chocolate Chip Bacon Beer Pancake Recipe. It's goodness in every bite.
If you don't want to use beer, 7-UP works well too and is certainly an option.
This recipe came to be because everyone at my house wanted a different pancake and rather than be a short order cook all morning, I just made one batch and created this. Now everyone is happy!
This post is brought to you by T-Fal. It's a great choice for your favorite pancake recipe. T-fal offers an optimal, high-performance cooking experience for any level cook. It has T-Fal's patented Thermospot technology–a unique heat indicator that shows when the pan is ready to seal in flavor and prevent burning. I love the soft handles for a secure grip with a luxe feel and it's non-stick inside and out make easy cooking and cleaning.
Let's get started, shall we?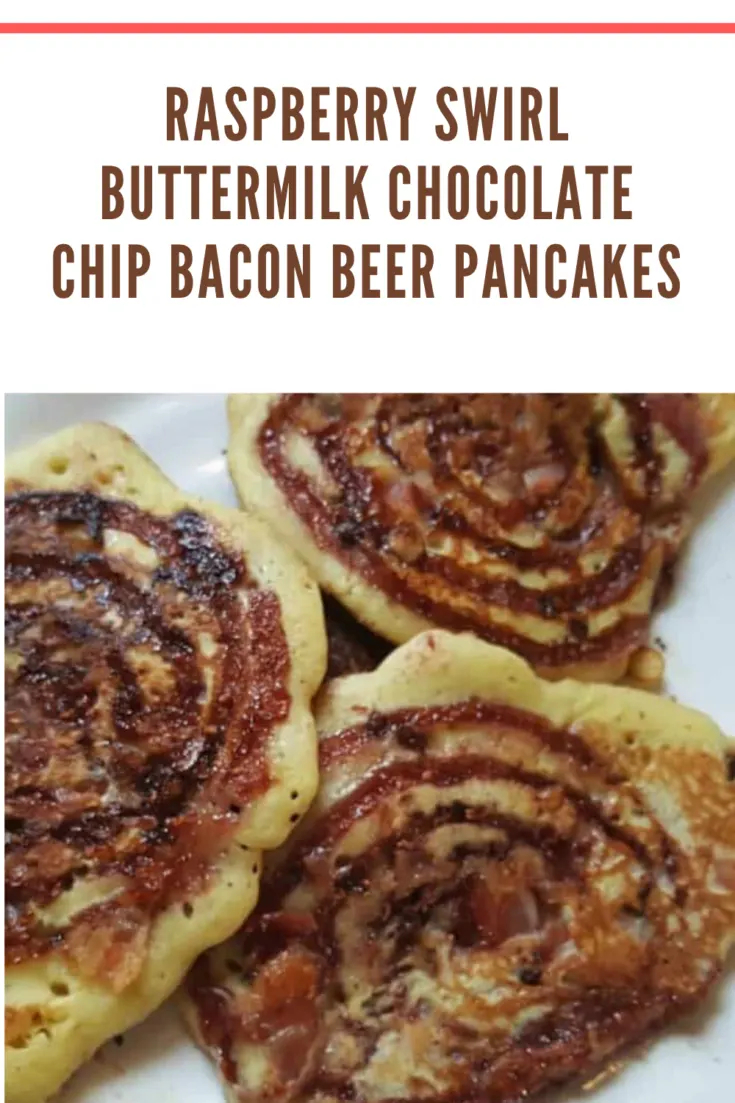 Raspberry Swirl Buttermilk Chocolate Chip Bacon Beer Pancakes Recipe Ingredients:
2 cups Krusteaz Buttermilk Pancake Mix
12 oz bottle of beer (I like Ale best)–you can also use 7-UP
2 eggs
1/8 cup oil
raspberry preserves
mini chocolate chips
cooked bacon
ziploc bag or pastry bag
T-Fal Initiatives Non-Stick Fry Pan
Raspberry Swirl Buttermilk Chocolate Chip Bacon Beer Pancakes Recipe Directions:
Cook your bacon. I make my bacon in the oven because I think it is faster and the clean up is SO easy.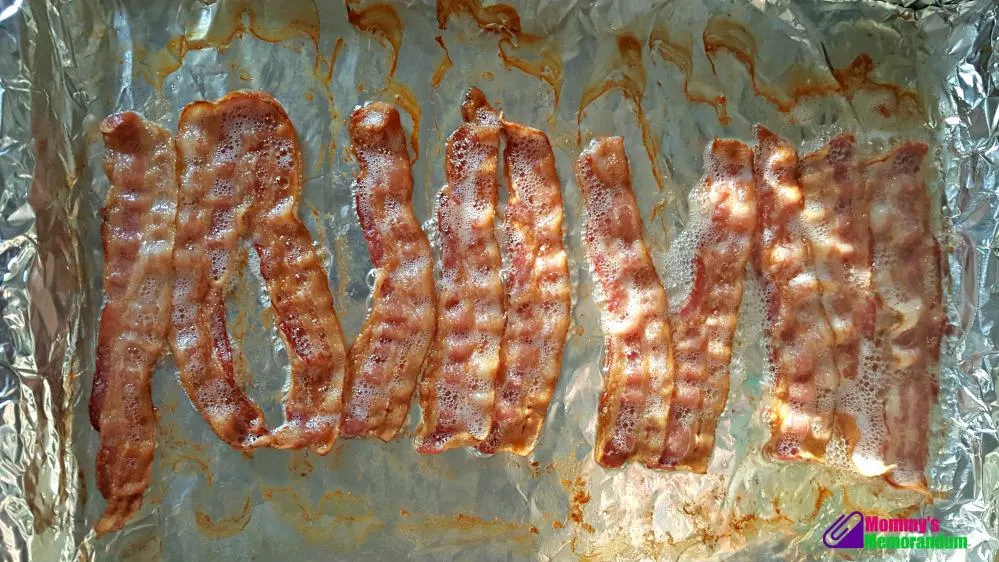 Once your bacon is done crumble it. I use one slice of bacon per three pancakes, but it's all personal preference.
While the bacon is cooking, start your batter.
Measure 2 cups of Krusteaz Buttermilk Pancake mix into a large mixing bowl.
Pancake Day wouldn't be complete without light and fluffy pancakes! Krusteaz makes premium baking mixes and their Buttermilk Pancake Mix is perfect for this recipe, making preparation a little easier and the end result melt-in-your-mouth good.
Pour in 12 ounces of beer (or 7-UP).
Add two eggs.
Pour in 1/8 cup Olive Oil or Vegetable Oil.
Mix all the ingredients together.
Don't over stir, leave the batter lumpy.
If you over-stir you will have rubbery pancakes–and no one likes rubber pancakes!
Prepare for your Raspberry Swirl.
Add a few tablespoons of the preserve to a Ziploc or plastic pastry bag and snip a tiny bit off the end.
Heat your griddle.
I love T-Fal because the red T in the center tells me when my pan is ready!
Once the pan is hot, butter it up.
Here's where the pictures got tricky.
I started with pancake molds, which work well, but my family really likes these pancakes and I couldn't take pictures and keep up with the demand, so it will change to free-hand pancakes.
Sorry about that.
Pour your batter into the pan (or mold) and allow to get bubbles.
Toss in some mini-chocolate chips.
Add your swirl. To do this, start in the center and swirl your way out to the outside edge of the pancake.
Add your bacon crumbles.
Flip.
Allow to cook to a golden brown on the other side and serve.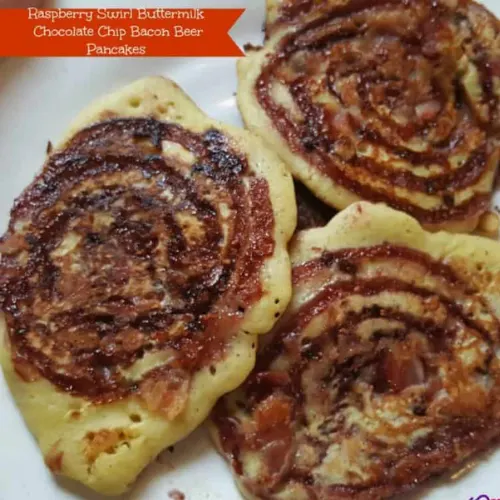 My kiddos like these plain, with jam, syrup or whipping cream.