A Comprehensive Guide to Planning an Unforgettable 4th of July Cookout: Embrace the Spirit of Independence Day with a Perfect Backyard Gathering
Introduction: The 4th of July is a cherished holiday in the United States, symbolizing the spirit of independence, patriotism, and the pursuit of happiness. What better way to celebrate this joyous occasion than by hosting a delightful cookout in your own backyard? With the tantalizing aroma of sizzling food on the grill, the company of friends and family, and a vibrant display of fireworks to conclude the evening, a 4th of July cookout is a quintessential summer experience. This comprehensive guide will equip you with all the necessary information and creative ideas to plan an unforgettable and classic 4th of July cookout.
How to Plan a Classic 4th of July Cookout
Establish the Theme and Invitations:
Set the tone for your cookout by establishing a theme that embodies the spirit of Independence Day. Whether you opt for a traditional red, white, and blue theme or a creative twist, such as a patriotic potluck or a historical-themed event, make sure to incorporate it into your invitations. Send out colorful and engaging invitations, whether digitally or through traditional mail, to give your guests a glimpse of the festivities to come.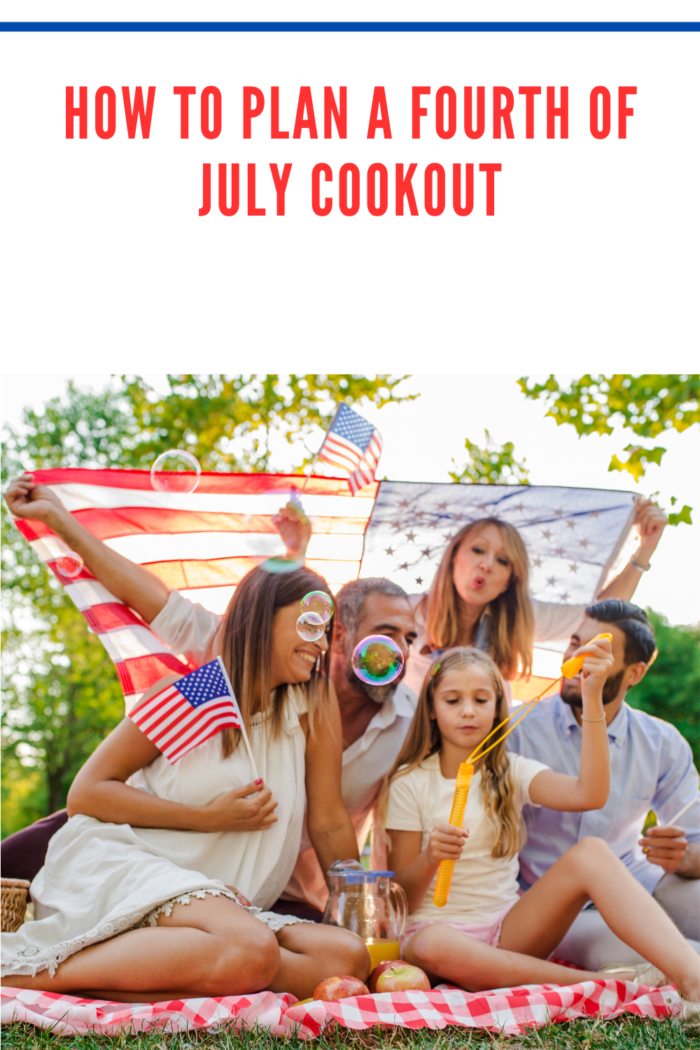 Plan the Menu:
The heart of any successful cookout lies in its menu. Decide on a selection of dishes that appeal to a variety of tastes and preferences. Traditional favorites like grilled steaks, corn on the cob, hamburgers, and hot dogs are always popular choices. Consider adding a few creative twists, such as gourmet burger toppings or signature barbecue sauces, to elevate the culinary experience. Don't forget to accommodate dietary restrictions and provide vegetarian or vegan options.
Planning what to cook is one of the most important parts of hosting a cookout, so make sure you take some time to figure out a meal plan. For the 4th of July, hamburgers and hotdogs are common staples when it comes to grilling. However, you can always step it up a notch with steaks, corn, and potatoes, or you can go for a full-on BBQ with ribs and wings.
When it comes to planning the meal, the important thing is that you remember to include your guests. You want to cook food that everybody likes, so get input from as many people as possible. If you'd like, you can also tell guests to bring anything they want you to throw on the grill for a more exciting grilling experience. From grilling fish to veggies, the possibilities are endless.
When it comes to a 4th of July cookout, the menu plays a central role in creating a memorable culinary experience for your guests. From classic BBQ favorites to refreshing summer treats, careful planning and consideration of your guests' preferences will ensure a delicious and satisfying meal.
Here are some ideas to help you plan a menu that will impress and delight:
Grilled Meats: The centerpiece of any cookout is often the grilled meats. Consider offering a variety of options to cater to different tastes. Grilled burgers with various toppings like cheese, lettuce, tomatoes, and onions are always a hit. Marinated chicken skewers, succulent BBQ ribs, or mouthwatering steaks can also be included. Provide both meat and vegetarian burger alternatives, such as black bean or portobello mushroom burgers, to accommodate different dietary preferences.
Sides and Salads: Complement the main dishes with a range of flavorful sides and salads. Classic picnic sides like coleslaw, potato salad, and baked beans are always popular choices. Consider incorporating a variety of salads like a refreshing mixed green salad with summer berries, a tangy pasta salad with fresh vegetables, or a zesty corn and black bean salad. These dishes add color, freshness, and a range of textures to the meal.
Grilled Vegetables: Make the most of the summer harvest by grilling a variety of seasonal vegetables. Toss vegetables like bell peppers, zucchini, eggplant, and corn in olive oil, sprinkle with seasonings, and grill until they develop a delicious char. Serve them as a flavorful side dish or incorporate them into a grilled vegetable platter. Grilled vegetables not only add vibrant colors to the spread but also provide a lighter option for guests who prefer vegetarian or healthier choices.
Patriotic Fruit Platter: Create a festive fruit platter showcasing the colors of the American flag. Arrange a variety of fresh fruits such as strawberries, blueberries, and sliced watermelon in a patriotic pattern. This colorful and refreshing addition adds a healthy touch to the menu and can be enjoyed by guests of all ages.
Refreshing Beverages: Quench your guests' thirst with a selection of refreshing beverages. Offer a variety of options such as infused water with sliced citrus fruits or herbs, homemade lemonade or iced tea, and a selection of soda or sparkling water. Consider creating a self-serve beverage station with different flavors and garnishes, allowing guests to customize their drinks to their liking. You can also offer a signature 4th of July cocktail or mocktail for those who wish to indulge in a festive adult beverage.
Desserts: End the meal on a sweet note with a range of delectable desserts. Classic options like apple pie or cherry pie, with a flaky crust and fruity filling, are always crowd-pleasers. Create a dessert bar featuring treats like red, white, and blue cupcakes, cookies decorated with patriotic designs, or a berry trifle layered with fresh fruits, cake, and whipped cream. Don't forget to offer a few lighter options like a fruit salad or frozen yogurt for guests who prefer a lighter finale.
Allergen-Friendly Options: Be mindful of guests with dietary restrictions or allergies. Offer allergen-friendly options such as gluten-free buns or bread, vegan burger patties, or dairy-free alternatives for sauces and dressings. Label these options clearly to ensure everyone feels included and can enjoy the meal without worry. C
Customizable Toppings and Condiments: Set up a toppings and condiments station where guests can customize their burgers, hot dogs, or grilled meats. Offer a variety of options such as different cheeses, pickles, onions, lettuce, tomatoes, sauces, and condiments. This allows guests to personalize their meals according to their preferences, adding an interactive element to the dining experience.
Kid-Friendly Options: Ensure there are plenty of options that appeal to younger guests. In addition to traditional burgers and hot dogs, consider offering mini sliders or bite-sized portions, which are more manageable for children. Include sides like French fries, veggie sticks with dip, or macaroni and cheese. Fresh fruit cups or fruit skewers can be a healthier alternative to satisfy their sweet tooth.
Dietary Considerations: Be mindful of dietary restrictions and offer alternatives for guests with specific needs. Have a selection of gluten-free buns or wraps, vegan or vegetarian burger patties, and options for those with food allergies. It's always helpful to include labels or small signs indicating the ingredients and potential allergens present in each dish.
Grilled Desserts: Take advantage of the grill to create unique and delicious desserts. Grill slices of pineapple or peaches and serve them with a dollop of vanilla ice cream or a drizzle of honey. You can also grill banana boats by slicing a banana lengthwise, filling it with chocolate chips and marshmallows, wrapping it in foil, and grilling until melted and gooey. These grilled desserts add a delightful twist to the menu and provide a memorable sweet ending to the meal.
DIY S'mores Station: Set up a DIY s'mores station for a fun and interactive dessert experience. Provide graham crackers, chocolate bars, and marshmallows, as well as skewers or long forks for toasting marshmallows over the grill or a fire pit. Guests can assemble their own s'mores, customizing the ingredients and toasting the marshmallows to their desired level of gooey perfection.
Consider Dietary Preferences: Before finalizing the menu, consider reaching out to your guests to inquire about any specific dietary preferences or restrictions they may have. This will allow you to accommodate their needs and ensure that everyone has enjoyable options to indulge in.
Plan for Leftovers: Anticipate leftovers and plan accordingly. Have containers or resealable bags available so guests can take home any remaining food they enjoyed. This not only reduces waste but also allows everyone to enjoy the delicious leftovers the next day.
Remember to consider the cooking time and space available when planning the menu. Preparing some dishes in advance and utilizing a grill timetable can help ensure a smooth and well-executed cooking process.
By carefully planning the menu and offering a variety of options, you'll create a memorable dining experience that caters to the preferences and dietary needs of your guests. The thought and effort put into the menu will contribute to the overall success and enjoyment of your 4th of July cookout.
Gather the Essentials:
To ensure a smooth and enjoyable cookout, make a checklist of all the essential items you'll need. From grilling utensils and charcoal to plates, napkins, and cups, be prepared with an ample supply of everything. Don't overlook the beverages—stock up on a variety of cold drinks, including water, soda, and perhaps some festive themed cocktails or mocktails. Additionally, make sure to have enough seating arrangements and shade options to keep your guests comfortable throughout the event.
Set Up Your Patio
The first thing you need to prepare for a 4th of July cookout is to set up your patio. You might have patio furniture you need to pull out of the garage or shed, or you might need to pick up a new set of patio furniture. You should also take this time to clean up your grill and get it ready for the cookout.
It's also important to take care of any patio maintenance you may need to take care of at this time. Treat your patio for moss and weeds, rent a pressure washer, and edge the grass around the patio to make sure things look nice when guests arrive.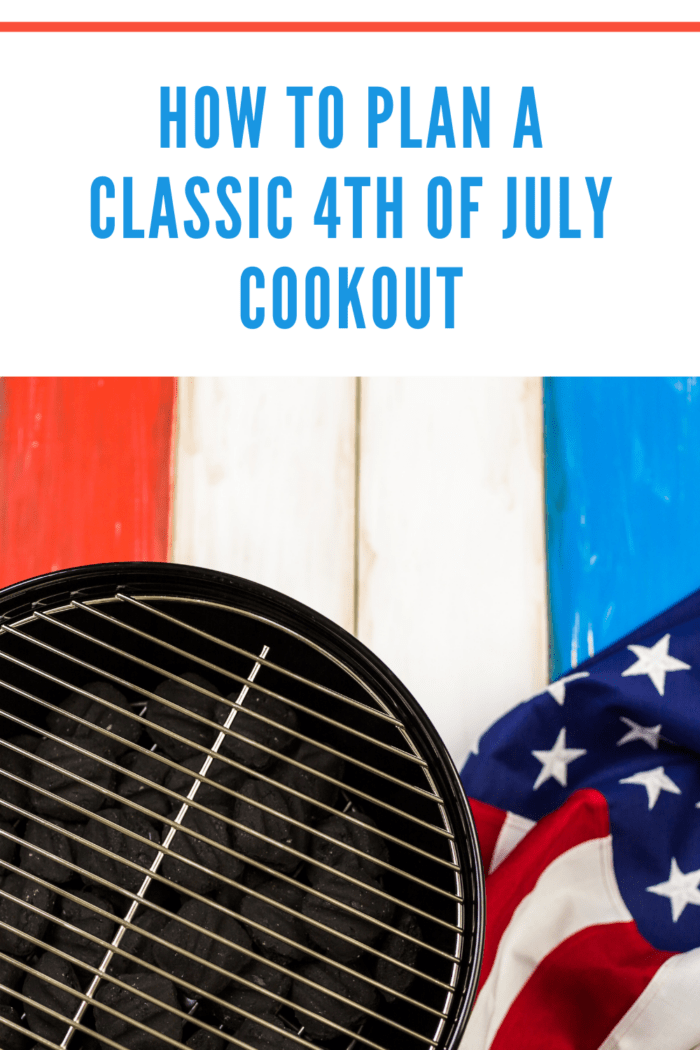 Commemorate the Occasion
A 4th of July cookout is a big occasion, especially if it's the first 4th of July cookout for any guests attending. Since you're already going all out to make sure your guests have the best experience, you can make it an even more memorable experience with 4th of July shirts, says tipsyelves.com. Whether you choose a custom design or opt for something simple, 4th of July shirts, hats, and other gear are a great way to show your guests how much you appreciate them coming. If you're going to get everyone t-shirts, make sure you ask for sizes beforehand. And remember, taking lots of pictures is also a great way to remember your 4th of July cookout with friends and family.
The 4th of July is a time to celebrate and honor the birth of a nation, and incorporating meaningful ways to commemorate the occasion can elevate your cookout and create a sense of reverence for the historical significance of Independence Day.
Here are some ideas to help you commemorate the occasion in a thoughtful and impactful manner:
Flag Ceremony: Kick off your 4th of July cookout with a flag ceremony. Gather your guests around a flagpole or designated area and raise the American flag while playing the national anthem. You can invite a veteran or a member of the armed forces to lead the ceremony, adding a special touch of honor and respect. Take a moment to reflect on the significance of the flag and the principles it represents.
Historical Display: Create a historical display showcasing important moments in American history. Set up a table or display area with books, photographs, and artifacts that highlight key events leading to the nation's independence. Include informative posters or signs that provide historical context and encourage guests to engage with the display. This allows everyone to appreciate the sacrifices made by previous generations and deepen their understanding of the holiday.
Moment of Reflection: Designate a specific time during your cookout for a moment of reflection. Gather your guests together and invite them to share their thoughts on the meaning of independence, freedom, and the significance of the 4th of July. You can also ask guests to share personal stories or express gratitude for the opportunities and liberties they enjoy as Americans. This moment of reflection fosters a sense of unity and appreciation among attendees.
Guest Speaker or Historian: Consider inviting a guest speaker or a local historian to share a brief talk about the historical context and importance of Independence Day. This can be a knowledgeable friend, a community leader, or a professional historian who can provide insights into the events that shaped the nation. Their expertise can add depth and enrich the understanding of your guests, creating a more meaningful and educational experience.
Readings or Recitations: Incorporate patriotic readings or recitations into your celebration. Choose significant historical documents such as the Declaration of Independence or famous speeches like the Gettysburg Address. Invite individuals to take turns reading passages aloud or reciting excerpts. This activity allows guests to connect with the words that shaped the nation and appreciate the enduring values of freedom and equality.
Moment of Silence: Pay tribute to the sacrifices made by the brave men and women who have served in the military by observing a moment of silence. Pause during your cookout to honor the fallen soldiers and express gratitude for their service. This solemn moment allows everyone to reflect on the sacrifices made to secure and protect the nation's freedom.
Fireworks Display: End your 4th of July cookout with a spectacular fireworks display. Fireworks have become synonymous with Independence Day celebrations and provide a visual representation of the nation's spirit and freedom. Ensure that your fireworks display adheres to local regulations and safety guidelines. Invite your guests to gather together, look up at the sky, and marvel at the dazzling colors and patterns, symbolizing the joy and unity of the occasion.
Charitable Contributions: As you commemorate Independence Day, consider incorporating a charitable aspect into your celebration. Encourage guests to bring donations for local organizations that support veterans, active-duty military personnel, or other causes aligned with the principles of freedom and equality. This allows your cookout to make a positive impact and serves as a reminder that the spirit of independence extends to helping others in need.
By incorporating these commemorative ideas into your 4th of July cookout, you create a meaningful and reflective atmosphere that honors the nation's history, celebrates its values, and fosters a sense of unity and gratitude among your guests.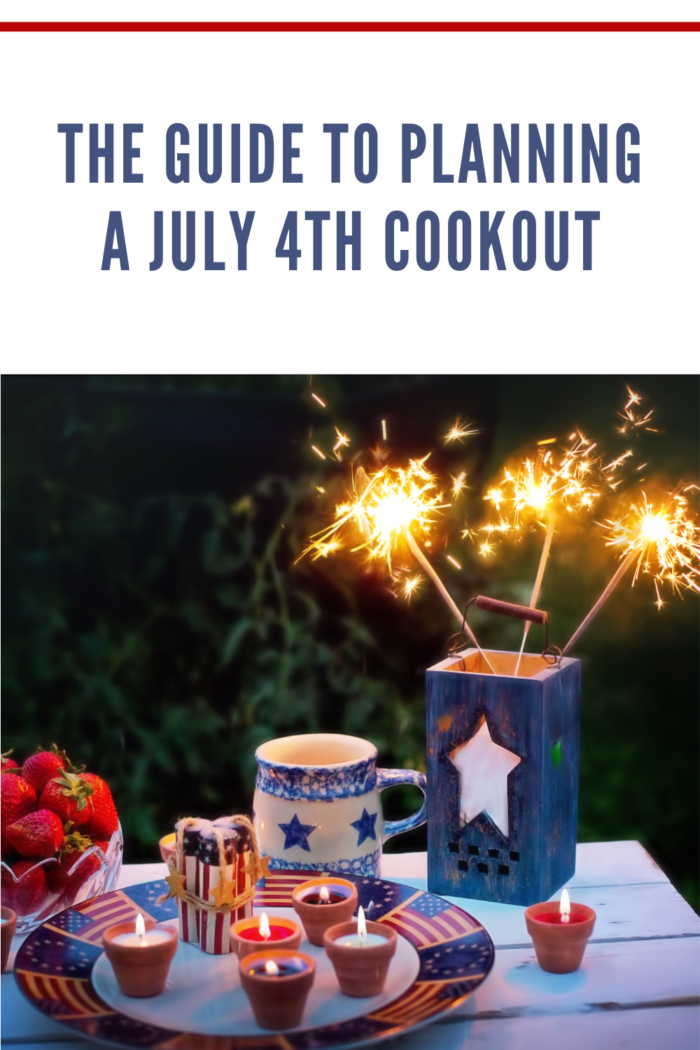 Decorate in Style:
Transform your backyard into a vibrant and festive space with thoughtful decorations. Incorporate patriotic colors through tablecloths, banners, balloons, and streamers. Arrange centerpieces featuring miniature American flags or mason jars filled with red, white, and blue flowers. Don't forget to set up an area for outdoor games and activities to keep everyone entertained.
Transforming your backyard into a vibrant and festive space is an essential part of planning a memorable 4th of July cookout. By incorporating thoughtful decorations, you can create an atmosphere that exudes the spirit of Independence Day and sets the stage for a festive celebration.
Here are some ideas to help you decorate your space in style:
Color Scheme: Embrace the classic red, white, and blue color scheme associated with Independence Day. Use these colors prominently throughout your decorations to create a cohesive and patriotic look. Hang red, white, and blue banners, streamers, or bunting along fences, trees, or the exterior of your house. Incorporate tablecloths, napkins, and disposable plates in these colors to tie the theme together.
Table Centerpieces: Create eye-catching table centerpieces that serve as focal points and conversation starters. Arrange miniature American flags in mason jars filled with red, white, and blue flowers like carnations, daisies, or hydrangeas. You can also use patriotic-themed decorations, such as small Uncle Sam hats or miniature replicas of the Statue of Liberty. Sprinkle some star-shaped confetti or glitter on the tables to add a touch of sparkle.
Lighting: Enhance the ambiance of your cookout by incorporating creative lighting elements. Hang string lights or lanterns in red, white, and blue hues across your backyard to create a warm and inviting glow as the sun sets. Consider using LED lights that flicker like fireworks to add a magical touch to the atmosphere. If you have trees or bushes, wrap them with fairy lights to create a whimsical and enchanting setting. Lighting is the most important part of a good summer cookout, especially if you plan on having guests over late. The best part is there are tons of stylish and creative ways to add a little light to your patio, especially if you don't mind putting in the effort. You can hang string lights around pillars or the fence surrounding your yard, or you can use tiki torches to add light near the patio, suggests Brightech.You should also light walkways if you're going to have guests over late at night. You can purchase small solar lights that are easy to install and don't require maintenance, and those will light the way for your guests to make it safely to their cars.
Patriotic Accents: Integrate patriotic symbols and accents into your decorations to celebrate the spirit of Independence Day. Display American flags of various sizes throughout your backyard, either on flagpoles or as handheld flags. Use red, white, and blue bandanas as napkins or as makeshift table runners. Hang patriotic signs or posters with quotes or messages that highlight the significance of the holiday.
Outdoor Games Area: Create a designated area for outdoor games and activities. Set up a colorful and inviting space with games like ring toss, horseshoes, or a bean bag toss. Paint a patriotic-themed cornhole board or decorate it with red, white, and blue stickers. You can also set up a photo booth area with props like Uncle Sam hats, oversized sunglasses, and patriotic-themed accessories to encourage guests to capture memorable moments.
Themed Balloon Decorations: Incorporate balloons into your decorations for a festive and playful touch. Use helium-filled balloons in red, white, and blue colors to create balloon arches or clusters around your backyard. Tie balloon bouquets to chairs or tables to add pops of color throughout the space. For an interactive experience, fill water balloons with red and blue water and set up a designated area for water balloon fights, ensuring a fun and refreshing activity for all ages.
Patriotic Table Settings: Dress up your dining area with patriotic table settings that showcase attention to detail. Use red, white, and blue striped or polka-dotted tablecloths to create a festive foundation. Fold napkins in the shape of stars or create napkin rings using ribbon in patriotic colors. Place mini American flags or firework-themed placeholders at each seat to add an extra touch of patriotism and individuality.
Themed Signage and Chalkboards: Designate areas in your backyard with signage or chalkboards displaying festive messages. Create signs that say "Happy 4th of July," "Let Freedom Ring," or "Celebrate Independence." Use chalkboards to showcase the menu or a schedule of the day's events. Provide colored chalk for guests to leave messages, draw patriotic symbols, or write down their favorite memories from the day.
Outdoor Flags and Banners: Hang large American flags or patriotic banners from prominent locations in your backyard. Consider positioning them near the entrance or on fences to create a sense of pride and unity. If you have a porch or deck, drape patriotic bunting along the railings to add a touch of elegance and patriotism. These visual elements will instantly transform your space into a celebratory environment.
Coordinated Seating Areas: Create comfortable and inviting seating areas where guests can relax and socialize. Arrange outdoor furniture, such as lounge chairs, benches, or picnic tables, in strategic locations throughout your backyard. Choose cushions and pillows in red, white, and blue patterns to tie in with the theme. Add throw blankets for cooler evenings to ensure that guests are cozy and can enjoy the festivities for hours on end.
Patriotic Umbrellas and Shade: If your cookout is taking place during the daytime, provide ample shade options for your guests. Set up large patio umbrellas or shade sails in red, white, and blue colors to shield everyone from the sun. Not only will they offer relief from the heat, but they will also contribute to the overall aesthetic by incorporating the patriotic theme into functional elements.
Personalized Touches: Add personal touches to your decorations that reflect your family's or guests' individual connections to the holiday. Display photographs of loved ones who have served in the military or showcase memorabilia that represents your family's history and appreciation for independence. These personal touches will infuse your decorations with heartfelt meaning and create a more intimate and meaningful atmosphere.
Remember to consider the layout of your space and ensure that decorations do not obstruct walkways or impede activities. Pay attention to safety by securing decorations properly and avoiding any potential fire hazards.
By incorporating these creative ideas into your decoration planning, you'll create a visually stunning and patriotic atmosphere that captures the essence of Independence Day. The attention to detail and thoughtfulness will impress your guests and make your 4th of July cookout truly memorable.
Let There Be Light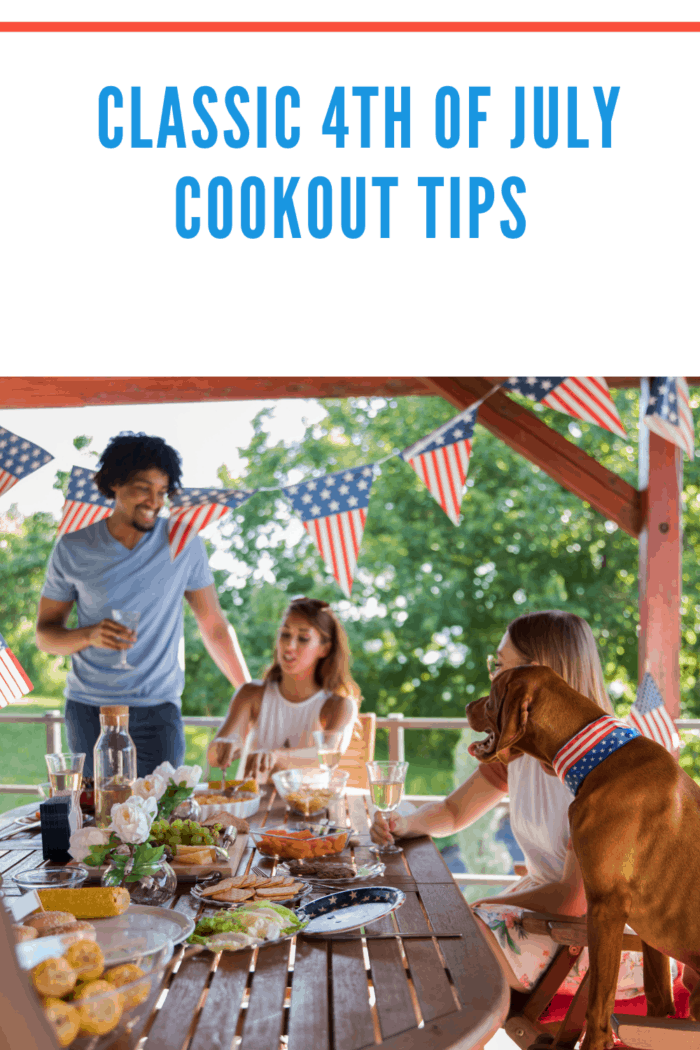 Create a Playlist:
Music sets the mood and brings people together. Curate a playlist that showcases a mix of patriotic anthems, popular summer hits, and classic tunes. Encourage guests to request their favorite songs, ensuring a lively and enjoyable atmosphere throughout the cookout.
As you plan your 4th of July cookout, curating a well-thought-out playlist is essential to set the mood and enhance the overall ambiance of your event. A carefully selected combination of patriotic anthems, popular summer hits, and classic tunes will ensure a lively and enjoyable atmosphere throughout the day.
Here are some ideas to help you create a memorable playlist:
Patriotic Anthems: Include iconic patriotic songs that evoke a sense of national pride and reflect the spirit of Independence Day. Consider including classics like "The Star-Spangled Banner," "America the Beautiful," and "God Bless America." These songs can be played at strategic moments, such as during the raising of the flag or before a fireworks display, to enhance the patriotic atmosphere.
Summer Hits: Infuse your playlist with upbeat and feel-good summer hits that will keep your guests entertained and energized. Include popular songs from various genres, such as pop, rock, reggae, and country, to cater to different musical tastes. Some examples could be "Happy" by Pharrell Williams, "Walking on Sunshine" by Katrina and The Waves, "Kokomo" by The Beach Boys, or "Three Little Birds" by Bob Marley.
Classic Tunes: Add a touch of nostalgia by incorporating timeless classics that have stood the test of time. These songs will evoke a sense of familiarity and bring people together through shared musical memories. Consider including tracks like "Sweet Home Alabama" by Lynyrd Skynyrd, "Dancing Queen" by ABBA, "Livin' on a Prayer" by Bon Jovi, or "Don't Stop Believin'" by Journey.
Modern Hits with a Summer Vibe: Include recent chart-toppers and contemporary hits that have a summery feel to keep your playlist fresh and current. Look for songs with catchy melodies, positive lyrics, and infectious beats that will make people want to dance and sing along. Some suggestions might include "Blinding Lights" by The Weeknd, "Levitating" by Dua Lipa, "Good 4 U" by Olivia Rodrigo, or "Watermelon Sugar" by Harry Styles.
Requests and Personal Touches: Encourage your guests to contribute to the playlist by requesting their favorite songs or dedicating tracks to friends and loved ones. You can set up a collaborative playlist on a streaming platform or provide notecards where guests can write down their song suggestions. Incorporating these personal touches will make everyone feel involved and create a playlist that reflects the diverse musical tastes of your guests.
Transition and Flow: Pay attention to the flow of your playlist to ensure a smooth and seamless musical experience. Arrange the songs in a way that creates a balanced mix of tempos, genres, and energy levels. Consider starting with more relaxed tunes during the initial gathering and gradually building up to more upbeat tracks as the day progresses. Intersperse high-energy songs with a few slower ones to provide moments of respite and allow people to catch their breath.
Remember to test your playlist in advance to ensure the audio quality and volume levels are appropriate for your outdoor setting. Additionally, have a backup plan in case of any technical difficulties, such as a spare device or alternative music source.
By curating a thoughtfully crafted playlist that encompasses patriotic anthems, summer hits, classic tunes, and personalized requests, you'll create a vibrant and enjoyable musical backdrop for your 4th of July cookout. Let the power of music unite your guests, ignite their spirits, and contribute to a memorable celebration of Independence Day.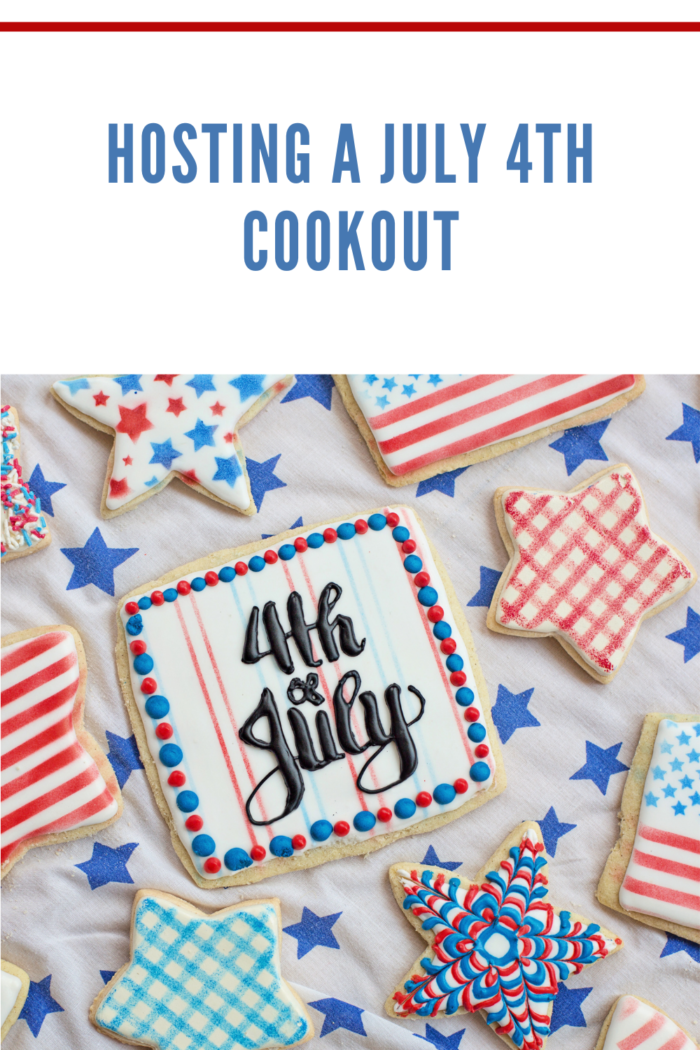 Plan Activities for All Ages:
Engage your guests with a range of activities suitable for both children and adults. Organize traditional backyard games like cornhole, badminton, or a water balloon toss. Consider setting up a DIY s'mores station or a festive dessert bar for the younger attendees. For a memorable finale, arrange for a synchronized fireworks display or encourage guests to bring their own sparklers to enjoy the spectacle.
To ensure that your 4th of July cookout is engaging and enjoyable for guests of all ages, it's essential to organize a variety of activities that cater to different interests and abilities. By providing entertainment options for children, teenagers, adults, and even seniors, you'll create an inclusive and memorable experience.
Here are some ideas to help you plan activities for all ages:
Backyard Games: Set up a designated area for classic backyard games that can be enjoyed by both kids and adults. Consider games like cornhole, ladder toss, horseshoes, or giant Jenga. These games are easy to set up and provide friendly competition and entertainment for guests of all ages. You can even organize mini-tournaments with small prizes to add an extra level of excitement.
Water Fun: If you're hosting your cookout on a hot summer day, incorporating water-based activities can be a refreshing and enjoyable option. Set up a small inflatable pool or a sprinkler for younger children to splash around in. For older kids and teenagers, water balloon fights or a slip-and-slide can provide endless laughter and excitement. Just make sure to supervise these activities and ensure the safety of all participants.
DIY Craft Stations: Create craft stations where kids and adults can engage in creative activities. Provide materials for making patriotic-themed crafts like paper plate masks, flag decorations, or friendship bracelets. This allows guests to unleash their creativity while also serving as a meaningful keepsake from the event. Ensure there are age-appropriate options and consider having volunteers or family members available to assist younger children with their crafts.
Scavenger Hunt: Organize a scavenger hunt that encourages participants of all ages to explore your backyard or nearby area. Create a list of patriotic-themed items, landmarks, or hidden treasures for guests to find. Divide them into teams or let individuals participate, depending on the number of attendees. This activity promotes teamwork, problem-solving, and friendly competition while adding an element of adventure and discovery to your cookout.
Outdoor Movie Night: As the day transitions into evening, create a cozy outdoor movie screening area. Set up a large screen or projector and play a family-friendly movie with a patriotic or summer theme. Arrange seating with blankets, cushions, and lawn chairs to ensure comfort for everyone. Provide popcorn, snacks, and drinks to enhance the cinematic experience. This activity is particularly enjoyable for all age groups, allowing guests to relax and enjoy a film under the stars.
Karaoke or Talent Show: Unleash the inner performers in your guests by organizing a karaoke or talent show session. Set up a stage area with a microphone and speakers where participants can showcase their singing, dancing, or other talents. Encourage guests of all ages to participate, creating a supportive and fun atmosphere. This activity not only entertains but also allows everyone to appreciate the unique skills and creativity of their fellow attendees.
Fireworks Display: If local regulations permit, organize a spectacular fireworks display as the grand finale of your 4th of July cookout. Hire professionals to handle the fireworks or, if allowed, let guests bring their own sparklers and small fireworks to contribute to the show. Ensure safety precautions are in place, and designate a clear area for the display. Inform neighbors in advance and adhere to local noise regulations to ensure a responsible and enjoyable experience for everyone.
Remember to provide a mix of structured activities and free time for guests to socialize, relax, and enjoy each other's company. Having a variety of activities ensures that everyone can find something they enjoy and feel engaged throughout the day. By planning activities that cater to all ages, you'll create lasting memories and a sense of togetherness for your 4th of July cookout.
Conclusion:
By following this comprehensive guide, you'll be well-equipped to plan a memorable 4th of July cookout that celebrates the spirit of independence and brings joy to all who attend. Embrace the rich traditions of this cherished holiday, infuse it with your own creative touches, and create lasting memories with friends and family. As you gather around the grill, savoring the delicious food and relishing the company, take a moment to appreciate the significance of this day and the freedoms it
Hosting a 4th of July cookout may take a bit of work, but it's truly the best way to spend the holiday if you love being outdoors. With some planning and hard work, you can host the perfect 4th of July cookout in your backyard this year.