There is no better way to show the world that you are family than with customized family t-shirts. T-shirts with "Jones Family Christmas" printed on them are the epitome of family gatherings.
Beautifully designed t-shirts for family gatherings may be a delightful remembrance, whether you want the whole family to be readily identified or you want to make a special treat for a family event.
Family Festive Season T-shirts
When the holidays arrive, everyone's thoughts may shift to what they'll wear to all of the festivities. You will have the ideal solution, and it just requires little planning to achieve maximum results!
A festival family t-shirt is the ideal fashion accessory for honoring the essential aspect of the holiday. And what better way to demonstrate how much you care and love each other than by wearing a t-shirt? The possibilities are endless:
Sports Fans T-shirts
Is the entire family full of sports fans? Maybe you all like participating in sports together. Why not demonstrate your athletic love by purchasing matching t-shirts for the whole family to wear to the next big game? A matching family t-shirt is a beautiful way to bring everyone together if you have a family pass to a sporting event.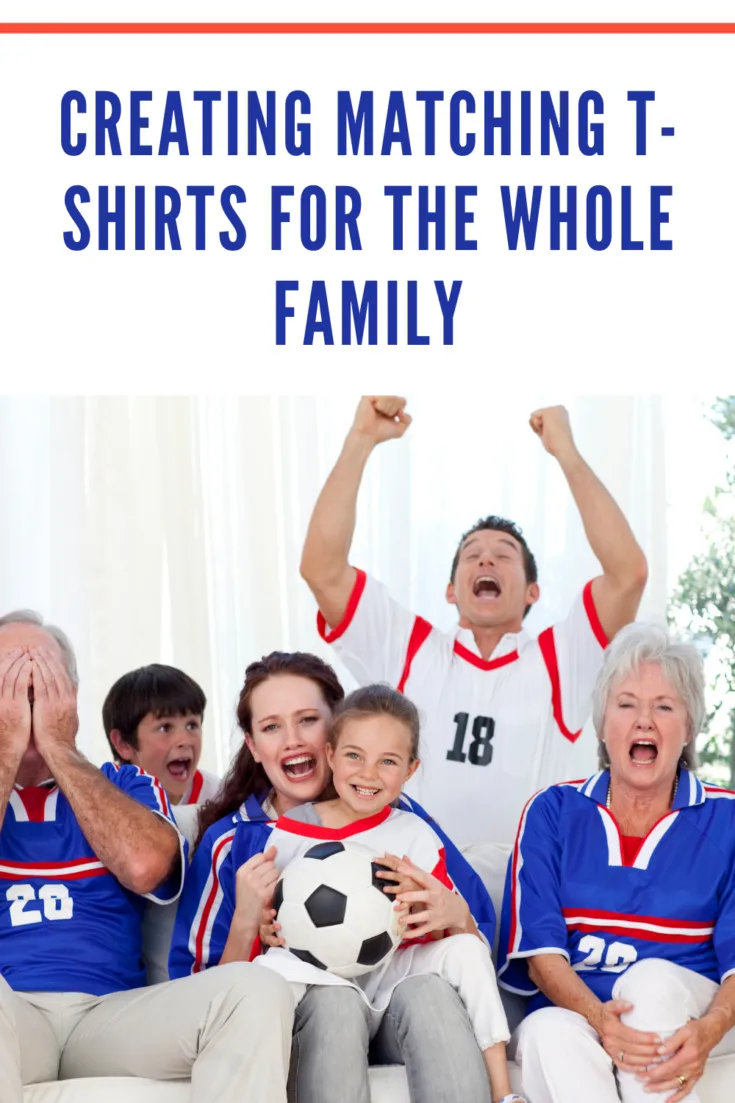 Holiday T-shirts
Is the entire family planning a trip somewhere? Give everyone a wonderful remembrance as well as something fashionable to wear with a matching family t-shirt.
Make a shirt with the place and dates of your vacation.
Make the shirt's design distinctive. It will be much easier to keep track of everyone when they go sightseeing.
The family t-shirts will make a beautiful souvenir, bringing back fond memories when you go home.
Royal Family T-shirts
Is it true that Mum and Dad are the Queen and King of the house? Why not make up some amusing royal names for everyone to wear on their family t-shirts?
Mum might be known as the Monopoly Queen.
Dad could be the Sunday Barbeque King.
Kids may choose their names, such as Prince Spongebob or Princess Elsa.
You could even have a crown printed on the front of each shirt over a pocket for an added imperial touch.
New Baby T-shirts
The birth of a new child is a happy moment. Why not design some t-shirts to tell the happy news and do something a little different with your pregnancy announcement photos?
Mums' can say 'Expecting,' while Dads' can say 'New Dad.".
Of course, any upcoming siblings can refer to themselves as "Big Brother" or "Big Sister."
These tees will be proudly worn, and you can even design a tiny onesie for your baby!
Birthday T-shirts
A unique birthday necessitates an unforgettable celebration. A matching family t-shirt is a fantastic way to memorialize a special event, whether you're celebrating a grandparent's big birthday or planning a surprise party.
Consider putting a memorable quotation from the individual celebrating their birthday on the shirts.
Print their age, your surname, and a photo of the birthday person to make it simple.
Achievement Family T-shirts
When a member of your family graduates from university, gets a new job, buys a new home, travels overseas, or accomplishes anything noteworthy, you may commemorate the occasion in a way that reflects your family's love and appreciation for them. Of course, a matching family t-shirt is the most fantastic way to celebrate a triumph and show everyone how pleased you are.
The experts at printful.com ask, are you ready to start printing your own t-shirts for your family's next major event? Online, you may browse various goods or get started making your custom shirts right now. If you create something fantastic, don't forget to share it with the world!