Elevate your dessert game with this tantalizing pecan pie recipe! Indulge in the rich, caramel-like custard, adorned with crunchy, nutty pecans, and encased in a buttery, flaky crust. This easy-to-make pie is perfect for any occasion and will leave you and your guests craving for more, not just on Thanksgiving.
Why this Pecan Pie Recipe Works:
Prepare to be amazed by the simplicity of this recipe. In less than 15 minutes, you can whip up the luscious pecan pie filling – chop the pecans, whisk together sugars, egg, butter, corn syrup, and pour it into an unbaked pie crust. With minimal effort, you'll have a pie that tastes like it was crafted by a seasoned pastry chef.
The Secret to the Perfect Pie Crust:
Every great pecan pie starts with a perfect pie crust. This homemade crust combines the richness of butter and shortening, resulting in a mouthwatering, tender, and flaky texture. It's the ultimate base for any pie, and you can even make it ahead of time to save on prep time.
No Pre-baking Required:
Forget about pre-baking the crust – this recipe makes it even easier! Just brush the crust with a simple egg wash before adding the filling, and it will develop a beautiful golden hue during baking.
Store-Bought Option:
While I highly recommend the homemade pie crust, you can opt for a store-bought version to save time and effort, without compromising on taste.
Simple and Delicious Ingredients:
This recipe requires basic, easy-to-find ingredients – sugar, brown sugar, salt, corn syrup, vanilla, butter, eggs, and pecans. But what sets it apart is the addition of more butter, more pecans, and a delightful blend of spices. Cinnamon, nutmeg, and cloves elevate the flavor without overpowering the pecans, creating a perfectly balanced taste.
Perfect Texture:
By roughly chopping the pecans, you create a tantalizing crunchy crust, complementing the smooth, gooey caramel-like filling. The increased surface area swaddled in the sweet custard enhances each delightful bite.
The Evolution of Pecan Pie:
As with all classic recipes, pecan pie has evolved over time with various regional adaptations and creative spins. Some popular variations include adding chocolate chips, coconut, bourbon, rum, whiskey, butterscotch, maple, pumpkin, shredded coconut, and chocolate. From pecan hand pies to pecan pie cheesecake, the possibilities are endless.
A Brief History of Pecan Pie:
Pecan pie is as deeply rooted in American culture as Thanksgiving itself. Native to America and popularized in Georgia after the Civil War, it quickly became a national favorite. The introduction of Karo Syrup's recipe on its product cans in the 1920s further solidified its position as a staple holiday dessert.
How to Pronounce Pecan:
The age-old debate on how to pronounce "pecan" continues to divide the nation. Pronunciations range from "pee-KAHNs" to "pee-CANs," "PEE-cans," and "pick-AHNs," with regional variations influencing the pronunciation.
Can You Make Pecan Pie Without Corn Syrup?
While corn syrup is a classic ingredient that helps set the filling and imparts the traditional flavor, you can substitute it with pure maple syrup or honey and a tablespoon of flour. This variation will yield a pecan pie with a different taste profile.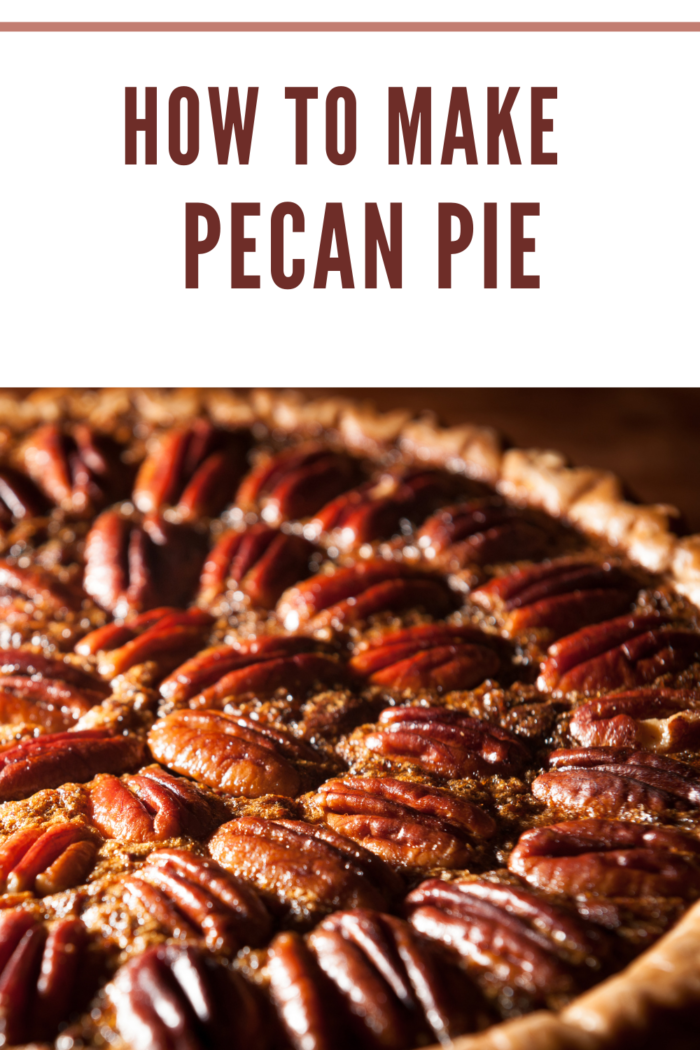 Homemade Pecan Pie
Prep Time: 25 minutes
Cooking Time: 55 minutes
Setting Time: 2 hours
Servings: 8 servings
Ingredients:
1 ½ cups chopped pecans
3 large eggs, at room temperature
½ cup granulated sugar
½ cup dark brown sugar
1 cup corn syrup (preferably dark, but light can be used)
6 tablespoons unsalted butter, melted and slightly cooled
1 teaspoon pure vanilla extract
A pinch of salt
½ teaspoon ground cinnamon
¼ teaspoon ground nutmeg
1/8 teaspoon ground cloves
Possible Recipe Variations:
Get creative and experiment with your pecan pie by incorporating various additions like chocolate chips, shredded coconut, bourbon or whisky, or swapping corn syrup with pure maple syrup for a distinct maple flavor.
Mix in chocolate chips: Stir in 1 cup bittersweet or semi-sweet chocolate chips into the filling.
Add coconut: Substitute ½ cup granulated sugar with 1 cup sweetened, shredded coconut.
Add chocolate and coconut: Reduce pecans to 2 cups, omit ½ cup granulated sugar, and add 1 cup sweetened shredded coconut and 1 cup bittersweet or dark chocolate chips.
Add bourbon or whisky: Whisk 2 tablespoons bourbon or whisky into the filling for a warm, tangy flavor.
Maple pecan pie: Replace corn syrup with pure maple syrup and add 1 tablespoon flour for a strong maple flavor.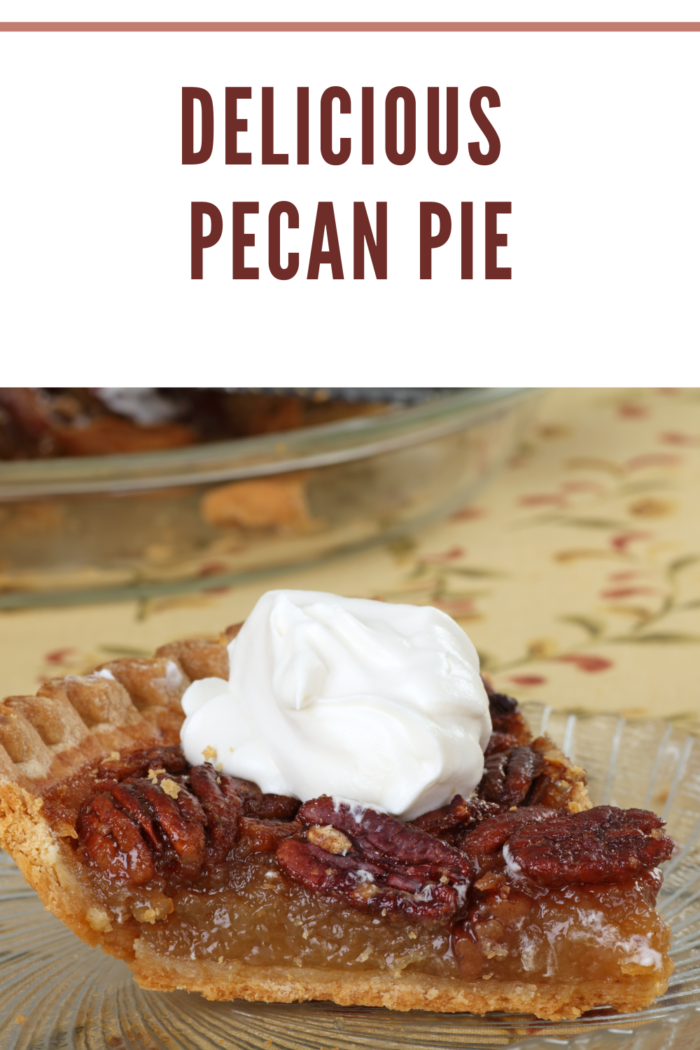 Instructions:
Preheat your oven to 350°F (175°C).
In a mixing bowl, combine the chopped pecans, granulated sugar, brown sugar, corn syrup, melted butter, vanilla extract, salt, ground cinnamon, nutmeg, and ground cloves. Mix well until all ingredients are fully incorporated.
Roll out your prepared pie crust and fit it into a 9-inch pie dish. Trim any excess dough and crimp the edges.
Pour the pecan filling into the pie crust, spreading it evenly.
Place the pie on a baking sheet to catch any potential overflow. Bake the pie in the preheated oven for approximately 55 minutes or until the filling is set.
To ensure the pecan pie is perfectly done, use an instant-read thermometer and insert it into the center of the pie without touching the bottom. The internal temperature should reach 200°F (93°C).
Once the pie is fully cooked, remove it from the oven and let it cool completely on a wire rack. Allow at least 2 hours for the filling to set.
When serving, allow the pecan pie to reach room temperature. You can also serve it chilled or warmed (not hot). To warm, let the pie cool completely before reheating it in the oven at 275°F (135°C) for 10 minutes.
Cut the pecan pie with a warm serrated knife to easily glide through the custard without sticking. Dip the knife in hot water between slices for a smooth cut.
Tips for the Best Pecan Pie:
Read the entire recipe before starting to ensure success.
Use fresh pecans to avoid any rancid taste.
Customize the crunch level by chopping pecans to your desired size.
Be mindful not to overfill the pie crust to prevent overflow.
Apply an egg wash to the crust to achieve a golden, crispy texture.
Chill the pie crust before filling to avoid a soggy crust.
Place the pie on a baking sheet during baking to catch any overflow.
Use a pie crust shield or foil to prevent over-browning.
Use an instant-read thermometer to accurately determine when the filling is set.
Allow the pie to cool completely to set the filling perfectly. Avoid cutting into it too early to prevent a runny filling.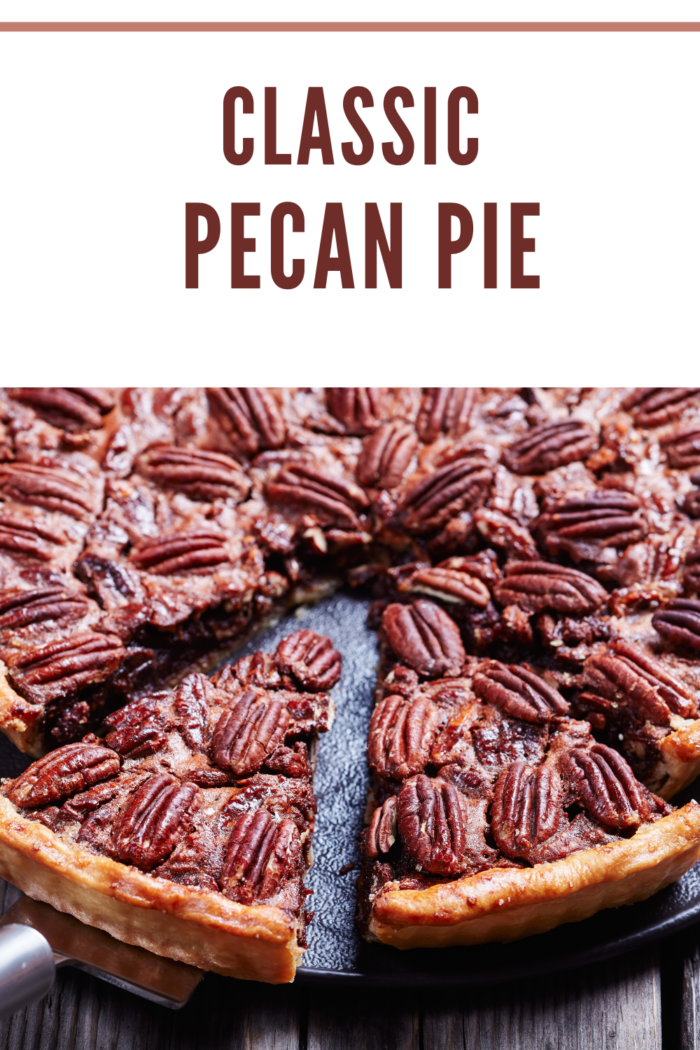 FAQs for Homemade Pecan Pie:
1. Can I use whole pecans instead of chopped pecans? While chopped pecans are recommended for this recipe to create a crunchy crust, you can use whole pecans if desired. Just keep in mind that the texture and overall appearance of the pie will be slightly different.
2. Can I use a store-bought pie crust instead of making my own? Absolutely! While the homemade crust adds a delicious flavor and texture, you can save time and effort by using a pre-made pie crust from the store. Just follow the baking instructions on the package.
3. How should I store leftover pecan pie? If there are any leftovers (which is unlikely!), wrap the cooled pecan pie in plastic wrap and refrigerate it for up to 4 days. Make sure to bring it to room temperature before serving or reheat it at 275°F (135°C) for 10 minutes.
4. Can I freeze pecan pie for later? Yes, you can freeze the pecan pie for up to one month. Double wrap the cooled pie in plastic wrap followed by double layers of foil or place it in an airtight freezer-safe container. Thaw the pie overnight in the refrigerator and allow it to come to room temperature before serving.
5. Can I use a different type of syrup instead of corn syrup? If you prefer not to use corn syrup, you can substitute it with an equal amount of pure maple syrup or honey, combined with 1 tablespoon of flour in the filling. Keep in mind that this will alter the flavor profile of the pie.
6. Can I make the filling ahead of time? Yes, you can whisk all the filling ingredients together up to 24 hours ahead of time, cover, and refrigerate. Just make sure to bring the filling to room temperature before adding it to the pie crust.
7. What if my pecan pie filling is runny? If your pie filling turns out runny, it might indicate that the pie wasn't baked long enough. Cover the pie with foil and return it to the oven at 425°F (220°C) for about 12-15 minutes to correct it.
8. How do I prevent my pie crust from burning? To prevent the pie crust from burning, cover the edges with foil or use a pie crust shield during baking. This will protect the crust from excessive browning while the filling cooks.
9. Can I add other ingredients to the pecan pie filling? Absolutely! Pecan pie is versatile, and you can experiment with different ingredients. Some popular additions include chocolate chips, coconut, bourbon, or whiskey. Be creative and enjoy trying out new variations!
10. Why did my pie crust become soggy? Soggy crust can result from not chilling the pie crust before filling or overfilling the pie. Ensure the crust is chilled and try not to exceed the specified amount of filling to maintain a crispy crust.
11. Can I make this recipe gluten-free? Yes, you can make this pecan pie gluten-free by using a gluten-free pie crust and ensuring that all the ingredients you use are gluten-free certified.
12. What's the best way to serve pecan pie? Pecan pie is typically served at room temperature, but you can also enjoy it chilled or warmed. Top it with whipped cream or ice cream for a delightful contrast to the rich and nutty flavors of the pie.