Welcome to the world of delicious simplicity with our Easy Taco Salad Recipe! If you're a fan of flavorful, quick-to-prepare meals that satisfy both your taste buds and your desire for a wholesome dish, then you've come to the right place. This vibrant and colorful taco salad is a delightful fusion of zesty Mexican flavors and fresh, crunchy vegetables, making it a perfect go-to option for busy weeknights or relaxed gatherings with family and friends.
In just a few easy steps, you'll be able to create a tantalizing bowl of goodness that will leave everyone asking for more. Whether you're a seasoned chef or a novice in the kitchen, this recipe is designed to be user-friendly, requiring minimal effort while delivering maximum taste. So, let's grab our aprons and embark on a culinary adventure, discovering how this Easy Taco Salad Recipe can bring a burst of fiesta to your dining table in no time!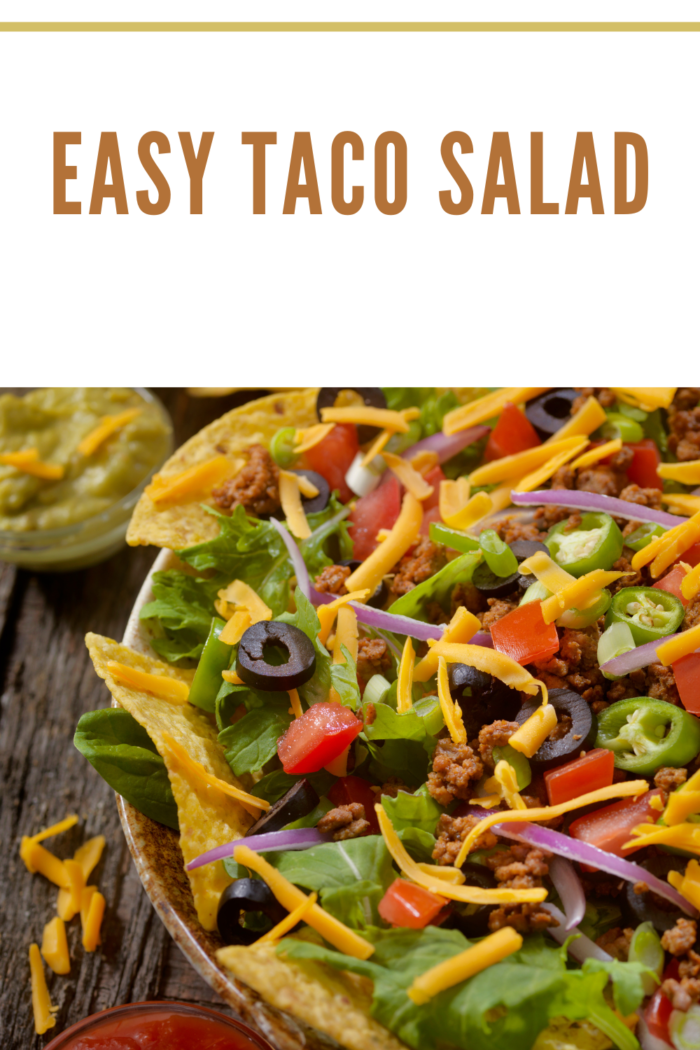 Easy Taco Salad
Prep Time: 15 minutes
Cooking Time: 15 minutes
Servings: 4-6 servings
Ingredients:
1 tablespoon olive oil
1 1/4 pounds lean ground beef
1 cup fire-roasted salsa
2 teaspoons chili powder
1 teaspoon ground cumin
Salt, to taste
Freshly ground black pepper, to taste
1 head romaine lettuce or iceberg lettuce, chopped
1 (15.5 ounces) can black beans, optional drained and rinsed
1 cup Mexican cheese blend, shredded
2 roma tomatoes, diced-or several cherry tomatoes
1 avocado, optional, diced
5 tablespoons sour cream, optional
1/4 cup chopped red onion, optional
Crunchy tortilla bowls or tortilla chips, optional, for serving
Directions:
Step 1: In a 12-inch skillet, heat the olive oil over medium-high heat.
Step 2: Add the beef to the skillet, cooking thoroughly until browned and cooked through.
Step 3: Drain the fat.
Step 4: Stir in the salsa, chili powder, and cumin. Season to taste with salt and pepper.
Step 5: Warm the mixture through and then remove from heat.
Step 6: In individual bowls or tortilla bowls, layer the chopped lettuce, black beans (if using), shredded cheese, diced tomatoes, sour cream (if using), avocado (if using), and chopped red onion (if using).
Step 7: Ladle the beef filling over the salad layers.
Step 8: Serve with tortilla chips if not using a tortilla bowl!
Tips:
Customize the beef filling by adding diced onions, minced garlic, or even a hint of your favorite hot sauce for extra heat.
For a healthier option, you can use ground turkey or chicken instead of beef.
Don't be afraid to experiment with different types of lettuce or greens to add variety to your salad.
If you prefer a vegetarian version, you can substitute the beef with plant-based crumbles or tofu.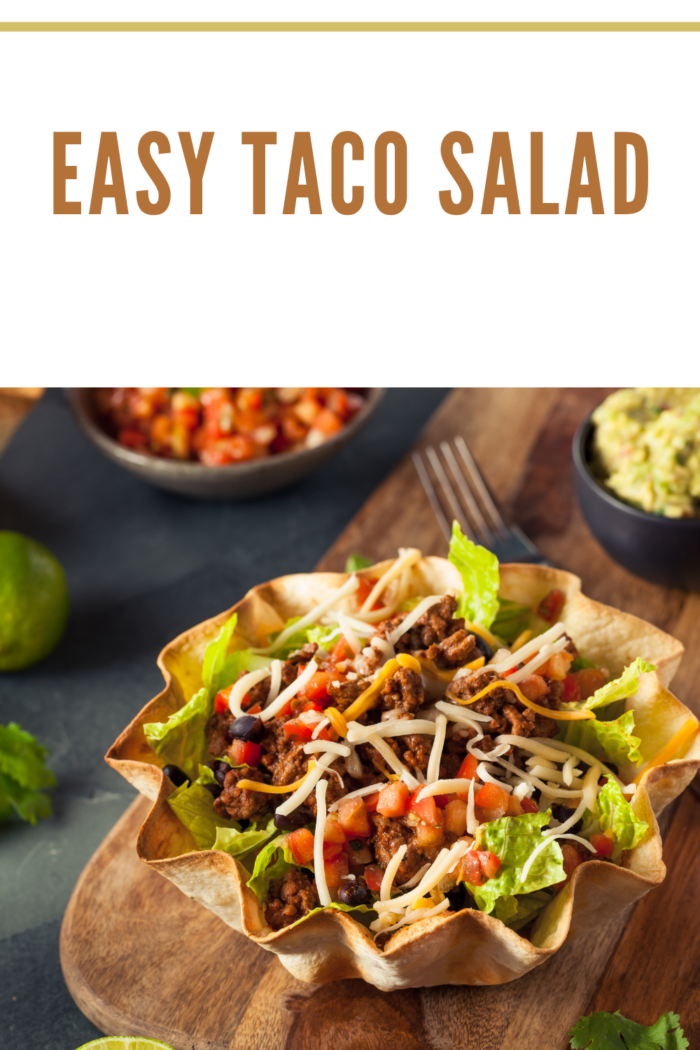 FAQs:
1. Can I make the beef filling in advance? Absolutely! The beef filling can be prepared ahead of time and stored in an airtight container in the refrigerator for up to 3 days. Simply reheat it before assembling the taco salad.
2. Can I make this salad ahead of time? While it's best to assemble the salad just before serving to keep the lettuce crisp, you can prep all the ingredients and store them separately. When you're ready to serve, layer the ingredients and add the beef filling for a fresh and delicious taco salad.
3. Are crunchy tortilla bowls necessary for serving? No, they're not necessary, but they do add a delightful crunch to the salad. If you don't have tortilla bowls, you can use regular tortilla chips as a tasty alternative.
4. How can I make the salad spicier? To add some heat, you can include sliced jalapeños, crushed red pepper flakes, or a sprinkle of cayenne pepper to the beef filling or garnish the salad with hot sauce.
Get ready to delight your taste buds with this Easy Taco Salad, a flavorful and satisfying meal that's simple to make and sure to be a hit with everyone at your table! Enjoy the fiesta of flavors!