One-Pan Rigatoni with Gorgonzola and Sausage: A Delectable Pasta Delight
Indulge in a symphony of flavors and textures with our mouthwatering One-Pan Rigatoni with Gorgonzola and Sausage! This delightful one-pot pasta recipe brings together tender rigatoni noodles, succulent Italian sausage, vibrant grape tomatoes, and a creamy gorgonzola cheese sauce that will leave you craving for more. Whether it's a busy weeknight or a laid-back weekend, this simple yet irresistible dish can be on your table in just about 30 minutes.
As an adventurous home cook, I'm always on the lookout for new recipes to tantalize my taste buds, and this gem from the talented chef, Rita, quickly became one of my all-time favorite pasta dishes. The combination of the flavorful garlic-herb butter, the rich and tangy gorgonzola cheese, and the savory Italian sausage creates a delightful medley that is sure to impress even the most discerning palates.
One of the things I appreciate most about this recipe is its ease of preparation. From the first time I made it, I realized that it would become a regular rotation in my quick meal repertoire. With just a single pan, you'll have a complete and satisfying dinner that's not only delectable but also effortless to clean up.
Imagine tossing the crumbled Italian sausage into a sizzling skillet, the aromatic scent of the garlic-herb butter filling your kitchen as you watch the sausage brown to perfection. The burst of color and flavor from the halved grape tomatoes adds a touch of freshness and tang to the dish, complementing the rich, creamy gorgonzola sauce that will have your taste buds dancing with joy.
As the rigatoni pasta cooks gently in the low-sodium chicken broth, it absorbs all the exquisite flavors, ensuring every bite is a tantalizing revelation. And just when you think it couldn't get any better, the addition of the delicate baby spinach wilts gracefully into the mix, contributing a hint of earthiness and extra nutrients to this already well-rounded dish.
Whether you're an avid gorgonzola lover or a cheese enthusiast in general, the crumbled gorgonzola sprinkled throughout the pasta adds a delightful creaminess that brings all the elements together. Its distinct tang and velvety texture elevate this one-pan rigatoni to a whole new level of culinary satisfaction.
Feel free to adjust the recipe to your taste preferences; you can opt for mild or hot Italian sausage depending on your spice tolerance, or substitute the gorgonzola with your favorite cheese variety if you desire a milder flavor. The beauty of this dish lies in its versatility, allowing you to customize it with other vegetables, such as sliced bell peppers or sautéed mushrooms, for an even more personalized culinary experience.
So, whether you're looking for a comforting meal on a busy weeknight or a delightful treat on a lazy weekend, this One-Pan Rigatoni with Gorgonzola and Sausage will undoubtedly become a regular guest at your dining table. Simple, satisfying, and full of irresistible flavors, this pasta masterpiece will leave you eagerly anticipating the next time you get to savor its cheesy yum!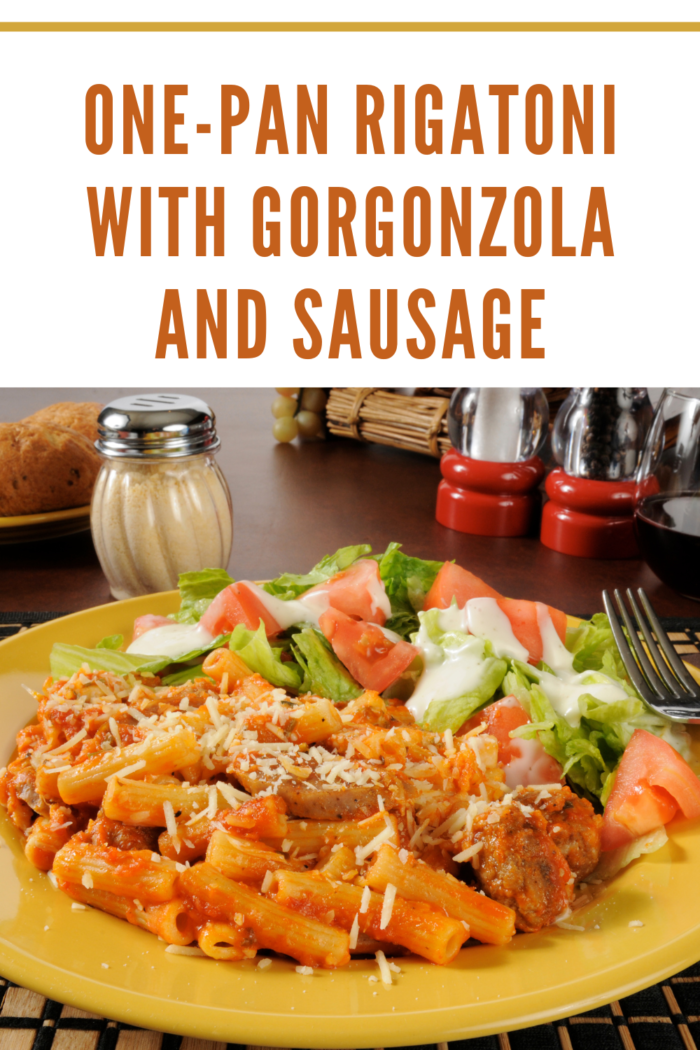 One-Pan Rigatoni with Gorgonzola and Sausage
Prep Time: 10 minutes
Cooking Time: 20 minutes
Servings: 4
Ingredients:
4 tablespoons garlic-herb butter
1/2 pound Italian sausage, casings removed and crumbled
1 pint grape tomatoes, halved
4 cups low-sodium chicken broth
3 cups rigatoni pasta
6 ounces crumbled gorgonzola cheese
4 cups baby spinach, optional
Instructions:
In a large skillet or saucepan, melt the garlic-herb butter over medium heat.
Add the crumbled Italian sausage to the pan and cook until browned and cooked through, breaking it up with a spoon as it cooks.
Once the sausage is cooked, add the halved grape tomatoes to the skillet. Sauté them for 3-4 minutes until they start to soften and release some of their juices.
Pour in the low-sodium chicken broth and bring the mixture to a boil. Stir in the rigatoni pasta, ensuring it is fully submerged in the liquid.
Reduce the heat to medium-low, cover the skillet, and let the pasta simmer for about 12-15 minutes or until the pasta is al dente and most of the liquid has been absorbed. Stir occasionally to prevent sticking.
Once the pasta is cooked, stir in the crumbled gorgonzola cheese until it melts and creates a creamy sauce.
Add the baby spinach to the skillet and gently toss it with the pasta until it wilts and incorporates into the dish.
Taste the pasta and adjust the seasoning with salt and pepper if needed.
Serve the one-pan rigatoni with gorgonzola and sausage hot, garnished with a sprinkle of additional gorgonzola cheese and fresh herbs, if desired.
Notes:
This one-pan rigatoni recipe is perfect for busy weeknights or lazy weekends when you want a quick and delicious meal without too much effort.
The garlic-herb butter adds a delightful flavor to the dish, but you can substitute with regular butter if needed.
For a spicier kick, you can use hot Italian sausage instead of mild.
Feel free to experiment with different types of pasta, but rigatoni works particularly well in absorbing the flavors and sauces in this recipe.
If you prefer a milder cheese, substitute the gorgonzola with crumbled feta or goat cheese.
This recipe is versatile, and you can customize it by adding other vegetables like sliced bell peppers or mushrooms.
Enjoy this flavorful and cheesy one-pot pasta, perfect for sharing with family and friends!
FAQs – One-Pan Rigatoni with Gorgonzola and Sausage
1. Can I use a different type of pasta for this recipe? Absolutely! While rigatoni works wonderfully in absorbing the flavors and sauces, you can experiment with other pasta shapes like penne, fusilli, or farfalle. Just keep in mind that cooking times may vary slightly, so adjust accordingly to ensure your pasta is cooked al dente.
2. Can I make this dish vegetarian? Certainly! To make it vegetarian, simply omit the Italian sausage or replace it with plant-based sausage alternatives. You can also add more vegetables, like zucchini, bell peppers, or artichokes, to enhance the flavors and textures.
3. How do I store leftovers? If you have any leftovers, store them in an airtight container in the refrigerator for up to 2-3 days. When reheating, you might need to add a splash of chicken broth or water to maintain the creaminess of the sauce.
4. Can I use frozen spinach instead of fresh baby spinach? Yes, you can use frozen spinach, but it may alter the texture slightly. Thaw the frozen spinach and drain any excess water before adding it to the pasta. Fresh baby spinach is preferred for its delicate taste and quick wilting.
5. What is a suitable substitute for gorgonzola cheese? If you're not a fan of gorgonzola or prefer a milder cheese, you can substitute it with crumbled feta, goat cheese, or even grated Parmesan. Each will bring its unique flavor to the dish, so choose based on your preferences.
6. Can I make this recipe ahead of time? While this dish is best served fresh, you can prepare some of the components ahead of time to save cooking time. You can pre-cook the Italian sausage and store it in the refrigerator. When ready to cook, simply start from step 1, adding the sausage to the skillet when called for.
7. How can I add a little heat to the dish? If you prefer a spicier kick, you can use hot Italian sausage instead of the mild version. You can also sprinkle red pepper flakes or drizzle some hot sauce over the finished dish for an extra kick.
8. Can I freeze this recipe? It's not recommended to freeze the cooked dish, as the creamy sauce may separate upon thawing and reheating. However, you can freeze the uncooked Italian sausage separately and use it later to make a fresh batch.
9. Is this recipe gluten-free? As written, the recipe is not gluten-free due to the use of regular rigatoni pasta. To make it gluten-free, you can substitute with your favorite gluten-free pasta brand, ensuring all other ingredients are also gluten-free.
10. Can I use a different type of cheese sauce? Certainly! While gorgonzola cheese adds a unique flavor, you can get creative with other cheese sauces, such as a creamy Alfredo sauce or a four-cheese blend. Customize it to your liking for a new twist on the recipe.