School uniforms or everyday wear just got better with French Toast. As the Mom to many I've experienced the world of School Uniforms. It seems to be becoming more and more the norm. I have mixed feelings about school uniforms, but my perspective recently changed when we were given the opportunity to review French Toast's line of school uniforms and accessories.
Even as we shopped the French Toast website my expectations were small. As my children started putting together their dream ensemble, I realized French Toast has a great selection with tops, bottoms and other accessories like socks, ties, belts, undergarments and more. Most of their items have a choice in size and color giving them a larger appeal. I was amazed when BOTH Li'l Man and The Divine Miss M had Dream Lists for me. I was stunned when I discovered a complete French Toast Uniform (we're talking shirt, pants, sweater, and accessory) is just $45.00! That's budget-friendly!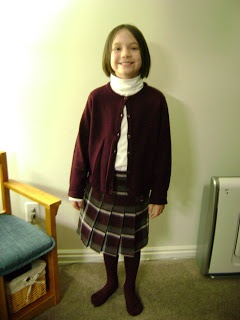 Each month French Toast also gives away a year's worth of uniform clothes to one very lucky winner, through their monthly drawing. Even if you're not selected everyone wins with their purchase $30 and receive a FREE Disney Family Fun Magazine Subscription offer.
We have had the opportunity to review the French Toast Three Tab Pleated Plaid Skort in burgundy and the French Toast Extra Soft Knee High (Burgundy 3-Pack) as well as the French Toast Fine Gauge Knit Sweater in Burgundy. Li'l Man chose the French Toast Nylon Hooded Wind Breaker and the French Toast Jersey Knit Anti-Pill Cardigan.
When they arrived, I was impressed. The clothes are outstanding in quality! They arrived packaged nicely and the item description was dead on. There were no surprises outside of the quality far exceeded what I had imagined. The cost is truly incredible for the superior quality..Li'l Man's Nylon Hooded Wind Breaker was on sale for $9.79 and we're talking sweaters for under $15!
The Divine Miss M came home from school and tried hers on right away. It was a hit as she laid it out to wear the next day. As we were at the bus stop she told me her socks were the softest things ever and she couldn't stop "petting" her sweater because it was "fluffy soft". It made me proud to see her so happy and comfortable.
I've washed the items several times and they still look as great as they did out of the package. There is no pilling and even without fabric softener, they are snuggly soft.
Whether you're looking for School Uniforms or just some great quality clothing for your child, check out French Toast. The quality and price will have you coming back again and again!
I received the items mentioned in this post from French Toast in order to facilitate an honest review. No other compensation was received. The opinions, where expressed, are my own and were in no way influenced by the sponsor. Others experience may vary.