Get ready for the easiest homemade fabric softener recipe.
I'm sharing this recipe for DIY on how to make your own liquid fabric softener. As a bonus, we've included recipes for homemade dryer sheets and copy cat fabric softener crystals.
It's the best homemade fabric softener recipe and is perfect for sensitive skin.
In my quest to stretch our budget, I shared a Homemade Laundry Detergent recipe for making your own laundry detergent, and now, adding to the laundry, this fabric softener.
Scratchy clothes or static cling clothes aren't anyone's idea of comfortable.
Miss M has sensitive skin that doesn't tolerate too many chemicals.
I am always seeking a way to keep her and the family comfortable.
This homemade fabric softener is easy to make and stores nicely.
It's now a staple in my laundry room and added to every load of laundry.
I was surprised by how easy it is to make your own fabric softener with a hair conditioner.
The higher quality or more expensive conditioners won't make any noticeable differences, so don't waste your money!
The overall effectiveness of this homemade fabric softener is very close to what regular commercial fabric softeners do.
When it comes to smell, the scent will depend on the conditioner.
The strength of the scent is going to be determined by how powerful it is in the conditioner.
Or skip the scented conditioner and use drops of your favorite essential oil for fragrance.
I prefer a natural scent over artificial scents but fragrance is a personal thing, so you do you!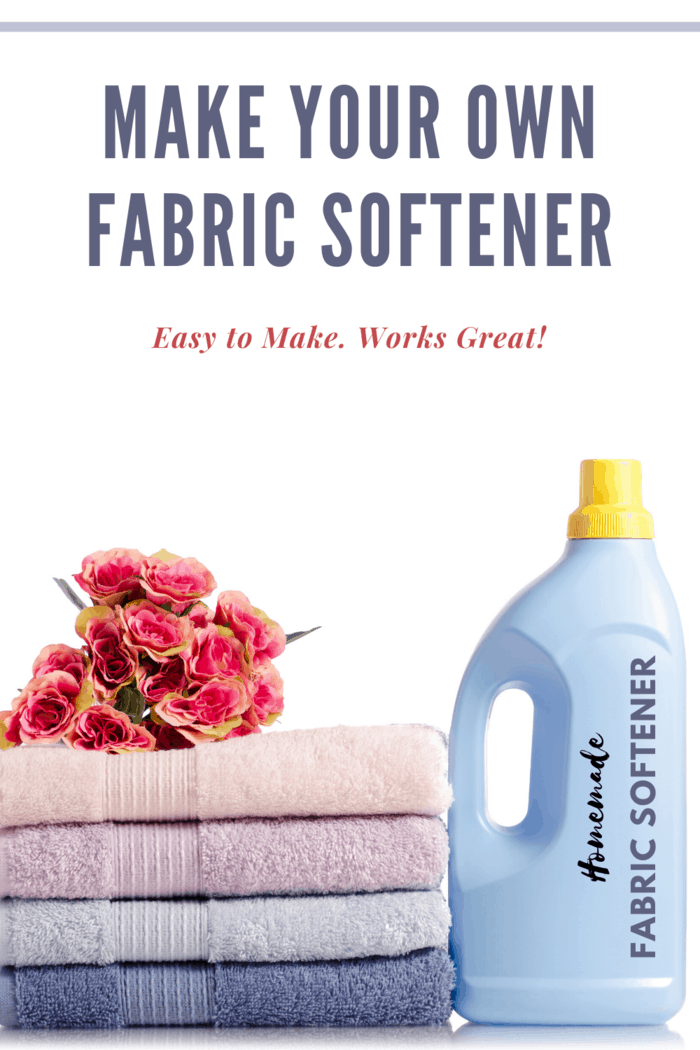 How Fabric Softener Works:
The purpose of this homemade fabric softener, or any fabric softener, is to add to the washing machine during the rinse cycle to make clothes soft and feel better to the touch.
It also helps reduce static cling.
Fabric Softener works by depositing the lubricating agents on the fabric.
In this DIY fabric softener recipe, the conditioner and vinegar work together.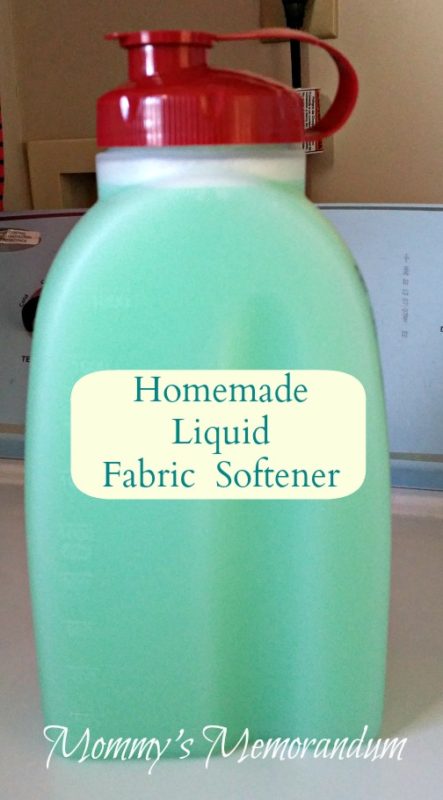 Not only does this homemade fabric softener work every bit as well as the store-bought ones, but it's very affordable to make.
It is pennies to make and requires three ingredients, probably already in your home.
Warm Water
Conditioner
Vinegar
It was so easy, and the hardest part was boiling water!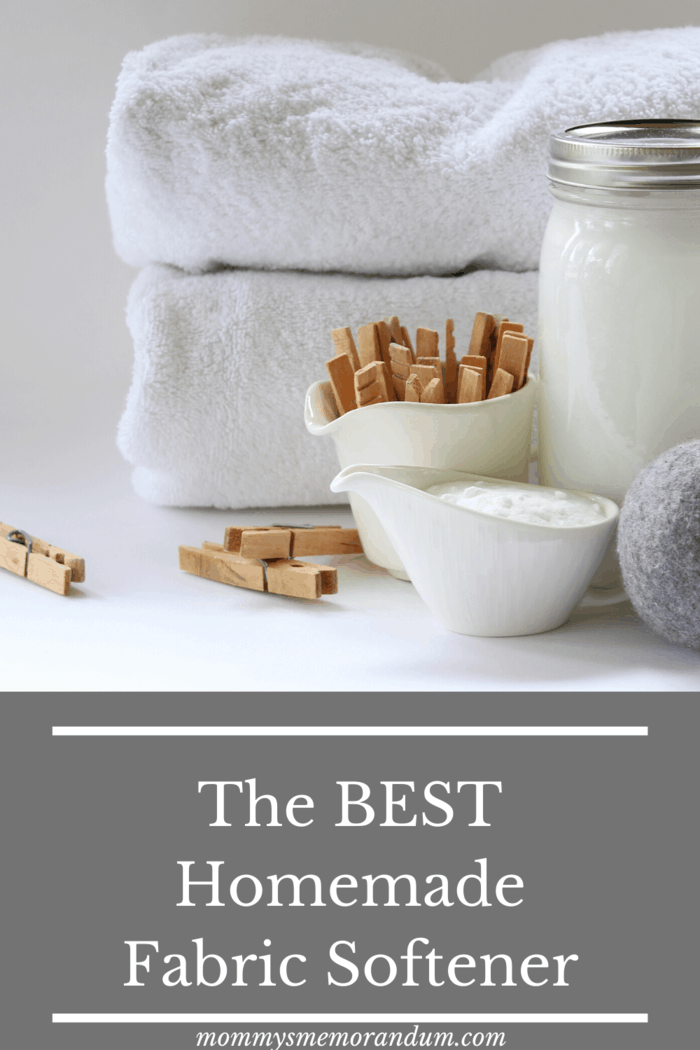 Homemade fabric softener ingredients
3 cups of vinegar (opt for white vinegar)
1 bottle of conditioner (I used the least expensive I could find)
6 cups of hot water
a big bowl
A storage container (it makes about 3 quarts)
a few drops of essential oils (optional)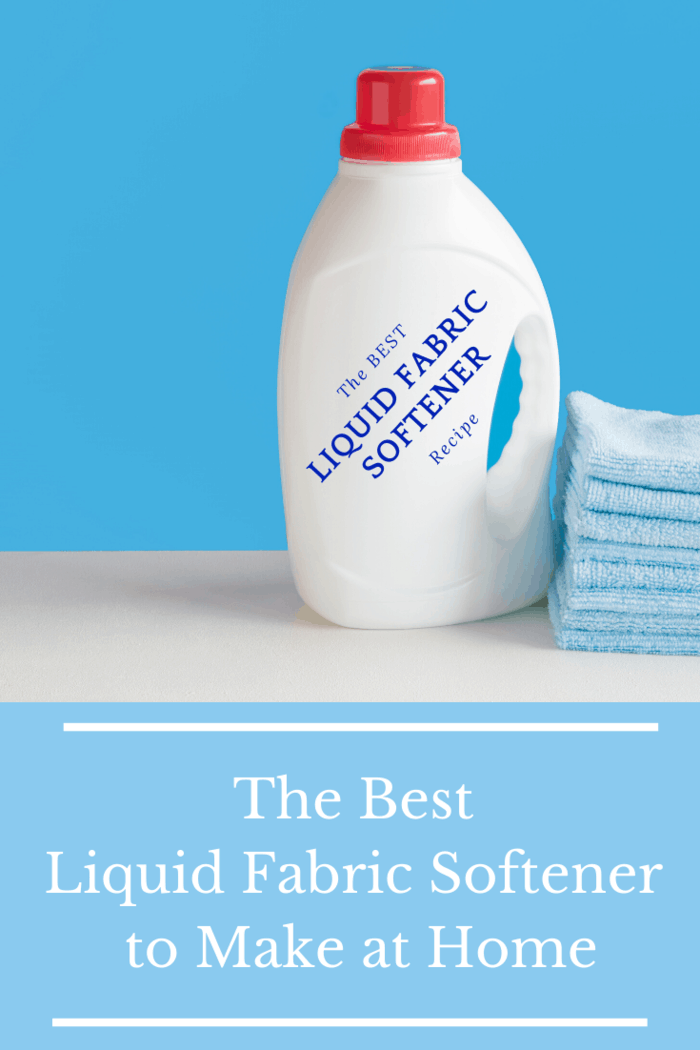 How to Make Your Own Homemade Fabric Softener Directions:
If you have hard water, I recommend using spring water or distilled water.
Add the water and hair conditioner to a large mixing bowl or container, and stir to combine until the conditioner is completely dissolved. (You don't want to shake it; it will cause foaming.)
Add the vinegar and mix well.
Add a few drops of lavender essential oil, or your favorite essential oil (optional).
Store in an airtight container–or spray bottle
How to Use:
Add 2 tablespoons per load directly into the fabric softener dispenser on your washer for smaller loads, or 1/4 cup for larger loads.
I use a Downy Ball ;)
Another great way to use this is to pour 1/4 cup of the fabric softener onto a clean washcloth, wring it to eliminate exess and toss it in your dryer like a dryer sheet with your loads of laundry wash cycle!
NOTE: The use of Vinegar will eventually wear out the elastic bands in your clothing.
Use sparingly or not at all with clothing items that contain elastic.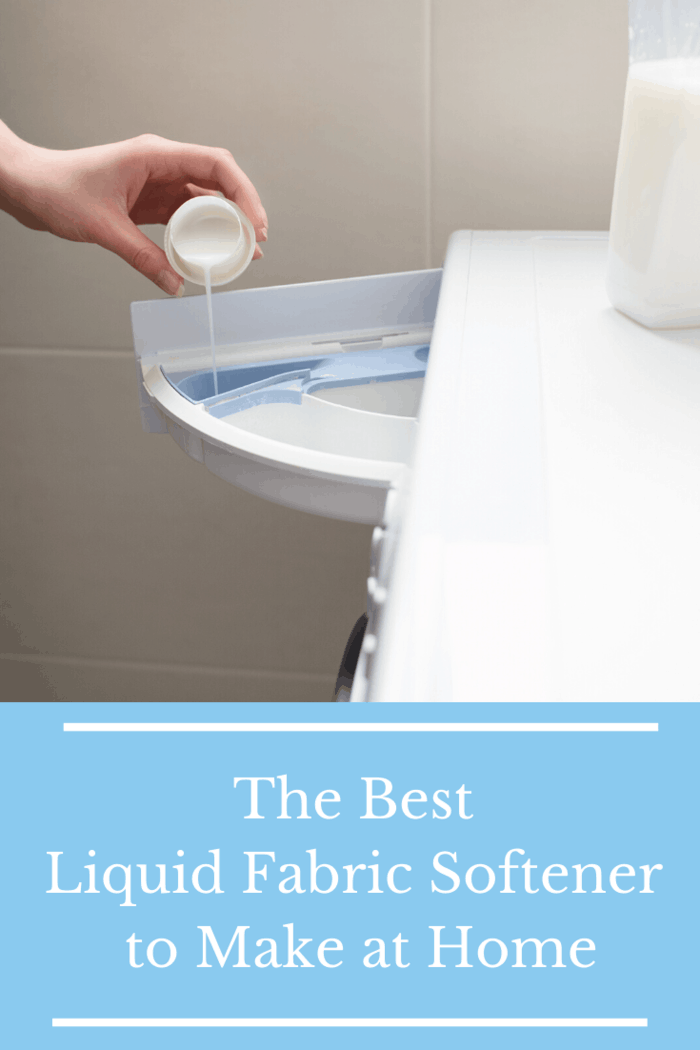 Homemade Fabric Softener-No Hair Conditioner Variation
If you want a more organic liquid fabric softener, you can leave the hair conditioner.
Omit the hair conditioner and go with 5-10 drops of your choice of essential oil instead.
It works just as well., though I prefer the version with hair conditioner.
This variation of homemade Fabric Softener follows.
Vinegar and Baking Soda as Fabric Softener (no conditioner version)
Ingredients
6 cups vinegar
1 cup baking soda
15 drops essential oil (optional)
Directions
Pour the vinegar into a large bowl with essential oil, if using.
Add the baking soda.
The mixture will fizz, when the fizz is minimized, pour into your storage container.
How to Use:
Shake vigorously before use.
Use up to 1 cup (depending on load size) per load.
Best Practices:
When it comes to laundry and fabric softener, here are a few tips on items you should NEVER use fabric softener on:
Microfiber–
Don't use this homemade fabric softener on microfiber, and you'll destroy the effectiveness and durability of its intricate fibers.
Athletic Sportswear-
Athletic clothing articles have a wicking technology to keep sweat from your skin, fabric softener of any kind will coat the fibers and destroy the wicking properties.
You can learn more about the care of sportswear as well as how to fix numbers on a jersey to bring your A-Game on laundry day.
Flame-Retardant Clothing–
Most Flame Retardant Clothing is sleepwear, and this includes children's pajamas, fabric softener will make this clothing article MORE FLAMMABLE!
Towels-
Any fabric softener will reduce a towel's ability to absorb water, making them ineffective in drying or tending to spills.
This is so easy to make and leaves clothing soft.
Its the best Homemade Liquid Fabric Softener recipe.
Turn the Liquid Fabric Softener into Dryer Sheets!
Replace those commercial dryer sheets coated with the harsh chemicals and make our own
Cut fabric (cotton or flannel) into 5″x8″ strips. (or you can cut a clean sponge in half)
You can repurpose an old t-shirt or use wash cloths.
If you're a sewer, stitch around the edge, but this is merely cosmetic and won't affect the use.
Place fabric strips in liquid fabric softener.
You can also store tennis balls in the plastic container of natural fabric softener and then add to your dryer.
How to Use Dryer Sheets:
Remove a fabric sheet from the jar and squeeze so it is not dripping.
Add a sheet to the dryer with wet laundry and dry as usual.
Wool Dryer balls are also an excellent fabric softener.
We've Hacked the Recipe on Fabric Softening Crystals:
If you are a fan of Fabric Crystals for softening laundry, this easy recipe is for you.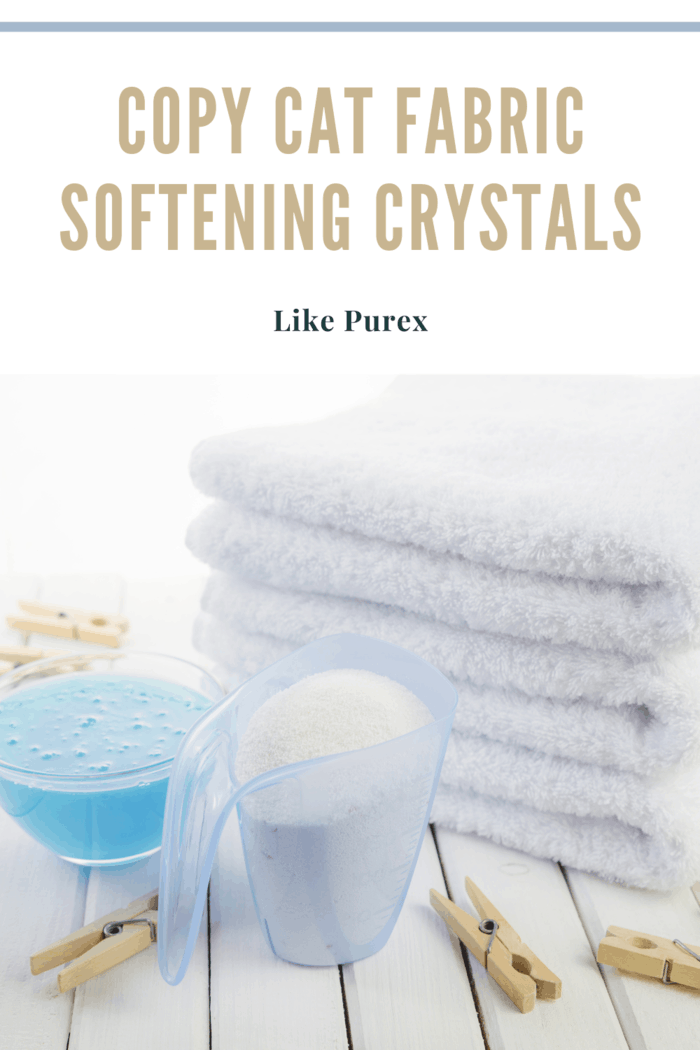 Recipe for Homemade Fabric Softener Crystals
It's easy to make your own fabric softener crystals!
It's another natural fabric softener alternative.
4 Cups Epsom Salts
40 drops Essential Oils
Mix the ingredients together and store them in an airtight container.
How to use:
To each wash add 1 or 2 Tablespoons of fabric crystals.