Pretty paper, pretty ribbons of blue set aside to wrap your gift in EcoBags to your darling from you. I love giving and watching my children tear into their presents Christmas morning, however, the waste appalls me. All that disposable paper! Zac is my "Green" child and this year I am proud to be giving his gifts wrapped in EcoBags: reusable, eco-friendly gift bags that continue to give throughout the year! a
EcoBags have a variety of sizes and styles so there's sure to be something for everyone on your list.
I received the Classic String Bag, Recycled 100% Cotton Wine Bag, and Recycled 100% Cotton Tote Bag for review.
When they arrived I was immediately impressed!
The bags are sturdy and the wine and tote bags have sturdy handles and double-stitched seams so there's no concern about my gift falling through or the handle ripping, like paper totes.
Out of the bag, the Classic String Bag had my mind on over-drive.
It wads up to virtually nothing and stretches and expands to hold more than I imagined.
I love this bag for giving oranges, one of my favorite Holiday Traditions!
You may have seen this bag in last December's Woman's Day Magazine.
The Classic String bag is 100% cotton and expands to hold up to 40 pounds!
Available in 100% Cotton or Organic Cotton and colors ranging from Natural and Earth Tones to Jewel Tones with long or tote handles make this Classic String Bag a keeper.
Plus, long after the holidays have passed, this bag will be used around the house, on shopping trips, and to the pool.
The best part, it's affordable with styles starting at just $3.99!
Then the dilemma began.
The 100% Recycled Cotton Gift Tote looks amazing in its natural state, however, my creative mind thought taking some markers to this might be a fun way to personalize.
I really ponder this and then elected to give it "as is" and include a set of Sharpie Markers for my son to create his own style.
The Gift Tote has so many possibilities with its size: 10″ wide x 9″ tall with 3.5″ side and bottom gusset and 1″ wide x 11″ long handles.
We're talking sturdy with webbed handles and double-stitched seams.
I love that this bag is machine washable and can be used over and over again beyond my gift!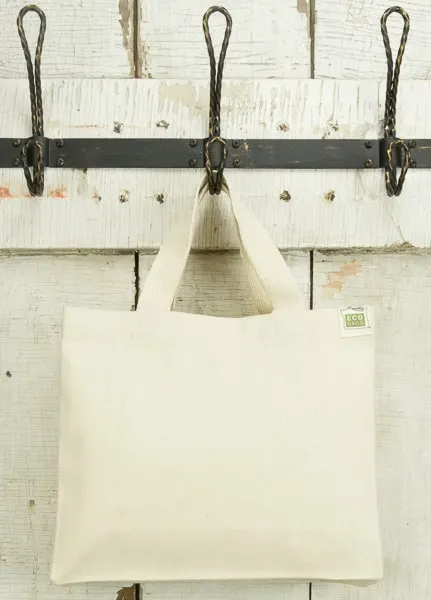 As for the 100% Recycled Cotton Wine Bag, I see this in a lot of hostesses' future.
It compliments a bottle of wine, champagne, or even a box of delectable chocolates.
Its simplicity is striking, add a bow of burlap or a sprig of cedar and yucca berries and it rings out festive.
It's a spacious 6.5″ x 12″ tall with a 3.5″ bottom gusset and 1″ wide.
Again, in EcoBags quality made with double-stitched seams and sturdy handles, it's peace of mind when you hand over your selected-with-care bottle.
Pricing starts at just $9.99 with discounts starting at quantities of four!
Some might think EcoBags was ahead of its time, being founded in 1989.
I think they just pioneered the way, living up to their motto, "Reusable becomes a way of life".
It's a perfect bag for everything including eco-friendly road trips.
They debuted at the 1990 Earth Day Celebration on Sixth Avenue in New York City and sold out in four hours!
It started with their Classic Bag and has since grown into a complete line of natural and certified organic cotton, recycled cotton, and hemp/cotton blend bags that eliminate the need for plastic and paper ones.
Finish your gift with EcoBags.
They're found in many natural foods, gourmet, grocery/drug, and eco stores nationwide.
EcoBags also offers the consumer the choice of unprinted or custom printed (minimums apply).
If you want to embellish the bag without breaking the bank, consider the EcoBags Celebrate 3-Bag Gift Set.
It's three of the EcoBags Recycled 100% Cotton Totes embroidered with "Celebrate".
It's a festive rendition of a favorite and sure to be a hit beneath the tree and at $24.99 for the set, you'll meet your budget.
Be sure and check out the EcoBags Blog for some great craft ideas for gift giving and holiday cheer.